US and India Hold Defense Technology Cooperation Meeting Amid Diminished Expectations
American export-control laws and India's tight defense budget have together implied more modest future goals for the DTTI.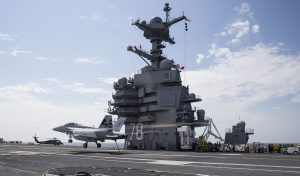 The United States and India virtually held the 10th edition of the Defense Trade and Technology Initiative (DTTI) Group Meeting on September 15. According to a U.S. Department of Defense press release, the DTTI co-chairs – Indian Ministry of Defense's Secretary of Defense Production Raj Kumar and the U.S. Under Secretary of Defense for Acquisition and Sustainment Ellen M. Lord – signed a statement of intent "to strengthen our dialogue on defense technology cooperation by pursuing detailed planning and making measurable progress" on several existing DTTI projects.
The DTTI was established in 2012 to speed up defense technology cooperation between the two countries by removing "differing bureaucratic processes and legal requirements" through greater oversight, the Office of the U.S. Under Secretary of Defense for Acquisition and Sustainment notes. Since then, DTTI group meetings have been held twice a year, rotating between the U.S. and India. Currently there are four working groups under the initiative, "focused on land, naval, air and aircraft carrier technologies," the U.S. Department of Defense (DOD) press release noted. According to the U.S.-India Strategic Partnership Forum's Vikram Mahajan, the near-term projects that have been identified under the DTTI includes "Air-launched Small Unmanned Systems, Light Weight Small Arms Technology and Intelligence-Surveillance-Targetting & Reconnaissance (ISTAR) [technologies]." In September 2015, the Pentagon set up an India Rapid Reaction Cell to push forward DTTI proposals through the U.S. national-security bureaucracy.
Defense technology cooperation between the two countries' private sector players is also expected to be furthered since the signing of the U.S.-India Industrial Security Annex (ISA) last December. The ISA essentially amounts to a commitment by the Indian side to protect classified information related to military technologies transferred by the U.S. It is an extension of the 2002 U.S.-India General Security of Military Information Agreement, which was a general commitment to secure shared military information by both sides. India also received the U.S. Strategic Trade Authorization-1 designation in August 2018 which also stands to facilitate sensitive high-technology sales to the country.
Despite these impressive bureaucratic mechanisms to improve U.S.-India defense technology cooperation, many analysts note that it tilts more toward outright defense sales and less toward technology transfer, a key Indian ask as the country pushes for indigenous defense manufacturing (somewhat haphazardly). One key Indian expectation from the DTTI was acquiring jet engine technology from the U.S. However, last October, the DTTI "suspended" potential collaboration on jet-engine technology despite having set up a dedicated working group for it which had met on several occasions. Lord's explanation for this decision at the time was that transfer of such technology to India would run afoul of U.S. export-control laws.
Another much-vaunted item on the DTTI agenda since 2015, an Electromagnetic Aircraft Launch System (EMALS) for India's third aircraft carrier – and second, in terms of being developed ingeniously – also looks dead, not the least because it is unclear whether India will go ahead with a third aircraft carrier in face of persistent threats on land. The third carrier, INS Vishal, would have cost India at least $10 billion even with conventional propulsion and without the accompanying air group, making it the single-most expensive military platform India owns. Curiously, U.S. President Donald Trump has spoken out against EMALS for the USS Gerald R. Ford carrier in the past, citing its cost and the fact that "it's no good."