What the Israel-UAE Agreement Means for Asian Powers
China and India have been watching the shifting geopolitics in the Middle East.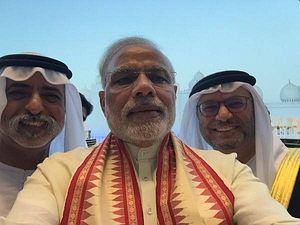 On August 13 Israel and the United Arab Emirates (UAE) announced that they planned to normalize relations. The declaration received an enthusiastic welcome from Washington, which saw it as a "huge win" for President Donald Trump. Since then, there has been a lot of attention given to the regional repercussions of the agreement, including the implications for the Palestinians as well as other Arab Gulf states.
Further afield, other Asian powers weighed up the announcement from their own perspective. Indian Foreign Minister S. Jaishanker has said that it presents "opportunities" while the Chinese response has been more vague. Of the two, the more cautious China response seems grounded on whether the so-called Abraham Accord is externally focused and offensive, particularly in relation to the common rival for Israel, the UAE, and the United States: Iran.
Indeed, if Iran becomes a target for both Israel and the UAE, that could be awkward for both India and China, regardless of the positive words coming out of New Delhi. But if it does not, then there may be scope for different types of exchange, including sharing across the security, surveillance, and intelligence sectors.
Were Israel and the UAE to use their recent agreement to adopt a more aggressive stance toward Iran, that could challenge and potentially undermine the efforts by both China and India to build better diplomatic and commercial relations with Iran. Since 2005 China has invested more than $26 billion while Iran became one of India's main energy suppliers, prompting India to become a major investor in Iran's energy infrastructure. The burgeoning relationship also led to optimistic projections that Indian investment might eventually reach $20 billion in Iran, especially around the development of Chabahar port. For India, Chabahar is of strategic importance, since it counters the parallel development of nearby Gwadar port in Pakistan, backed with Chinese finance and assistance.
Both China and India have been vulnerable to moves against Iran in recent years – although India is more exposed to such dangers. The U.S. decision to pursue "maximum pressure" against Iran by withdrawing form the 2015 nuclear deal and re-imposing sanctions resulted in both India and China initially cutting back on oil imports from Iran. Since then, however, there has been some recovery in the Sino-Iranian trade through clandestine sales. More recently, the two countries have expressed interest in advancing the partnership agreed in 2016: in July the New York Times reported that an 18-page proposal setting out a 25-year plan for discounted oil for China and Chinese investments in infrastructure and telecommunications worth up to $400 billion is being negotiated.
By contrast, Indian options with Iran have been more limited, perhaps reflecting the closer alignment between New Delhi and Washington. Taking U.S. considerations into account may have been a factor in Iranian exasperation at Indian slowness and failure to release sufficient funds and development for a railway line to Chabahar port, with the two countries consider a strategic necessity.
While greater confrontation by Israel and the UAE toward Iran would be unwelcome for China and India, it may not happen. In the weeks since the Abraham Accord there has been little sign that the Israel-UAE partnership is gearing up for a more aggressive anti-Iran campaign – yet. Israel is more strongly opposed to Iran's regional activities than the UAE, which needs to be more circumspect. Even though it is opposed to the promotion of political Islam from Iran and non-state actors like the Muslim Brotherhood, the UAE has not been direct in antagonizing Iran. Part of Emirati wariness may be due to the reliability of its U.S. ally. As the suspected Iranian attack on the Abqaiq oil refinery in Saudi Arabia last September showed, it cannot be sure that Washington will provide sufficient protection or response.
Indeed, given that recent experience, it may well be that the Israel-UAE agreement's focus is inward and defensive rather than external and offensive. In addition, it will institutionalize a relationship that has been operating for some time now; indeed, Israel has had growing contact with several Arab Gulf states in recent years, both in the security and intelligence sector as well as with the UAE over the coronavirus pandemic this year.
The Abraham Accord means that discreet collaboration between Israel and the UAE in the security sector can come out of the shadows. That will make it easier for them to expand their cooperation. Looking further afield, that could potentially benefit like-minded states and companies, including those from India and China, to work together on areas of mutual interest and comparative advantage, including in the fields of cybersecurity and security technologies.
Already Israel and the UAE are employing similar surveillance technology to monitor the separation wall between Jerusalem and the West Bank in the former and in Dubai to prevent public disorder in the latter. Meanwhile, the UAE is using facing recognition software and other surveillance from China and India has also shown interest to acquire technologies from both the UAE and Israel – the latter which is also one of its major suppliers. Both India and China have been important trading partners with Israel in the military and security sectors, including the exchange of advanced technologies. Both countries may also be keen for the opportunity to apply further advances from technologies developed in and between Israel and the UAE in politically sensitive areas like Kashmir for India and Xinjiang and Tibet for China.
Looking ahead then, the Israel-UAE deal may well turn out to be far reaching – but in a way that the two signatories did not anticipate. As noted above, while much of the attention in recent has been paid to the regional impact of the agreement and the consequences for Israeli and Emirati friends and foes, the repercussions of the relationship may develop beyond the Middle East, as the prospects for Chinese and Indian collaboration suggest. Should that happen, then the outcome of the Israel-UAE formal relationship may have consequences which can only just be grasped at for now.
Guy Burton is an adjunct professor of international affairs at Vesalius College, Brussels and a Fellow of the Sectarianism, Proxies and De-sectarianisation Project at Lancaster University. He is the author of "China and Middle East Conflicts" (Routledge, 2020) and "Rising Powers and the Arab-Israeli Conflict since 1947" (Lexington, 2018).