Will Malaysia's Anwar Ibrahim Finally Succeed?
The opposition leader's announcement that he commands the support necessary to form a new government has dissipated into a period of tense political speculation.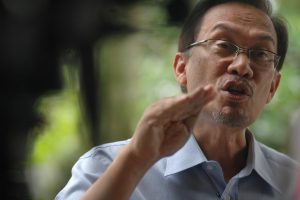 After a seven-month hiatus, Malaysia's political rollercoaster has once again lurched into motion.
On September 23, long-time opposition figure Anwar Ibrahim called a press conference in Kuala Lumpur to announce that he had been approached to take over the government by "a number of MPs from various parties who expressed deep dissatisfaction with the current leadership." As a result, he now commanded the support of a strong majority in parliament, including defectors from the ruling Perikatan Nasional (PN) coalition. "With a solid and convincing majority, it means that as of this moment, the government of [Prime Minister] Muhyiddin Yassin has fallen," he said.
Anwar's bid for power comes in the midst of what has been an unusually turbulent year in Malaysian politics. In February, Muhyiddin was elevated to power amid byzantine backroom machinations that saw the resignation of Prime Minister Mahathir Mohamad and the collapse of his Pakatan Harapan (PH) coalition government.
Now, after two decades of striving, which has also included several stints in prison, the perennial challenger of Malaysian politics is finally on the brink of power. Anwar came close in 2018, when the PH coalition, which includes Anwar's People's Justice Party (PKR), scored a historic electoral victory over the United Malays National Organisation (UMNO), which has dominated Malaysian politics since the nation's independence. But the job of prime minister went instead to Mahathir, the leader of a smaller party in the PH coalition, on the understanding he would transfer power to Anwar after two years.
Anwar said he will hold an audience with Malaysia's constitutional monarch, the Yang di-Pertuan Agong, who has the power to allow him to form a new government if he commands the requisite support, or to order a new election if he doesn't. With the Agong reportedly too ill to welcome visitors, Anwar's bombshell announcement has dissipated into a period of tense speculation.
Does Anwar have the numbers? No one really knows. Those with long memories will recall the similar gambit that Anwar attempted in 2008, when he claimed he had cobbled together a majority, only for the move to collapse when UMNO lawmakers failed to defect into his camp. This time, the PKR and its PH partners currently hold 91 seats in the 222-seat lower house of parliament. Two other allied parties bring to the table an additional 10. This leaves Anwar 11 seats short of the required majority of 112. Muhyiddin's government currently holds 113 seats.
To secure the minimum majority, Anwar most likely needs to flip some MPs from UMNO, which is part of the PN government. UMNO president Ahmad Zahid Hamidi said on September 23 that he had received information that "many" of the party's MPs were ready to support Anwar, but did not say exactly how many.
For now, Muhyiddin and his allies have dismissed Anwar's claim that he commands the necessary support. "This allegation now needs to be proven through process and methods determined by the Federal Constitution," Muhyiddin told the press while announcing additional COVID-19 stimulus measures, a few hours after Anwar's press conference. "Without these processes, Anwar's statement is a mere allegation. Until proven otherwise, the Perikatan Nasional government still stands firm and I am the legal Prime Minister."
While Anwar's move was unexpected, given the challenges that Malaysia and its economy faces from the COVID-19, it comes at a politically opportune moment. Since February, Muhyiddin and his government have survived on a wafer-thin majority, prompting calls from his allies that he call a snap election in order to secure a strong mandate, rather than sputtering on to the next scheduled national election in 2023.
Moreover, on September 26, Malaysia's easternmost state of Sabah will hold state elections, triggered by February's political upheaval. Anwar may be betting that a poor showing by the Gabungan Rakyat Sabah (GRS) alliance, which is aligned with Muhyiddin, will see the government's support melt away. But it's a high-risk gamble that could easily go the other way. The prime minister has previously suggested that a GRS victory in Sabah might lead him to call an early election, which would force the question back to the Malaysian voter.
On the question of which way wavering MPs might fall, racial considerations are likely to weigh heavily. As Norshahril Saat and Mohamad Faizal Musa of Singapore's ISEAS–Yusof Ishak Institute argued in a paper this week, the crucial question is whether Anwar can garner enough support among ethnic Malays, who may be skeptical of the multiculturalism that Anwar and his PKR have long advocated.
The preservation of Malay-Muslim privileges – and the age-old fear of their erosion by ethnic Chinese and Indian interests – is more or less the organizing principle of Muhyiddin's PN coalition. Indeed, these were the exact concerns that brought about the downfall of the PH, which many Malay nationalists accused of being controlled by the ethnic Chinese dominated Democratic Action Party. As Saat and Musa conclude, "The key to Anwar making good on his parliamentary majority claim is his ability to address Malay-Muslim sentiment, which remains strong in the community. Anwar must assure this group that their rights will not be undermined."
We won't really know where things stand until Anwar is granted his audience with the Agong, something that is unlikely to happen until after this weekend's election in Sabah. Until then, Malaysians will be waiting to see whether the car slows, or inches toward the first drop.