Afghanistan's Economy – and Access to Aid – at Stake in Peace Talks
Will the Taliban and the Afghan government come to terms in time to rescue the country's fledgling economy?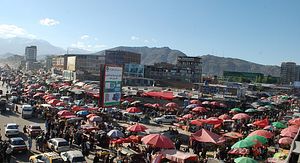 The 2020 Afghanistan Conference, to be hosted jointly by Finland, the United Nations and the government of Afghanistan, is scheduled to taken place in Geneva on November 23 and 24. This ministerial conference will decide how much financial assistance Afghanistan will need from 2021 to 2024 in order to help move it toward peace, prosperity and self-reliance.
Four years ago, in October 2016, at the Brussels Conference on Afghanistan, the United States and other international donors committed to provide Afghanistan $15.2 billion in civilian assistance through 2020, according to a U.S. Department of State Fact Sheet.
Since the ouster of Taliban regime in 2001, the international community has funneled billions of dollars into Afghanistan. In 2019, the international community provided $5 billion for the Afghan National Defense and Security Forces (ANDSF) alone. The U.S. has given the country $130 billion to date, making it the biggest donor in both size and scope.
Yet that might not last. U.S. Secretary of State Mike Pompeo, in his remarks at the inauguration of Afghanistan peace negotiations in Doha, warned the Afghan government and the Taliban that the "size and scope" of future U.S. assistance depended on their "choices and conduct" going forward.
Currently, Afghanistan's annual public expenditure stands at almost $11 billion, of which $3.8 billion consists of civilian aid and $4.5 billion is allocated to military aid.  The remaining $2.5 billion is sourced from Afghanistan's growing domestic revenue – taxes and non-tax revenues such as passport fees, overflight fees, mobile telephone charges, road tolls, and mining revenues, according to officials at the Afghan Ministry of Finance. Indeed, the Afghan government's revenue has grown steadily in recent years: in 2015, it rose by about 22 percent, followed by 20 percent in 2016, 15 percent in 2017, 12 percent in 2018, and 15.1 percent in 2019.
Yet despite the increase in domestic revenue, the fledgling Afghan economy remains heavily dependent on international aid.
Unlike the current Islamic Republic of Afghanistan, the Taliban's Islamic Emirate of Afghanistan lacked international backing during its theocratic rule from 1996 to 2001. Only Saudi Arabia, the United Arab Emirates and Pakistan recognized the Taliban government. Since its administration did not enjoy international recognition, the Taliban never received as much international aid as the current Afghan government. Instead, they relied on their close partners, mainly Pakistan and Saudi Arabia. The Saudis helped the Taliban financially and spiritually, while Pakistan provided strategic, military and civilian assistance.
In his book "Taliban: Militant Islam, Oil and Fundamentalism in Central Asia," Ahmed Rashid asserts that Prime Minister Benazir Bhutto's interior minister, General Naseerullah Babar, helped provide technical and financial assistance to the Taliban government in the mid-1990s. For example, he created the Afghan Trade Development Unit in the interior ministry, apparently to promote trade routes to Central Asia, but also to funnel funds to the Taliban. Rashid has reported elsewhere that Pakistan paid approximately $10 million per year for the salaries of Taliban administrators in Kabul during their time in power.
In another article, Rashid states that the Taliban funded their war budget, an estimated $100 million per year, through criminal activities. He further elaborates that 60 to 70 percent of the Taliban's revenues were derived from smuggling, 30 to 40 percent from the drug trade and about 5 to 10 percent from direct financial aid, most notably from the Saudis and a number of private donors. Osama Bin Laden, for instance, funded an Arab brigade that fought for the Taliban.
But, compared to their earlier days, the Taliban's sources of finances have expanded.  A confidential report commissioned by NATO claims the Taliban have widened their financial power in recent years to include poppy cultivation, the illicit drug trade, illegal mining and exports. The Taliban are said to have earned $1.6 billion in the last fiscal year, which ended in March 2020, with $400 million alone that year  from mining operations in areas not controlled by the Afghan government.
Despite the large amount of funds received by both the Afghan government and Taliban, in aid or by other means, the bulk of the money has been spent on fighting, which largely resulted in mayhem and the destruction of Afghan lives and property, as well as the people's hope for a better life.
This money, in part or in whole, could have been easily diverted to socioeconomic development in the country, victims of the Afghan war told me.
There has been progress recently, following successful intra-Afghan talks. The upcoming quadrennial pledging ministerial conference in Geneva is a sign of optimism for many Afghans. It takes place at a very critical time for Afghanistan, when the fate of civilian aid to the country depends upon the outcome of the Afghan-Taliban peace talks. Unfortunately, a deal is not expected before the Geneva Conference. As Taliban leader Mullah Baradar Akhund has indicated, "Negotiations may have problems but should move forward with patience," meaning that his group is not in a hurry to conclude talks. As one Taliban commander once said, "You have the watches, but we have the time."
But as the negotiations drag on, so does the misery of the Afghan people, due to a rising unemployment rate, the deteriorating security situation (including a high rate of criminal activity, especially in Kabul), and climbing cases of COVID-19.  Because of the pandemic and ongoing security issues, Afghanistan will experience an economic contraction of 5.5 percent this year, according to the World Bank's latest Global Economic Prospects report.
Any substantial financial cuts by the international community will plunge Afghanistan further into a humanitarian crisis. The World Bank reiterates that Afghanistan will need continued international support after a political settlement, of roughly $6 billion to $8 billion a year in international grants between 2020 and 2024.
The Taliban have expressed a willingness to work with the international community. Abbas Stanikzai, the deputy leader of the Taliban's negotiating team, said that, "The international community shouldn't be nervous. In return for being treated as a legitimate political entity in Afghanistan, we will be nice this time, more responsible in respect to international law." But can the Taliban be trusted enough to receive the lion's share of international assistance? If yes, will they be able to accept the liberal values and the principle of equal rights for everyone, including minorities and women, that the Afghan government and international community demand? Will they give up the notion of an Islamic Emirate?
Similarly, what guarantee will the Afghan government provide that it will combat the country's endemic levels of corruption if it remains in power?
Ingrid Hayden, who is also the U.N. secretary-general's deputy special representative for Afghanistan, has rightly said that "now is not the time for divisions."  She emphasized that Afghanistan must make a compelling case for continued international investment in the country.
There is a chance for the Taliban and Afghan government to work together to end the conflict in Afghanistan. The successful conclusion of the current peace talks would be the biggest achievement in past 40 years of war in Afghanistan. This is something that many Afghans of my age and younger have never experienced. As one young Afghan woman entrepreneur has noted, "We are optimistic both for peace and for continued international engagement in Afghanistan. We are hopeful."
Now it's time for both parties in the intra-Afghan talks to live up to those hopes.
Hanif Sufizada is a former Director of Private Sector Development at the Ministry of Agriculture, Irrigation and Livestock in Afghanistan. Currently, he manages higher educational programs at the Center for Afghanistan Studies at University of Nebraska at Omaha.