Amid Drought and Flooding, Cambodian Fish Catches, Exports Fall Precipitously
Floods follow drought as dams, climate change and illegal fishing take their toll on Southeast Asia's mighty river.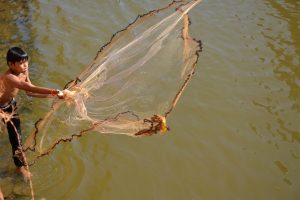 For two decades, scientists and environmentalists have warned that fish stocks in the Lower Mekong River were at risk from a cluster of factors including overfishing and use of illegal nets, massive dam construction in Laos and China, and the effects of climate change.
And now the numbers appear to support those warnings, with Cambodian fish exports for the first nine months of the year slumping 84 percent year-on-year, while fish catches are down about 70 percent over the same period.
Numbers obtained from the Ministry of Agriculture and published by Voice of Democracy (VOD) show that fresh fish exports fell from 5,502 tons to just 1,498 tons, as the export of processed fish products fell precipitously, from 5,000 tons to just 232 tons.
The ministry had aimed to export 15,000 tons of fresh fish this year, and the VOD report quoted local fishing associations as saying the catch for the year to date was down around 70 percent.
About 70 million people depend upon the Mekong River as their chief source of protein and live hand to mouth, and in Vietnam 50 percent of agricultural GDP is derived from the river.
Until the recent floods, water levels in the Mekong River had been sitting at record lows as fishermen complained bitterly that their fish catches had been reduced to about a kilogram a day, compared with 20 to 30 kilograms a day in years past.
Worryingly, at least 11 dams are planned for the mainstream of the Mekong River. A further 123 are in the works for its tributaries; however, the Washington, D.C.-based Stimson Center believes more than 400 dams are planned.
It has also accused China of hoarding water in its cascade of dams on the upper Mekong, a charge Beijing rejects.
Vietnam, Laos, Cambodia and Thailand have been inundated by floods in recent weeks, leaving more than 100 people dead while displacing hundreds of thousands more. Adding insult to injury, China recently warned downstream countries to brace for sudden water releases from its dam reservoirs, which are now full. 
It is too early to tell whether the floods will end the long-running drought in the lower Mekong region. But the deluge will not resolve issues with fish migration and spawning patterns or rising salinity from the South China Sea, which is reaching ever further into the Mekong Delta, destroying freshwater habitats.
It's a situation that has raised the prospect of a collapse in fish stocks with as many as 850 species of fish that once thrived, including the Irrawaddy dolphin and the giant catfish, now endangered.
In releasing the latest fish catch figures, Agriculture Minister Veng Sakhon said the decline in fish exports would not impact on the economy because the quantities were already small.
"The important reason, as we know, is that the Tonle Sap is lower than before, because there is the problem of less water flowing from the Mekong," Sakhon said. "The amount of natural fish is less than before. So [exports] decline too, because buyers prefer natural fish."
That's a defeatist attitude which measures success or failure on an annual basis while ignoring the true value of the Mekong River and its delta, where total fish harvests were valued $11 billion a year by the fisheries and development newsletter Catch and Culture in 2015.
Lost exports and poor harvests stemming from drought, floods and man-made alterations to the river could equate to billions of dollars in losses when compared with even five years ago. That can only spell further hardship for the fishermen left plying the falling waters of the Mekong.
Luke Hunt can be followed on Twitter @lukeanthonyhunt