Ardern Poised to Win Re-election in New Zealand.
Jacinda Ardern's Labor Party is expected to come out far ahead in Saturday's election, but may end up needing the Greens as a coalition partner.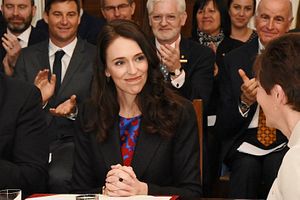 According to polls, Prime Minister Jacinda Ardern is poised to win re-election in New Zealand this weekend while a Greens candidate may take up the position of deputy prime minister if Labor and the Greens pursue a coalition. 
Yesterday's 1 News Colmar Brunton poll has Ardern's Labor Party at 46 percent, with National, the main opposition party, at 31 percent. Of the minor parties, the Greens and the right-wing ACT party are both polling on 8 percent with the socially conservative NZ First at 3 percent.
The poll numbers translate to 59 seats for Labor, 40 for National, 11 for the Greens and 10 for ACT. NZ First, currently in government with Labor and the Greens, would not return to Parliament as they remain under the 5 percent threshold. A total of 61 seats or more is needed to form government. 
While earlier this month, polling showed Labor could win outright, the latest numbers mean that they would have to form government with the Greens to hold onto power – potentially leading to the first ever Greens deputy prime minister since the party was founded three decades ago.
The Greens would wield immense power in forming government with Labor. Past leaders from both the major parties have had to concede campaign promises and offer high-profile positions to coalition partners to secure their support. In 2017, after three weeks of negotiations, Labor offered NZ First leader Winston Peters the deputy prime ministership and the foreign affairs portfolio. 
Working in a coalition isn't easy but the Greens and Labor are much more aligned than NZ First is with either party, so without NZ First in the mix, a Labor-Greens coalition would likely face less resistance in pursuing climate-friendly policies, which Kiwis overwhelmingly support. The Greens and Labor have made similar campaign promises on other matters, including employment, health and law and justice. 
It is still possible that Labor may end up governing alone. The current electoral system in New Zealand was adopted in the mid-1990s to prevent what former Lord Chancellor of the United Kingdom Lord Hailsham called "elected dictatorship." Moving away from the British first-past-the-post system, the new system, mixed-member proportional, delivers more power to smaller parties. 
But Labor, under the leadership of Ardern, has become immensely popular.  Her resounding leadership through New Zealand's worst terror attack in March 2019, a volcano eruption in December 2019, and her subsequent deft handling of the coronavirus has led her to become known as the "anti-Trump" and has landed her on the front page of magazines and newspapers around the world. 
Not everyone in New Zealand is impressed with Ardern's favorable global media coverage.
In late 2019, the #TurnArdern hashtag emerged on social media, leading hundreds of disgruntled Kiwis to film themselves turning over magazines and books that featured Ardern on the cover so her face couldn't be seen. 
"People are sick and tired of all the fluff articles – people want a prime minister, not a fashion model," Colin Wilson, a Christchurch man who kickstarted the movement told the New Zealand Herald. "A lot of us feel she spends a lot of time doing photo shoots instead of running the country."
It's become such a sensitive topic that Ardern has enacted a blanket ban on giving foreign media interviews during the election season.
Ardern and Labor have also come under fire for failing to deliver on its promises to fix the housing crisis and child poverty in New Zealand. Ardern dedicated her first campaign to tackling these two issues, even creating and then giving herself a portfolio devoted to fighting child poverty. According to the latest report by StatsNZ published earlier this year, there had been "no significant change" in material hardship or rates of low-income for children in New Zealand since 2017.
Despite these failures, Ardern is still expected to win a landslide victory on Saturday — she is currently polling 27 points ahead of National party leader Judith Collins.
Overshadowed by political campaigns, Kiwis are also to vote Saturday on whether to legalize recreational marijuana and euthanasia. While legalizing euthanasia for people who have terminal illnesses, are likely to die within six months or in cases of assisted suicide is likely to pass, the bid to legalize recreational marijuana is expected to fail.