Cambodia, China and the Dara Sakor Problem
China gaining access to an airfield in Cambodia, or anywhere else in mainland Southeast Asia, would redraw the strategic landscape of the region.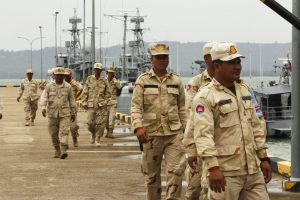 News of Cambodia's recent demolition of a U.S.-built facility at the Ream Naval Base has once again raised suspicions that the country's government is preparing to hand the base over to China, for use by the People's Liberation Army Navy (PLAN).
Were that to actually happen, such a facility would augment the PLAN's burgeoning expeditionary capability, which has recently expanded elsewhere. But with the flare-up in interest around Ream, it would be wise to revisit the more overlooked question of Dara Sakor – a possible alternative project that would arguably be a more important potential asset for China's military. After considering the two in tandem, Dara Sakor illustrates just how significant China's push for a military footprint in mainland Southeast Asia would be for the region.
Ream Naval Base: Reality Versus Paranoia
There is still no concrete evidence that PLAN warships will wind up at Ream Naval Base. But the ongoing caginess of Cambodian officials, and a Wall Street Journal article from July 2019 detailing a secret agreement between Beijing and Phnom Penh granting China access to the base, does mean that it ought to be considered.
The U.S. is certainly worried about the possibility. The Cambodians' rejection of an American offer to repair Ream Naval Base in favor of an opaque arrangement with Beijing prompted the U.S. ambassador to Cambodia to meet with General Tea Banh in September in an apparent last-ditch effort to halt just such an outcome.
But this fear might not be well-founded. It's important to remember China's massive base at Djibouti was partly justified by its usefulness in peacetime operations, including speedy disaster relief, evacuations and anti-piracy operations. This helped ensure other countries would see the PLA presence there as non-threatening.
China has made some middling noise about maritime insecurity in Southeast Asia, but that same justification for a base at Ream would be unconvincing to Cambodia's neighbors. Instead, a PLAN presence at Ream would be seen as the most naked attempt at bolstering China's military position since its construction of manmade island fortresses atop reefs and rocks in the South China Sea.
For that reason alone, China and Cambodia would hesitate to cut a deal that sees a permanent PLAN presence on the Gulf of Thailand. Obvious, impossible-to-hide work must be done to accommodate large surface ships, and while some dredging has taken place, none of it suggests the harbor is getting into shape to accommodate a Type 075 vessel. Furthermore, as some experts have noted, the actual usefulness of Ream for any navy is far from clear.
As a result, it is more likely that any arrangement would have Ream operating more like a logistics facility, in which the PLAN would be granted access to Cambodia's coast on a rotational or situational basis, rather than the creation of a full-fledged Chinese naval base on Cambodian territory.
Instead, those concerned with the possibility of Cambodia hosting the PLA should instead be paying closer attention to the mysterious Chinese-built facility across the bay from Ream, known as Dara Sakor International Airport. A permanent Chinese presence at this airfield, or even just intermittent access to Dara Sakor, is an infinitely more problematic possibility.
Dara Sakor: Dual Use Facilities?

Dara Sakor is a massive tourism resort under construction in Koh Kong province. It has attracted suspicion for being built in a tract of isolated jungle by a Chinese company, in seeming defiance of basic economic sense.
The project is being developed by the Tianjin-based Union Development Group (UDG), which has the ignoble distinction of being sanctioned by the United States for enlisting the help of a Cambodian general to destroy villages in the path of its development in Koh Kong. The U.S. government also claims that it ducked local Cambodian laws forbidding foreign ownership of land by falsely registering as a Cambodian company. In 2008, UDG was granted a 99-year lease to about 20 percent of Cambodia's coast, including Dara Sakor.
Few people need be concerned about a white elephant casino resort in Koh Kong. Of more concern is the massive 3,400-meter airstrip currently under construction adjacent to the Dara Sakor resort, which in its final form would be able to accommodate many of the aircraft operated by the People's Liberation Army Air Force (PLAAF). Such a runway could potentially handle PLAAF fighter jets, fighter-bombers and surveillance aircraft, although perhaps not its heaviest transport aircraft.
If one is worried about Ream, one should be doubly worried about Dara Sakor. Admittedly, the infrastructure to support the logistical train necessary for a real PLAAF footprint has not yet been established at Dara Sakor, but its location just west of Vietnam would allow it to operate in tandem with Chinese island-bases in the South China Sea, such as the airfield on Fiery Cross Reef.
To be sure, the project is a long way from finished. Despite promises the airport will be ready by the end of this year, it's nowhere near that point yet. Nonetheless, the Pentagon remains "concerned" about the potential for the staging of military aircraft there. In mid-September, when asked directly whether China had plans for military access to the Dara Sakor project, China's Foreign Ministry neither confirmed nor denied the reports.
Among China's strategic goals in Southeast Asia are the desire to circumvent a possible blockade of the Malacca Strait, a problem that President Hu Jintao dubbed the "Malacca Dilemma" in 2003, and to enforce practical jurisdiction over the South China Sea, which China considers to be its "near seas." Dara Sakor would be useful in the pursuit of both of these goals.
Regardless of how circumstantial the evidence is, it is instructive to use Dara Sakor as an example of what could come if China's air force does successfully convince Cambodia (or any mainland Southeast Asian state) to grant it military access to their territory in the future. Mere access to such an airstrip for China would fundamentally alter Southeast Asia's strategic geography, as well as Southeast Asian perceptions of China's military. In particular, it would have grave implications for Vietnam.
Entertaining the Thought
Land-based airpower is arguably a more decisive a factor in conflicts on or around mainland Southeast Asia than the kind of situational, rotational naval presence a logistics facility would provide. Imperial Japan prioritized airstrips like those at Prachuap Khiri Khan and Kota Bharu as it swept west across maritime and mainland Southeast Asia during World War II, recognizing the usefulness of these air hubs for offensive bombing, surveillance and the basic need for air superiority. Those same airstrips later provided critical air mobility to British forces during the Burmese campaign, and to U.S. and allied forces during the Vietnam War.
In peacetime, there are strong coercive effects of having certain countries and facilities within bomber range. If the PLAAF flew its trademark bomber, the H-6K (with a range of about 3,000km), out of Dara Sakor, it would reach the Andaman and Nicobar Islands, complicating India's military presence at the far end of the Malacca Strait and bringing to mind the vulnerability to India's east that prompted K. M. Panikkar to write about the Indo-Pacific long before it entered the international security lexicon.
It would also place Singapore's Changi Naval Base, Malaysia's capital Kuala Lumpur and Indonesia's new tri-service base at Natuna Island under overlapping bomber and fighter jet umbrellas, coupling up with China's airfields in the middle of the South China Sea.
Perhaps the most dramatic effect would be on Vietnam, which would find itself sandwiched between multiple nodes of Chinese airpower. In the event of a conflict, China could "criss-cross" the skies over Vietnam with bombers and fighter jets, taking off from Dara Sakor and landing at China's South China Sea airstrips on Fiery Cross Reef, Woody Island or Subi Reef, before flying back again. No urban area in Vietnam would be unreachable, and Vietnam's ability to win an air war in or around its airspace is already highly doubtful.
It's not just a matter of the threat from strategic bombing, either. Information, as the PLA notes in its operational concepts, is a powerful resource on its own, even absent any shooting.
Vietnam has been counting on some recent, high-ticket submarine purchases to be the cornerstone of any strategy against China in the event of a flare-up of conflict in the South China Sea. Contrary to popular belief, Vietnam holds a key trump card against China, in the form of the ability to seriously strangle Chinese trade in any situation, as shipping routes flow out of Chinese ports and into a few, seriously vulnerable lanes in the South China Sea.
Maritime patrol aircraft and anti-submarine surveillance planes flying out of Dara Sakor, including the types of Chinese unmanned aerial vehicles that have already shown up in Cambodia, would make Vietnamese movements on the surface of the South China Sea and Vietnamese submarines moving under the surface far more detectable and fragile.
Practically, it would also put Vietnam in a much weaker negotiating position over the disputes in the South China Sea, and greatly complicate its military planning, which up to this point has the benefit of an asymmetric focus that only needs to worry about the eastern coast and a land border in the far north of the country. Under those conditions, Vietnam maybe be forced to accommodate some of China's increasingly overbearing demands in the region.
And Vietnam's dilemma could bleed into the strategic considerations of other Southeast Asian countries as well. China's aggressive surveillance flights in the South China Sea will only get more provocative if planes can take off from Cambodian soil, forcing nearby countries to reexamine their political will to resist Beijing's coercion and weigh the benefits of a rapprochement instead.
Conclusion
In short, a PLAN presence at Ream Naval Base may be concerning, but a new source of land-based airpower for China's PLAAF in Cambodia ought to be considered the worst possible scenario – if not for the U.S., then definitely for Vietnam.
If the U.S. and Vietnam believe there is a credible threat of Cambodia hosting Chinese air assets, then intelligence cooperation ought to begin now, if it hasn't already. The U.S. has a unique interest in strengthening Vietnam's hand as it heads into meetings with China over delimitation in the South China Sea, and as it continues to push the Association of Southeast Asian Nations (ASEAN) to negotiate as a bloc with China on issues like a maritime Code of Conduct.
Alternatively, the U.S. and Vietnam could establish a new method of access on mainland Southeast Asia, although this may not be possible. While Vietnam and the U.S. have some common interests, there is a near-zero chance Vietnam would ever host U.S. forces to counter Chinese ones nearby, even after slight amendments to its longstanding "Three Nos" policy (no foreign military bases, no foreign military alliances, and no using a third country to oppose another).
All this may be a worst-case scenario, but it's an important thought to entertain as China's military grows and seeks an expanded role further from China's borders. There is one key caveat to keep in mind that would apply to Dara Sakor, or any airstrip in Cambodia that Dara Sakor can stand in for. Namely, the great cost it could exact from the host nation.
On the surface, Cambodia is the closest thing to a Chinese client state in Southeast Asia, but even it would balk at the idea of its territory becoming a target for China's enemies in the event of a conflict. Cambodia has very little means for handling external security threats, and there is no appetite for war in Southeast Asia, as the latest ASEAN joint communique, which Cambodia signed onto, showed. However, China's aggressive pursuit of its interests in the South China Sea is increasingly blurring the line between conflict and peace, and that should make any would-be bandwagoners sweat. No one, not even Cambodia's venal Prime Minister Hun Sen, would want to be left holding the bag if China and another country – be it Vietnam, the U.S. or even India – stumbled into war.
Drake Long is a 2020 Asia-Pacific Fellow for Young Professionals in Foreign Policy. He writes on the South China Sea for Radio Free Asia. Follow him on Twitter: @DRM_Long