China's Military Exercises Near Taiwan: The Lowdown on an Uptick
Since August, the PLA has carried out exercises aimed at testing its alongshore air defenses.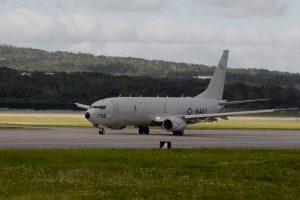 On October 9 — one day before Double Tenth Day, the National Day of Taiwan — the Gulei Port Economic Development Zone Administrative Committee in Zhangzhou, China and People's Liberation Army (PLA) jointly issued an announcement for a ban on navigation. The reason: Live-fire exercises would be conducted on the Chinese internal waters in the east part of Gulei Peninsula from October 13 to 17.
This is geographically the closest live-fire exercise to Taiwan since the Chinese Ministry of Defense announced on August 13 that it would demonstrate "Multi-units and multi-directional systematized actual combat drills" on the Taiwan Strait and both at the north and south ends.
However, PLA exercises in the Yellow Sea, East China Sea, and South China Sea have been much more frequent since July. It is generally believed that this is Chinese military swagger against Taiwan. It is much more probable, however, that the PLA exercises point to weaknesses in its military capability.
As to the Yellow Sea, an area roughly resembling an isosceles triangle with sides around 215 kilometers was first demarcated on the southern coast in mid-July, which is fit for HQ-22 (HongQi-22) and HQ-9B (HongQi-9B) long-range air defense missiles exercises. This was followed by six navigational warnings, beginning with LYG0043 issued for August 25-27 and ending with LYG0057 issued for September 28-30. Six rounds of live-fire drills were executed back-to-back at the same location on the west side of the port of Lianyungang. It is evaluated that such a cone littoral target region — around 12.5 kilometers long and 5.5 kilometers wide — is only for anti-aircraft artillery and short-range air defense missiles.
In the East China Sea, live-fire was brought into practice in the Huangdayang waters of the Zhoushan Islands, Daishan Waterway, and Baisha Island in Taizhou (all of which are in Zhejiang province) in mid-August. Between September 8-10, military operations were further carried out near Queer'ao Island, Yijiangshan Island, and Dachen Islands in the East China Sea. Navigation warnings ZJG0722 and ZJG0726 were issued for live-fire exercises on Yushan Islands in late September.
This range of target area is the same as that in the Yellow Sea exercises, with dimensions not surpassing the range of anti-aircraft artillery and short-range air defense missiles. As to these military activities in the East China Sea, from Dachen Island to the southernmost end of this target area, there is still a depth of around 120 kilometers where it is possible to hold to a mid- and long-range HQ-9 air defense missile exercise.
In the South China Sea, the exercises were focused on Woody Island of the Paracels. In early July, drills were conducted within the surrounding waters about 120 km from the Paracel Islands. The navigation warnings HN0087 and HN0088 were both announced on the same day, on September 28. The rectangular area in the southwest and sector area in the northeast at a distance of 12.5 kilometers from the Woody Island were delineated for military training.
It is not difficult to come to the conclusion that the purposes of summer military exercises in the Yellow Sea, East China Sea, and South China Sea are analogous. All of them would fit with mid- and long-range (of over 120 kilometers) air defense missiles, anti-aircraft artillery with a range of  12.5 kilometers, and short-range air defense missiles. In short, the PLA's successive exercises this summer focus on carrying out comprehensive drills for "arming islands and consolidating alongshore air defense."
What kinds of threat from enemies make the PLA feel a thorn in its side, so that it has to strengthen islands and alongshore air defense? The U.S. military deployments in the Indo-Pacific since this year, and Taiwan's potential new arms purchases.
Chinese Foreign Minister Wang Yi frankly noted at the 10th East Asia Summit Foreign Ministers' Video Meeting in September that U.S. military aircraft conducted more than 3,000 activities in the South China Sea in the first half of this year.
The "close-in reconnaissance" from various types of U.S. electronic reconnaissance aircraft and P-8A maritime patrol aircraft is the main reason why the PLA felt the need to carry out the recent exercises. The Arleigh Burke-class destroyer USS Rafael Peralta (DDG 115) inshore cruised in the Yellow Sea, East China Sea, and South China Sea from February to July.
Furthermore, U.S. aerial and naval vehicles deployed in these areas in the future would be equipped with drones as well as "loyal wingmen" (drones accompanying manned aircraft) in the future. Beyond that, Taiwan is under talks to purchase unmanned reconnaissance aircraft MQ-9B (SeaGuardian) from the U.S.; these drones pose threats to the PLA's air defense and military security. The PLA, therefore, launched these "arming islands and consolidating alongshore air defense" exercises to counter these threats.
It nonetheless exposed restrictions on the PLA's air defense of internal waters. It is not a small matter that these anti-aircraft artillery fire and short-range air defense missiles exercises were held after sunrise and before sunset, displaying the PLA's deficiency in night combat.
The PLA's summer military exercise this year is nothing but a commencement. Going forward, it would further bolster its night vision capabilities and make them a regular part of defense against close-in reconnaissance from the United States' and Taiwan's unmanned vehicles. Many interpret the PLA's intensive military exercises over the past few months as an omen, a prelude to a Taiwan invasion. However, based on the analysis above, it is clear that the exercises are not part of the PLA's preparations for an armed invasion on Taiwan; rather they are just to bridge its own combat gaps.
Lu Li-shih is a former instructor at the Taiwanese Naval Academy and a former captain of the Ching Chiang-class patrol corvette. He has appeared as a guest military expert on Taipei Times, Liberty Times, South China Morning Post, TVBS News, and Defence International. He also has master degrees in both journalism and business Administration. You can follow him on Twitter: @lu_lishih.