Dogfight and Football: How the 2019 Balakot Airstrike Still Fuels Political Bickering in India and Pakistan
A Pakistani opposition politician has accused the Imran Khan government of caving in to Indian pressure, forcing it to release a captured pilot last February.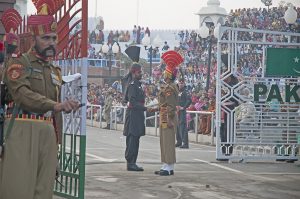 Nineteen months later, the February 26, 2019 Indian airstrike in Balakot – the first time in history one nuclear power had targeted another's unambiguously sovereign territory – continues to be a gift that keeps giving when it comes to domestic political point-scoring for both sides. On October 28, it was reported that Pakistan Muslim League-Nawaz (PML-N) leader Ayaz Sadiq alleged on the floor of the National Assembly that Pakistan had released an Indian pilot in its custody following India's threat to launch an attack if he wasn't let go. The pilot, Wing Commander Abhinandan Varthaman, was captured when his jet was downed in a dogfight as Pakistan retaliated to the Balakot strikes with an air attack on February 27. Varthaman was released by Pakistan the day after, as a "gesture of peace," and returned to India on March 1.
At that time Pakistan's Foreign Minister Shah Mahmood Qureshi had claimed there was "neither compulsion nor pressure to release the Indian pilot." Sadiq, however, had a different story to tell. According to him, the day Pakistan captured Varthaman, Qureshi had told a gathering of the country's leaders – which included Army Chief General Qamar Javed Bajwa – that if the pilot was not released, India would attack "by 9 PM" that night. Sadiq also noted that Qureshi's "legs were shaking and he was perspiring," suggesting, quite unsubtly, that the Imran Khan government and Pakistan's army caved in under Indian pressure. (On October 29, Sadiq walked back his comments, accusing the Indian media of "misreporting and misquoting him.")
It is quite likely that India did communicate a threat to Pakistan, both directly, through intelligence channels, and also through third countries including the United States. Quoting a senior U.S. official, Indian Prime Minister Narendra Modi himself obliquely admitted to it during an election rally in April last year, suggesting that had Pakistan not committed to returning the pilot, a "night of murder" would have ensued.
Explaining Sadiq's comments, former Indian Air Force chief B.S. Dhanoa – who was serving at the time of the Balakot attack – told the news agency ANI: "it is because the military posture was very offensive of all the three services, Army, Navy, Air Force,." He added, "…God forbid had they hit our installations on February 27, we were also in a position to wipe out their forward brigades. They know our capability. Basically, if this thing is there in their mind that we are likely to strike, they first look at how their own military is doing." Notably, this account is quite different from the what was reported about India's threat last March: that it involved missile strikes against targets inside Pakistan.
While Sadiq's observations were celebrated in certain quarters in India, it is important to keep in mind the PML-N's own interest right now in attacking Khan's government, as the opposition simultaneously takes on the prime minister, his party, as well as – boldly – the military. On October 25 at a rally in Quetta, PMN-L leader Maryam Nawaz had called for the resignation of Khan's "selectors," a reference to Bajwa and Inter-Services Intelligence chief Lieutenant General Faiz Hameed, marking what The Diplomat's Pakistan contributor Umair Jamal called a "point of no return." On his part, Khan has accused PMN-L chief Nawaz Sharif of "playing India's game," while Maryam Nawaz has said Modi does not "respect" Khan. As the Khan-military hybrid government clashes head on with the Pakistan Democratic Movement, an alliance of 11 opposition parties, India stands to serve as a convenient political football.
But as observers of last year's general elections in India will attest, the ruling Bharatiya Janata Party (BJP) here has also enthusiastically embraced the game, accusing the opposition Congress Party of disbelieving the Indian military's claim about striking terror camps in Balakot. It is quite likely that as India moves toward key regional elections over the next couple of years, the BJP will play up India's tough Pakistan stance – and bask in the reflected glory of the Balakot strikes.
Brace for more chest thumping and finger pointing around what transpired over 48 hours last February, both in India and Pakistan. Again.