How India Is Silencing Its Students
Anti-CAA protests breathed new life into India's student protest movement. But Narendra Modi's government is moving to crack down on campus dissent.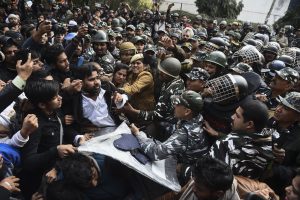 Students are not just the harbingers of the future; they are also pivotal participants in the construction of the present. In a voluminous democracy like India, students at colleges and universities represent the endeavor, erudition and energy that a composite polity requires in order to hold power to account and sustain a comprehensive dialogue between the governing and the governed.
To silence students is to stifle an essential component of the democratic framework and usher in the politics of authoritarianism. Yet that is exactly what is happening in India.
"We tried to get as far inside the university's premises as possible, thinking that there are certain places where the police would not enter. But the notion of safe spaces turned out to be an illusion," recalls Aman Pandey, a master's student of convergent journalism at Delhi's Jamia Millia Islamia University. "The police attacked us everywhere, from the libraries to the washrooms."
As Aman revisits the events of December 15, 2019 – when police forces entered his university's campus and unleashed an assault on students protesting against the Citizenship Amendment Act (CAA) – it becomes apparent that the trauma from that ghastly night endures 10 months on.
"We had to watch out for the tear gas shells all the time… If they had landed on any of our hands, it would have been disastrous… I remember there was this brief moment when we saw something fly over our heads and grew petrified… a few seconds later, we realized it was just a bird. But that's how anxious we were.
"The scenes on campus had come to resemble a hostage scene from a movie. We knew that trying to get out of the building would mean getting beaten up. And staying inside was not safe either, so we had to constantly keep shifting."
Aman and hundreds of his peers from Jamia had been protesting against the CAA, passed into law by the Indian government of the Bharatiya Janata Party (BJP) on December 11, 2019. The law states that fast-tracked citizenship would be offered to all illegal migrants who had fled to India from the neighboring countries of Pakistan, Bangladesh and Afghanistan before December 2014 on grounds of religious persecution. The exception, however, does not apply to Muslims.
The CAA marked the first time that religion had emerged as a criterion for citizenship in India.
The passage of the CAA triggered protests across India – with students at the forefront – that continued into the first couple of months of 2020, before the COVID-19 pandemic put everything on hold indefinitely.
The ruthless crackdown on the protesters in Jamia in December generated a groundswell of outrage among large sections of the Indian student community.
Aman insists that the protests at Jamia had been non-violent: "We had all held placards that explicitly condemned violence. But the police did not care, they were beating anyone and everyone without any regard for the repercussions of the violence."
Some thousand miles away from Jamia, Sehrish Hazarika was sitting inside the library at the National Law School of India University (NLSIU) in Bengaluru when she heard a ping on her mobile phone.
A friend of hers had sent Sehrish a video showing how police forces had vandalized Jamia's library. Sehrish, a student of public policy at NLSIU, was instantly aghast and began to wonder if the same fate could have been visited upon the library of her own university.
"The anti-CAA protests marked a new moment in the history of student movements in India," Sehrish believes. She added that taking to the streets to condemn the partisan CAA had infused her with a fresh zeal.
"When I was protesting, I felt part of a community… even though there were so many people I hadn't seen before, so many people I didn't know. But I realized that for that moment in time, we were on the same page of history. We were fighting for the same India."
During the protests, Sehrish and a few of her friends had made their way to the Town Hall in Bengaluru, where they were confronted by the police. Section 144 of the Indian Penal Code was in operation, which meant public gatherings had become temporarily illegal.
Despite the inevitability of getting arrested, Sehrish and her group did not back down from voicing their dissent. "We were all really scared," she says. "Most of us hadn't been face to face with the police before. Once we arrived at the spot, the police immediately charged at us. But we formed a human chain and somehow held our ground."
But instead of being persecuted by the police, Sehrish and her co-protesters were calmly dealt with by the Deputy Commissioner of Police (DCP), who ensured that the youngsters were not manhandled.
"The DCP explained to us how the police could not let us protest due to the imposition of section 144; he clarified that he and his officers weren't anti-students, they were simply doing their job."
Eventually, Sehrish and the rest were taken to the police station for refusing to abandon their protest and released a few hours later.
With the coronavirus effectively suspending on-the-ground student protests in the country since March, the Indian administration has made use of the last few months to put scores of student leaders and activists in prison, charging most of them under the draconian Unlawful Activities (Prevention) Act (UAPA), which merely requires suspicion (and no actual commission of a crime) to justify a person's arrest.
Prominent among the series of recent detentions have been the cases of Safoora Zargar and Umar Khalid.
Zargar, an M.Phil student from Jamia, was incarcerated between April 10 and June 24 of this year under charges of premeditated conspiracy. It was alleged that Zargar had participated in the anti-CAA protests in the Indian capital with the aim of triggering the subsequent riots that ravaged Delhi in February. She was three months pregnant at the time of her arrest.
Khalid, a former Democratic Students' Union leader at Delhi's Jawaharlal Nehru University, was booked, like Zargar, under the UAPA in September, for allegedly facilitating the Delhi riots by making "provocative speeches" during the anti-CAA protests.
According to Harsh Mander, one of India's leading social activists, numerous students and scholars have been hounded in the context of the anti-CAA protests on the basis of flimsy, and at times absurd, evidence. Mander reports that many of these students have confided in him their harrowing experience of being called "repeatedly to the interrogation chambers of the Delhi police's Special Cell, retained for several hours, and threatened darkly with many years in prison."
But why this systemic repression of students? Why is the Indian administration selecting young educated voices as the ones that must be muffled first and in the severest of ways?
Soham Chakraborty, who studies English literature at Kolkata's Jadavpur University – a campus that is no stranger to protests and student activism – has an explanation:
"The politics of the ruling regime (the BJP) is about finding the most disposable constituents and blaming them, turning them into an enemy. Students have now become the most disposable and must be targeted with a selection of adjectives ('anti-national', 'urban naxal', 'sickular libtards', among other epithets)… the BJP know that these students are a convenient target because most of them would never have voted for the BJP anyway."
Soham, like Aman and Sehrish, had also been part of the anti-CAA protests, but felt he was protesting "in a protected environment in West Bengal," where the state government is helmed not by the BJP, but by the All India Trinamool Congress.
"The protests in Bengal were akin to a festival. We were able to prove that we were not merely against something, but we were for something as well. We were protesting because we were for the idea of a syncretic India. Even our chief minister, Mamata Banerjee, captured this syncretic spirit through her speeches. Ultimately, the protests were an act of building a mythology of solidarity that resonates throughout India – linguistically, politically, culturally."
Countering this "mythology of solidarity" that has awakened among India's student community has been the insidious role of mainstream media outlets in the country.
Republic TV, which regularly ranks as India's most viewed English-language news channel, has been a persistent critic of the student protests, accusing protesters of everything from being ignorant to being ideologically motivated (at the expense of India), and everything in between.
Earlier this year, Aman had the chance to appear on a panel on one of the characteristically raucous prime time "debates" on Republic TV, moderated by the channel's editor-in-chief, Arnab Goswami.
"You cannot have a proper discourse with Arnab Goswami," he says. "I was sure he wasn't going to let me speak (which turned out to be true). One argument made by Arnab that I tried to counter was that because students like me come from a public funded university (Jamia), we should not be allowed to dissent or speak against the government."
Platforms like Republic TV not only amplify pro-government and anti-student narratives; they also reduce complex debates to binary discussions of black and white, which do not allow the viewer to think or ask the necessary questions.
Aman's way of countering India's toxic mainstream media is to set up alternate forums of communication. For instance, he posts short satirical videos on YouTube, in which Aman blends political commentary with Indian obsessions like cricket and Bollywood.
"I get very angry and find their arguments (those supporting the BJP and denying the existence of student oppression) bizarre. But I have to find a way of channelizing my energy… Using satire is one such way. It allows me to be accessible to those (derisively called 'Bhakts' in India) who would otherwise not listen to me."
But does Aman feel intimidated in voicing his political opinions online, given the current environment in India?
"Some people can afford to be silent… but I don't think a Jamia student can afford to be silent," he explained. "I have to speak out because I cannot help it. The truth is that I do feel scared… but I know that I'm not as threatened because of my (Hindu) surname. The one-stop-solution to all ills in India right now is to find a Muslim culprit."
Sehrish agrees with Aman's characterization that all student dissenters are endangered in India, but some are more endangered than others.
"The degree of punishment for dissenters will be defined by the criteria of religion, caste, and class. But dissent is being shut down everywhere… we are becoming a surveillance state."
Soham thinks that the present condition in India places the initiative with the students to reimagine their modes of resistance as well as their role in a democracy: "Students have to work towards creating new theories of politics, we need a new praxis for political action. Besides, students have to learn how to communicate to the average Indian, in a manner that is comprehensible and sympathetic and takes into account the lived experiences of the common men and women of India. In doing so, we also need to incorporate the idioms of nationalism, to justify why our ideas will be in the national interest."
There is no doubt that the burden on students in the world's largest democracy is an onerous one.
As a democratically elected government transforms into an elected autocracy, with parliament reduced to a rubber stamp, institutions plagued by inertia and in which dissent is increasingly being criminalized, students have become key players in protecting the liberty, equality and fraternity enshrined in the Indian constitution.
The future may be enveloped in peril for Indian students, but inspiration is never far away in the past.
"The narrative that this government wants to establish is that we should try and revive the glories of the past," observes Sehrish.
"But did our past not have student protests and a robust student leadership? Are we not supposed to be inspired by the struggle of students during the Independence movement, during the Emergency of the 1970s? Our past provides numerous examples of how Indian students have tackled the oppressive might of the state."
She adds, "The spirit of dissent, after all, has always been an inseparable part of being a student in India."
Priyam Marik is an Indian freelance journalist who has written for The Telegraph (India), The Wire, and Deccan Herald.