India's War on Reporting
In Chhattisgarh, a 50-year-old civil war has left little room for nuance or reason.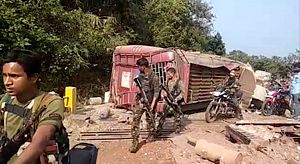 "Who do you think you are, James Bond?" Jitendra Shukla, the police chief of Narayanpur district hollered at me as I walked into his office. This was after nearly seven hours of detention and questioning by two different officers who reported to him. Shukla had personally ordered our detention and asked that it be long and tiresome.
Our crime? Talking to villagers in the Maoist controlled Abujhmarh area, asking them what they thought about the upcoming elections in the state of Chhattisgarh.
Even if the region was, for all practical purposes, out of the control of India's state forces and more of an active civil war zone, it nevertheless lay in Shukla's jurisdiction. And he wanted to be in control of everything that goes on there.
Over the next hour, the wiry and balding officer would try many paths to make us feel apologetic: Mock my accent; insult my reporting partner, the veteran Chhattisgarhi journalist Kamal Shukla (no relation); threaten my cameraperson; and tell us how much worse things could've been for us if not for his leniency.
"Who do you think you are?" he repeatedly said, reminding us that we had no business going anywhere without permission from his office.
After letting him vent, and summoning up all the calm I could after four days of walking from one village to another through one of the densest and most hostile forests India has, I reminded him that we were under no obligation to seek his permission to report from anywhere. As members of the free press and as citizens of India, we had every right to go to the villages and talk to whoever was willing to speak. If any wrongdoing had been committed, it was by Shukla and his men, who had confiscated our cameras and run our memory cards through recovery machines.
Most importantly, I told him, that just as he was doing his job as a policeman, we were doing ours as journalists — and our duties needn't overlap. If he really had a case against us, he was free to put us under arrest. If not, we would like to go to our hotel to shower and rest.
The officer's gaunt features tensed and he took a long moment to stare me in the eye. He sighed and looked at his phone. Both his personal and work phones were ringing incessantly. We had sent out messages of our illegal detention to friends and colleagues and now calls were coming in from various press and human rights groups from across the country.
His reaction showed he wasn't accustomed to being countered. Especially not by journalists.
Police as Editor, Press as PR
"He and his men are the super-editors," we'd been told by a local journalist before our detention. "And to be in the business of news reporting, one has to make peace with the powers that be."
It's an open secret that no local reporter can survive in Bastar division if the police are upset with them or their reporting. Just like police chiefs in other districts of Chhattisgarh, officer Shukla knows every single reporter in Narayanpur and knows every last detail about their lives — both personal and professional.
Using the Maoist threat as an excuse, the state and its militarized police demand that every last shred of independence and conscience be surrendered by news media. Even in the face of rank corruption and exploitation of tribal lands and lives, every line of critical reporting must be erased.
The police follow the social media accounts of everyone who writes about Chhattisgarh. In their eyes, the line that divides friendly reporters from hostile ones is a stark one.
"Your posts are always critical of the police, Shukla-ji," Jitendra had sneered at Kamal. "You're basically their [Maoists] spokesperson."
Like most anti-establishment journalists in Chhattisgarh, Kamal's life as a journalist has been one of unceasing persecution: Charged with sedition, jailed a number of times, and now pushed to the brink of poverty. His stubborn commitment to independent journalism has cost him much.
On the very first day of our reporting assignment he said he'd come prepared to be taken in by the police.
"I don't mind one bit — I actually miss not being inside for a while!" he said, chuckling.
The fact is, Chhattisgarh and its 50-year-old civil war has left little room for nuance or reason. From scholars to activists to journalists, one is either with the state or with the Maoists.
"Tell me the truth," officer Shukla had said sternly around halfway through our interrogation. "You intended to meet the Maoists and that's why you avoided meeting me before you went in, didn't you? Tell it like it is now. Because lying will only make it worse."
We had gone to talk to the villagers, we said. But if we met any Maoists, we would naturally talk to them, too. Just as we would with any police or paramilitary officer who was willing to talk.
"I personally met the officer in charge of your last outpost and asked him for an interview," I reminded officer Shukla. "And even left a message that we want to talk to you when we're back."
Rejecting our line, Shukla rang a bell on his desk and asked to bring "them" in and told us: "We'll know the truth right away."
Our driver and translator were brought in.
Our car had broken down before we could move into the forest. They had returned to town while Kamal, the cameraperson, and myself, had completed the rest of the journey on foot.
It turned out that they'd been taken into custody on their way back and now both bore obvious marks of physical abuse. Repeated slapping and manhandling — as eyewitnesses confirmed — had left bruises on the cheek of our driver and our translator with a bloody eye. To add insult to injury, the two were made to declare to TV cameras that they hadn't been harmed in any way and had been treated with dignity.
When the driver and translator corroborated our story, officer Shukla took another turn at finding something to blame us with.
"Bastar is a changed place now," he insisted. "Me and other officers like me are trying to change things. But your reporting is one-sided and paints us all as bad."
There was some merit to what the officer had said.
Before entering Narayanpur, I'd learned that Jitendra Shukla was a protege of Bastar's former inspector general of police, SRP Kalluri. Kalluri had earned infamy for his use of torture and fake encounters. The National Human Rights Commission of India had investigated and issued a notice against him on several counts of human rights violation, following which he was sent on leave.
Jitendra Shukla's style of working has been notably different.
He's gone after corrupt civil contractors who get government contracts for building roads, bridges, and other public works and run away after pocketing the money. He's only had limited success, though, since the contractor cartel, with its deep pockets, enjoys the patronage of politicians across parties. But the intent is there.
Shukla's even made some sincere efforts at building trust among the tribal communities and tried to wean them away from the Maoists.
But here too, he's only been able to go a short distance. The territorial battle lines are too old and too deep for him to have made enough inroads without resorting to arms. Even though he may talk of peace building measures, his foot soldiers regularly stage encounters and fake surrenders and terrorize villagers and extract "confessions" at gunpoint.
Officer Shukla was wrong in asserting that any journalist not beholden to the government line only paints the government in a bad light. A host of journalists, both local and those from outside, have repeatedly written about the failings of the Maoist movement. Issues like factionalism within their ranks, prioritizing militarism over activism, antipathy to and isolation from India's democratic politics, and their brutal sentencing of those judged to be police informers, have been been given ample space.
"Can you show us an article we've written that shows us as being Maoist sympathizers?" Kamal and I repeatedly asked of officer Shukla. He refused to go into details.
The Maoists are not much better when it comes to tolerating dissent. Soon after the detention of our team reached national news outlets, the Maoists released a press note signed by the chief of its zonal committee. The note opened with the line: "We welcome journalists to freely and fearlessly report from Bastar." It ended with: "Help us expose the bogus elections."
The note left unanswered an important question. What if we reported that the people in areas controlled by the Maoists wanted to participate in the so-called flawed electoral democracy of India? Would our safety and freedom still be guaranteed? Would the tribals who said such things on the record be left alone and not punished for being anti-revolutionaries?
Both the state and the Maoists have very little tolerance toward dissenting voices. Anyone who isn't willing to toe their line, who is trying to look beyond their public image, is seen as hostile.
While the former is fast at issuing labels of anti-national, the latter is equally brisk with labels of being agents of the bourgeois-landlord state and exploitative corporations.
Endnote
In response to Jitendra Shukla's repeated claims that we were blind to their difficulties and ignorant of the ground realities of Bastar, we offered to embed ourselves with the police and take a first hand account of what life is like on their side of the barricade. We were refused.
Instead, a team from India's public service broadcaster, Doordarshan, was brought on to ride with the authorities. The plan was that the other team would have a more compliant view of things and would report back about the successes of the many government schemes and initiatives in time for the elections.
They were to ride along with a police party in the same area we'd been reporting from.
Within hours of the Doordarshan team entering the zone, they were ambushed by a Maoist contingent that had been lying in wait. Their cameraperson was shot dead.
NOTE — At the time of publication, local journalists said that the police had gone through our footage and identified the tribals who had spoken about forced surrenders and police excesses. The police then arrested these men in staged surrenders.