Pompeo Concludes Anti-China Tour in Vietnam
Despite progress in some areas, Pompeo has struggled to sell his administration's stridently anti-China policy.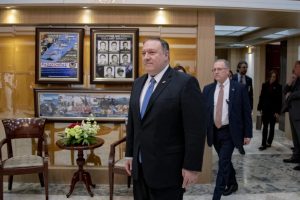 U.S. Secretary of State Mike Pompeo will today finish up a five-day tour of Asia, in which he has harangued partners and would-be partners to push back against China's increasing political and military inroads in the region.
The tour comes to a stop in Vietnam, a last-minute addition to Pompeo's itinerary, which also included stops in India, Sri Lanka, the Maldives and Indonesia. Ostensibly intended to celebrate the 25th anniversary of diplomatic normalization, Pompeo will almost certainly use his short visit to Vietnam to excoriate China, its handling of the coronavirus pandemic and its aggression in the South China Sea.
Pompeo's "anti-China roadshow," as the Associated Press termed it, began in India, where he denounced the Chinese Communist Party as "no friend to democracy, the rule of law, transparency, nor to freedom of navigation – the foundation of a free and open and prosperous Indo-Pacific." In the Maldives, he lashed out at China's "lawless and threatening" behavior, of "trashing the environment" and seeking to entrap small nations in skeins of debt.
"We see from bad deals, violations of sovereignty and lawlessness on land and sea that the Chinese Communist Party is a predator," he said later in the Sri Lankan capital. "The United States comes in a different way, we come as a friend, and as a partner."
Pompeo's penultimate stop was in Indonesia, where he praised the country's leadership in the Association of Southeast Asian Nations for pushing back against what he called China's "unlawful" South China Sea claims and denounced Beijing for its horrific treatment of the Muslim Uighur minority in western China, describing the Chinese government as "the gravest threat to the future of religious freedom."
The regional reaction to Pompeo's harangue was on the whole subdued. In each case it was clear that there are certain areas in which U.S. and regional interests overlap (such as on the question of freedom of navigation and the importance of resolving maritime disputes via international law) and areas in which they diverge (the depiction of U.S.-China competition in all-or-nothing ideological terms).
The former was evidenced by the relative concord between Pompeo and the Maldivian President Ibrahim Mohamed Solih, in which Pompeo announced that the U.S. would open its first embassy in the Indian Ocean archipelago. At the same time, Pompeo's attempts to harangue Asian nations into an ideological anti-China alliance have borne little fruit. The most pointed comment example of this came from Sri Lankan Foreign Minister Dinesh Gunawardena, who said, during a joint news briefing with Pompeo, "Sri Lanka is a neutral, non-aligned country, committed to peace. We hope to continue with our relations with the United States and other countries."
This was also demonstrated by the Indonesian government's recent rebuffing of an American request to base P-8 Poseidon spy planes in the country. As Indonesia's Foreign Minister Retno Marsudi put it last month, "we don't want to get trapped by this rivalry." Following her meeting with Pompeo this week, she said, "I reemphasized the need to pursue inclusive cooperation amid this challenging time, and I underlined the need for every country to be part of the solution in the collective contribution towards world peace, stability and prosperity."
Pompeo's tour, which took place in the shadow of next week's U.S. election, in which the question of Chinese perfidy has figured prominently, highlights once again the gap separating the Trump administration's perceptions of China from those of its Southeast Asian partners.
Aside from the president himself, the Trump administration has been fond of depicting U.S.-China competition in starkly ideological terms: as a global showdown between democracy and authoritarianism. Within the administration, few are so fond of his fire-and-brimstone sermonizing than Pompeo, who in a speech delivered at the Nixon Library in July, laid it on thick: "General Secretary Xi Jinping is a true believer in a bankrupt totalitarian ideology," he declared. "It's this ideology, it's this ideology that informs his decades-long desire for global hegemony of Chinese communism." Pompeo added that the path forward for U.S. was clear: "We, the freedom-loving nations of the world, must induce China to change." Here was an ambitious solution: strategic victory through a project of global conversion.
This framing is problematic in several respects. First, it erroneously treats authoritarianism as a coherent ideology united in a global coalition, analogous to the Soviet bloc during the Cold War, rather than the grab-bag of differing and often opposed regimes that represent it in practice. Second, many of the nations whose support the Trump administration seeks against China – from Narendra Modi's India to communist-ruled Vietnam – are hardly paragons of liberal values. Third, while the character of the Chinese communist regime no doubt shapes and informs its international behavior in important ways, it is unlikely that a non-communist China would suddenly cease to be nationalistic, nor to seek to safeguard its security, particularly in its near abroad. For evidence, one can simply look at the bullying behavior of the U.S. in Latin America and the Caribbean during its rise to global power in the late 19th and early 20th centuries.
For Southeast Asian governments, the challenge posed by China is one of power more than principle. The main challenge is how to maintain important economic relations with China while resisting the more problematic aspects of its behavior. Here, the U.S. has a pivotal role to play. But as Dino Patti Djalal, the former Indonesian ambassador to Washington, put it in these pages a few weeks ago, "Southeast Asian governments are just not interested in meddling with China's political system… If they can happily embrace communist Vietnam and Laos within their own region, they can also accept China being what it is." In this regard, one wonders what Pompeo's Vietnamese hosts thought of a comment he made during his Nixon Library speech, when he said, apropos of his Cold War-era military service: "if there is one thing I learned, communists almost always lie."
Pompeo's worldview appears to be informed by a crude variant of American exceptionalism that views U.S. interests as axiomatically virtuous and hence basically synonymous with the interests of humanity as a whole. Such an idealized vision of American power not only risks creating cognitive distortions that occlude (or anathemize) differing opinions among partners and allies; it also risks minting foreign policy decisions that are ineffective or counterproductive to American interests. Pompeo's present anti-China tour offers a good example: While the visit saw some advancements in Washington's bilateral partnerships, particularly with India and the Maldives, the region has remained generally resistant to the administration's anti-China clarion call.
There is no easy answer for how the the current and future administration should meet the challenge posed by China, but a good start would be to make a more realistic appraisal of Asian nations' interests, and to try to see both China and the U.S. through the eyes of others. The retired Singaporean diplomat Bilahari Kausikan put it well recently when asked about regional perceptions of Washington. "Don't idealize yourself," he advised the U.S. government. "Because others don't."