Royal Audience to Test Anwar's Bid for Power in Malaysia
As Malaysia's opposition leader prepares to put his case to the king, the country braces for another wrenching political shift.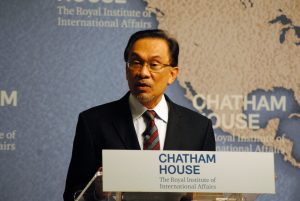 Always the bridesmaid, never the bride: for more than two decades, that has been the position of Malaysia's Anwar Ibrahim, who has on several occasions come close to capturing the country's top job, only to fall short at the final hurdle. But this could potentially change tomorrow, when Anwar will meet with the country's King to formally stake his claim to the country's prime ministership.
Last month, Anwar called a press conference in Kuala Lumpur to announce that he commanded a "formidable" majority in parliament, and that the government Prime Minister Muhyiddin Yassin had collapsed.
Yet Anwar did not disclose exactly how many lawmakers had pledged their support, and when King Abdullah Sultan Ahmad Shah canceled a scheduled meeting with the opposition leader citing illness, Malaysian politics was thrown into limbo.
In a statement on October 8, Anwar said that the monarch had finally agreed to grant him an audience, where he will present evidence "of the strong and convincing majority" backing his claim to the premiership.
Anwar's gambit is the latest episode in a crowded year of political shenanigans in Malaysia. In March, Muhyiddin's coalition took power following drawn-out backroom maneuvering in which he pasted together a majority with the support of the United Malays National Organisation (UMNO).
This prompted the resignation of Prime Minister Mahathir Mohamad and the disintegration of his Pakatan Harapan (PH) coalition government that toppled UMNO at elections in 2018. Since then, Muhyiddin has survived on a thin 113-seat majority in the 222-seat Malaysian parliament.
The move comes at a challenging time for Malaysia and Muhyiddin, as cases of COVID-19 begin to rise following elections in the state of Sabah on September 26. Last week, the Malaysian leader entered a 14-day self-quarantine, after coming in contact with a minister who has tested positive for the disease. On October 11, Malaysia recorded 561 new cases of COVID-19, including 488 in Sabah, the second-highest total during the current wave of infections. Its total now sits at 15,657, the fifth-highest in the ten-member Association of Southeast Asian Nations.
Economic storm clouds are also cresting the horizon: in its most recent regional outlook, the World Bank reported that Malaysia's economy is set to contract by between 4.9 and 6.1 percent in 2020. This portends political difficulties for whatever government carries the country toward the next scheduled election in 2023.
With Anwar's royal audience looming, there are many directions things could go from here. If the king finds Anwar's claim to command a majority convincing, he has the power to appoint him prime minister, as he did with Muhyiddin when the PH coalition collapsed earlier this year. That will be Anwar's hope, but one crucial difference now is that the country has a sitting prime minister, unlike in February, when the post sat vacant following Mahathir's resignation.
If the king remains unconvinced of Anwar's bona fides, he could well decide to interview all 222 members of parliament to ascertain their loyalties, as he did before appointing Muhyiddin. Alternatively, some observers have argued that the monarch could kick the issue to the parliament, where a vote of confidence could decide the issue. The final possibility is that the King could dissolve parliament and trigger elections on Muhyiddin's advice. Given the COVID-19 wave prompted by the Sabah state election, one would have to hope that the prime minister would not call a snap election – but where political ambition is concerned nothing can be ruled out.
Whatever happens in the meeting between Anwar and the king, Malaysian politics seems set for another lurching shift. All passengers are kindly asked to fasten their seat belts.