South Korea's Electronics Giant Lee Kun-hee, Chair of Samsung, Dies at 78
Two different – and contrasting – reviews of the electronics icon's leadership have emerged since the announcement of Lee's passing.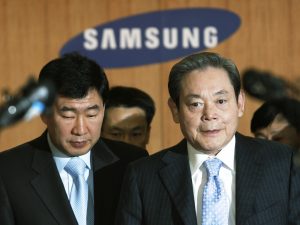 Lee Kun-hee, chairman of Samsung Electronics, died on October 25 at the age of 78, after spending six years in a coma following a heart attack in 2014. Samsung announced his death in a statement on the same day.
"It is with great sadness that we announce the passing of Lee Kun-hee, chairman of Samsung Electronics," Samsung said in a statement on Sunday. "All of us at Samsung will cherish his memory and are grateful for the journey we shared with him."
South Korean President Moon Jae-in also mourned Lee's passing and sent flowers to the funeral, according to the presidential office.
"I'd like to express my deepest condolences for the passing of Chairman Lee Kun-hee, an icon of the Korean business community," said Moon's message, delivered by his chief of staff Noh Young-min to Lee's family members at the funeral. On the behalf of Moon, Noh and senior presidential secretary Lee Ho-seung paid their respects in person at the memorial on Sunday night.
Lee is remembered for building a foundation to turn his company into a global giant of electronics after taking control of the company. It was a difficult climb to the top of the industry in the early stages of his leadership.
After Samsung's founder and his father, Lee Byung-chul, died in 1987, Lee Kun-hee decided to improve the quality of the company's products and expand its business at a time when the company was underestimated by the West as simply a maker of television sets and microwaves.
In what became known as the "Frankfurt Declaration of 1993," Lee asked his workers to "change everything but your wife and children" to improve the quality of his company's products. That was the moment when Samsung started competing with other big corporations on a global stage.
Lee, the most powerful and richest person in South Korea's business industry, however, has also had to face public criticism for his stance on labor unions and alleged white-collar crimes.
Lee's father, as founder of the company, had not allowed workers to organize a labor union. Likewise, Lee himself had also run the company without a labor union. That led a former worker, who was fired 25 years ago for union activism, to spend 355 days demonstrating at the top of a slender traffic-camera tower in Seoul starting in June 2019. The worker finished his demonstration when Lee's son, who is now the public face of Samsung, announced his willingness to allow workers to organize a labor union.
In the past few decades, Lee was jailed twice during his years as a chairman of Samsung: once after being convicted of bribing former President Roh Tae-woo in 1996 and once for tax evasion in 2008. But he was pardoned in 1997 and 2009, respectively, by former Presidents Kim Young-sam and Lee Myung-bak. President Lee was later sentenced to 15 years in prison for receiving $5.4 million in return for pardoning Lee Kun-hee.
And now, Lee Jae-yong, 52, his son and the de facto leader of Samsung since becoming vice chairman in 2012, is subject to court proceedings for corporate malfeasance. Lee Jae-yong has already spent time in jail for bribing former President Park Geun-hye, who was also jailed in 2018.
South Korean local news outlets have reported that Lee's son now faces a $9.7 billion inheritance tax in the wake of the chairman's passing. Economists and those who are familiar with the business industry have worried that the enormous tax sum could make investors pull their money back from the company.
But Jung Dong-il, a professor in the School of Business at Yonsei University in Seoul, told The Diplomat on Monday that there will be no critical impact on Samsung and Lee Jae-yong.
"Lee Jae-yong has been running the company for six years after his father had been incapacitated in 2014. People have predicted it would happen someday so there is nothing people worry about [regarding] this company's leadership at this point," Jung said. "And Samsung can pay the inheritance tax over several years by mortgaging its stocks of Samsung Electronics to get a bank loan."
As the new chapter of Samsung's leadership begins, Jung mentioned the younger Lee will show quite different leadership from his father's style.
"Lee Kun-hee had a very special instinct to predict the future industry as Samsung's current market cap is 300 times that of the company when he took office. But I am not sure younger Lee's leadership style is similar to his father's way of running the company. I think he will have more experts in his decision process and change Samsung's governance system."