South Korea's Emperor of Trot Goes Viral
73-year-old superstar Na Hoon-a captured South Korea's attention with a rare TV concert.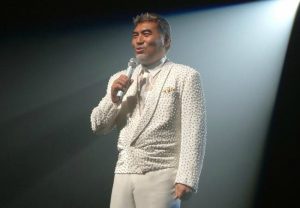 He's been singing professionally for more than 50 years. And, thanks to a concert broadcast last week, Na Hoon-a, the Emperor of Trot, is the singer everyone in South Korea is talking about.
On September 30, in honor of South Korea's major Chuseok holiday, the 73-year-old singer agreed to hold his first TV concert in 14 years, he said, as a way to cheer up the country during the ongoing COVID-19 pandemic. He did indeed cheer them up, energetically performing a range of his hit songs with fans on video screens cheering him on in the background.
Trot, a colorful genre that dates back to the beginning of the 20th century, is largely associated with South Korea's older generations. But Na managed to capture the attention of people across generations, with the concert's initial broadcast hitting massive viewership ratings of 29 percent, according to Nielsen Korea. After the concert became such a huge hit, KBS, which broadcast the show, quickly put together a special program, including behind the scenes footage, which aired on Saturday and garnered 18 percent viewership.
People's enthusiasm didn't wane after the broadcast, however. In the week that included the concert, streams of Na's newest song jumped 3,700 percent on the streaming platform Genie Music, with streams of his overall discography up 265 percent.
The show has also sparked a wave of memes, many centered around one stage where Na sang while CG renditions of the coronavirus burned around him, or around Na's new single, "테스형," in which he calls out to ancient philosopher Socrates. Even Korea's most famous irreverent penguin, Pengsoo, got in on the joke, dressing up as "Peng Hoon-a" and singing a rendition of the singer's newest hit.
While some have been busy making memes, others have been analyzing the singer's words. In the aftermath of the cheerful event, some critics of the ruling party jumped on a couple of comments that Na had made in between songs. In particular, they pointed to Na's remark that in his life, he has "never seen a king or a president who has risked their lives for the people," taking this as an attack on the ruling party and the current president, Moon Jae-in. However, the context of the comments suggest that Na was more likely just trying to encourage ordinary people to band together to get through this difficult time – right after this comment, he listed several ordinary Koreans in history who stepped up during adversity, including those who gave up their own gold to help the country get through the Asian Financial Crisis in the 1990s.
The popularity of Na's concert likely came from in part from the fact that it was the legendary singer's first free TV concert in more than a decade – and his offline concerts are notoriously difficult to nab tickets for. This rare opportunity, plus the meme-ability of some of his stages, helped the singer go viral even among younger people who are not normally the target market for trot music. The new spotlight for this veteran trot singer is also timed well as the popularity of trot has increased in recent years, thanks in large part to hit singing competition shows like Miss Trot and Mister Trot.