K-pop Leads With 'Contactless' Concerts
K-pop groups are proving that the art of the performance can have a virtual future, even beyond COVID-19 restrictions.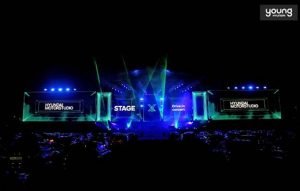 COVID-19 restrictions have adversely impacted live concerts and performances of musical artists across the world. While some artists have posted free online performances for fans to enjoy during quarantine, select music industries have taken the opportunity to develop new methods of delivering virtual entertainment. Amid the success of South Korean measures taken to abate the spread of COVID-19, the Korean music industry and K-pop fans alike have mobilized to keep the art of the performance at the center of K-pop.
Many performance adaptations provide alternative forms of entertainment amid COVID-19 restrictions without necessarily carving out a market share beyond COVID. Hyundai, for example, hosted a three-day Stage X Drive-In concert in Seoul in late May 2020. Even though attendees were required to stay in their vehicles, all attendees wore masks and had temperature screenings before entering the park. With limited interaction between artists and attendees possible, attendees participated by connecting to the FM station in their cars, waving lights, and turning on their vehicle hazard lights.
Other adaptations to live performances, however, seem better suited to continued use beyond COVID-19 restrictions, and K-pop has capitalized on this opportunity better than any other music industry. BigHit Entertainment and SM Entertainment, perhaps the two most successful entertainment companies in K-pop, have each developed their own approaches to capture K-pop hungry fans during COVID lockdowns. These same strategies showcase great potential for longer-term growth of the industry beyond COVID. 
BTS, not only one of the most-well known K-pop groups but perhaps one of the most popular musical groups in the world, postponed their 2020 "Map of the Soul" tour due to the COVID-19 outbreak. BTS first participated in a free, online event called "Bang Bang Con" in April, drawing over 50 million fans. BTS then hosted "Bang Bang Con: The Live" in June, a 90-minute online concert featuring the group's seven members. Tickets for the concert were available for purchase on Weverse, a Korean mobile app created by BigHit Entertainment, BTS' label. The event sold 756,600 tickets, making "Bang Bang Con: The Live" the biggest audience for a virtual paid concert to date with an estimated profit of nearly $20 million.    
SM Entertainment, home to popular groups such as EXO and Red Velvet, created "Beyond LIVE," the self-proclaimed "world's first 'Online Customized Paid Concert.'" Beyond LIVE does more than just stream online performances of favorite K-pop idols, including extremely popular groups such as NCT 127 and Super Junior. Performances combine augmented reality (AR) technology with 3D graphics and interactive, live video calls between fans and artists. Typical K-pop performance merchandise, including fanlights, are even synced in real time with the concert. As SM states, "'Beyond LIVE' is a new form of online concert that captured the global fans and was acclaimed for opening a new era of performance culture that transcends the existing online streamed format of offline concerts through technology."
Although big labels have the advantage in this space, individual artists and fans have also participated in online or "guerilla" concerts. Hyundai Card, known for its interest in the entertainment industry, has facilitated both fan-driven and artist-focused online concerts. Supermarket Concerts, broadcast live on social media from April 19-23, featured Korean artists staging surprise concerts at unannounced outdoors venues across Seoul. Fan-made Live, Hyundai Card's second major online event, was broadcast live on YouTube and Instagram throughout May and June. Fans submitted requests to several K-pop artists on social media platforms for specific songs, for the artists to wear a certain outfit or include specific gestures in their live streamed performance. Fan comments were then incorporated into the uploaded clips following the event. Virtual performances featuring fan requests are an evolved embodiment of the interaction between fan and artists prevalent throughout K-pop. Further integrating this new trend into the online presence and offerings of K-pop groups is not only plausible, but another avenue to build an artist's brands.
Although COVID-19 restrictions brought live, in-person concerts to a standstill, K-pop — from entertainment companies, individuals artists to the fans themselves — have rallied to create new spaces for performance. The development of virtual concerts has not only allowed K-pop to maintain performance as a staple of the genre, but may prove to continue to push the global music industry forward in unexpected ways, as K-pop has done from its onset.