The US Government Partners With Academia to Root out Chinese Talent Plans
U.S. universities and research institutions are waking up to the problem of U.S. grants going to Chinese government-funded scientists.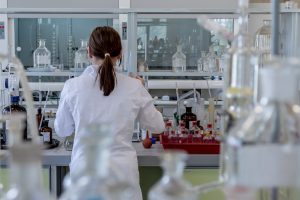 The United States National Institutes of Health (NIH) has identified 399 people in its grant-funded employ as "scientists of possible concern," as of the June 2020 report put out by the Advisory Committee to the Director (ACD) of NIH.
The "possible concern"? Chief among them is that scientists paid by NIH's grants have signed up with "Thousand Talents" Plans underwritten by the Chinese government, offering outsized incentives to "sign legally binding contracts with Chinese… universities and research institutions." These contracts generally require researchers to lie on grant applications for U.S. government-funded research, to "set up 'shadow labs' in China… and, in some cases, to transfer U.S. scientists' hard-earned intellectual capital," according to a report released by the Senate Committee on Homeland Security and Governmental Affairs.
That NIH is aggressively addressing the problem – which, above and beyond the impact of the financial fraud involved, much more critically goes to the core of national security – is already a welcome change from previous years in which the research community was often silent, either out of ignorance or for fear of offending its foreign scientists.
The message is being amplified to the greater scientific community, in particular, to America's universities, in other ways as well.
In what some might find a surprising level of cooperation, the White House Office of Science and Technology Policy (OSTP), which leads inter-agency science and technology policy coordination efforts, has been rolling out a virtual road show to American universities who host researchers funded by NIH and other government funding agencies. By this coming week, at least 80 research universities will have heard the messages and the statistics.
Most tellingly, of the 189 scientists for which NIH found reason to contact their host institutions, 93 percent were found to have ties to China as their "country of foreign support."
These 189 cases of potential violations ranged from accepting foreign grants and talent awards to establishing their own companies abroad with research paid for by the U.S. taxpayer. Fifty-four scientists were terminated or resigned over the investigations; 77 scientists were removed from the NIH system altogether.
These 189 scientists were overwhelmingly Asian men in their 50s, according to the demographics NIH laid out. Three-quarters had active grants from the U.S. government, grants they would not have received or qualified for if they had reported their support from China.
A White House OSTP aide told The Diplomat that although the majority of researchers abide by the rules, nonetheless the data shows that the practice of researchers taking U.S. grant money without disclosing their foreign – usually Chinese – support, "is prevalent."
The aide went on to say that the statistics are "enough to show us that it is a significant challenge, not just a handful of cases or individuals, not just in one location, it's something that's playing out in universities and research organizations across the country."
"Failure to disclose in accordance with existing policies is present in virtually every one" of the case studies that Dr. Kelvin Droegemeier, OSTP's director, gives in his presentation to universities, the aide went to say. "Of those cases," the aide continued, "participation in foreign government talent recruitment programs is present in many of those. That's true of the examples we have there and representative of cases overall."
In an era of heightened political cynicism, the ability and willingness of these arms of the U.S. research environment to work together to confront a coordinated effort from China that seeks to procure American research is welcome, and not a little bit astonishing. Governments are not known for being nimble or quick to act, and tend to be full of an ambitious political class.
Universities in democratic countries, on the other hand, as incubators, transmitters, and repositories of great knowledge, focus on freedom for open academic processes unhampered by political interference or influence. They tend to be hopeful and earnest, but all too often naïve about negative intentions on the level of the individual, or about national security at the level of the state.
It is hard to imagine these two cultures ever seeing eye-to-eye, much less working together on issues of common interest.
But more statistics bear out why they are doing just that.
Of the scientists who cheated the system and worked primarily for China, 143 of them had active U.S. taxpayer-funded grants. They were found in 59 cities across the country, among 27 states. Their open, active grants totaled $164 million U.S. dollars.
Droegemeier said in his presentation to West Virginia University on October 1 that the issue comes down to values, and the willingness of some individuals and foreign governments to violate "core principles of integrity."
"We don't have reciprocity in China," Droegemeier said, referring to the unfettered access which researchers in American and most Western laboratories are given.
For those who wish to subvert it, the international scientific research community offers plenty of opportunity.
By definition, researchers share results of their work across institutions and international boundaries. The fruits of their borderless collaboration often show up in award-winning ways. This year's Nobel Prize for Chemistry was given to two women, one in America, one in Europe, who developed a sublime method of genome editing that is likely to change the effect that inherited diseases have on humans.
Without a doubt, that degree of integrity and openness needs to be protected.
The question is how to protect that integrity when not all players have signed up to the values that make such collaboration possible.
For years now, the Chinese Communist Party has been the silent student and the invisible researcher in American research labs.
That landscape is changing as government, academia, and law enforcement join forces in an unlikely partnership to confront and combat theft of U.S.-funded research.
Labeling the Chinese intrusion into the American research environment "pervasive," Droegemeier has been underscoring his message with a blunt piece of advice.
"Have good relations with your local FBI office," Droegemeier told his West Virginia audience.
That message has been repeated to every university in the road show.
Indeed, of the 189 scientists NIH questioned host institutions about, almost one-third of those cases were based on notifications from the FBI.