US Issues Human Rights Guidelines for Exporters of Surveillance Tech
The directions to American businesses come amid growing concern around China's export of advanced mass-surveillance capabilities to more than 60 countries.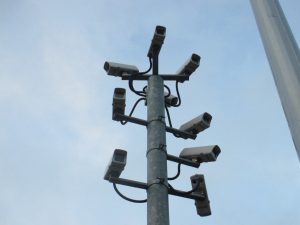 The U.S. State Department has issued voluntary guidelines for American companies which export surveillance capabilities, through a one-of-a-kind report released on September 30, "in order to prevent their products or services … from being misused by government end-users to commit human rights abuses." The report comes amid growing concern that China is rapidly exporting its own snooping capabilities to authoritarian regimes around the world, as part of its Belt and Road Initiative (BRI).
Last August, the Trump administration backlisted Hikvision Digital Technology and Dahua Technology, the top two Chinese companies that manufacture surveillance cameras, for their role in aiding Beijing's repression of the Uyghur ethnic minority in China's Xinjiang. A Reuters report suggests U.S. government entities are barred from purchasing equipment and services from the two companies, along with three others, beginning August this year. Hikvision continues to dominate the surveillance camera market in many countries, including India; in 2018, the firm won a government bid to install 150,000 cameras in New Delhi.
The newly-issued U.S. guidelines attempt to aid surveillance-capabilities exporters understand their human-rights due diligence duties, in line with the U.N. Universal Declaration of Human Rights, U.N. Guiding Principles, International Covenant on Civil and Political Rights and other international standards, better and, helpfully, includes "red flags" that exporters should pay close attention to as they seek to sell their products to a foreign end-user. These include extant laws and regulations in the importing countries, including potential curbs on civil society and nongovernmental organizations. Its list of surveillance capabilities goes beyond remotely controlled recording devices to include sensors, biometrics equipment, internet surveillance and location tracking tools, but also data analytics software, including predictive models.
The addition of predictive analytics tools to the (declaratively non-exhaustive) list of surveillance capabilities is important, given the rise of artificial intelligence and big data-based predictive policing. In February this year, the Financial Times reported that the PLA-linked China Electronics Technology Group Corporation had set up a flagship National Engineering Laboratory (NEL) for Big Data Application on Social Security Risks Sensing, Prevention and Control.
A network of researchers which has partnered with China's central police training academy in Beijing, NEL has also teamed up with the local police in Xinjiang where it opened a research center in 2017. Maya Wang of the Human Rights Watch in Hong Kong noted to the newspaper that NEL will facilitate "a race to the bottom in China — police bureaus competing to see who can implement mass surveillance and repression better."
In November last year, an international consortium of journalists obtained documents from 2017 which highlighted the width and depth of China's surveillance of  the Uyghurs and other Muslim minorities.
According to a Carnegie Endowment report published late last year, Hikvision and Dahua, along with Huawei and ZTE and other Chinese companies, have exported advanced surveillance tech to 63 countries worldwide, including 36 who are part of the BRI.
The State Department guidelines come at a time of growing contestation between the U.S. and allies, and China, on emerging technologies and norms guiding their development, deployment and proliferation. The U.S. and its allies seek to frame the contest within a larger discussion about the future global order. As the report released yesterday noted, "[a]rbitrary or unlawful interference with individual privacy" interferes with rights that "underpin a rules-based international order."