US Presidential Elections 2020: The Taiwan Factor
Insights from Elizabeth Freund Larus.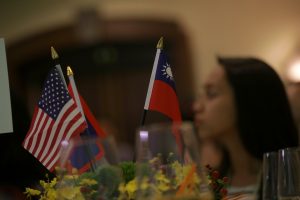 Trans-Pacific View author Mercy Kuo regularly engages subject-matter experts, policy practitioners, and strategic thinkers across the globe for their diverse insights into U.S. Asia policy.  This conversation with Elizabeth Freund Larus – chairman of the Department of Political Science and International Relations at the University of Mary Washington and author of "US President Obama's China Policy: A Critical Assessment" – is the 241st in "The Trans-Pacific View Insight Series."
Examine how a Biden administration or second-term Trump administration would engage Taiwan amid escalating U.S.-China rivalry.
Some aspects of the U.S.-Taiwan relationship are clear, others not. Let's start with what we know. We know that since the 1930s, Congress has been supportive of the Republic of China (Taiwan). That support continues. In fact, it appears that the 116th Congress in the past two years alone passed, and President Trump signed into law, six pieces of legislation that favor Taiwan. For instance, the National Defense Authorization acts of 2018, 2019, and 2020 all call for strengthening defense partnership between the United States and Taiwan; the 2018 Taiwan Travel Act (TTA) encourages visits between U.S. and Taiwan officials, including high-level officials; the 2018 Asia Reassurance Initiative Act (ARIA) commits the U.S. to counter Beijing's efforts to alter the cross-strait status quo; and the 2020 Taiwan Allies International Protection and Enhancement Initiative (TAIPEI) calls for observer status for Taiwan in international organizations.
In addition to this legislation, the Trump administration approved seven arms deals worth more than $13 billion. Moreover, Congress since early 2019 has introduced nearly 400 pieces of China-related legislation, much of it critical of Beijing. This indicates that the 116th Congress is one of the most critical of China in decades. Congress has also praised Taiwan for its successful response to the COVID-19 pandemic and criticized China for its response to the outbreak in Wuhan.
We also know that the Trump administration has sent more high-level government officials to Taiwan than any previous administration. In 2019, Deputy Assistant Secretary of Defense for East Asia Heino Klinck visited Taiwan. He was the most senior Pentagon official to visit Taiwan in more than a decade. In August of this year, U.S. Health Secretary Alex Azar visited the island, followed by the U.S. undersecretary of state for economic affairs, Keith Krach. Krach was the most senior U.S. diplomat to visit Taiwan in decades.
It is likely that legislation favorable to Taiwan will continue in the 117th Congress, regardless of who wins the White House in November. All the Taiwan-related congressional initiatives had bipartisan support. Historically, support for Taiwan has been a bipartisan issue, and there is no indication that this support is likely to fade in the near future.
The same may not be said for high-level visits to Taiwan. Two factors will determine visits by high-level government officials: the next administration's reaction to any response from Beijing to the visits, and personnel picks.
While the legislation was initiated by a bipartisan Congress, the initiative for visits by government officials was likely less Trump's idea than that of Taiwan supporters in the executive branch. Pro-Taiwan personnel in Trump's first administration have included Assistant Secretary of Defense for Asian and Pacific Security Affairs Randall Schriver, Senior Director of Asian Affairs at the National Security Council Matthew Pottinger, Deputy Assistant Secretary of Defense for Asian and Pacific Affairs (Policy) Alex Gray, and U.S. Trade Representative Robert Lighthizer. Although some of these individuals have left those positions, others have stayed and are likely to remain in a second Trump administration. In addition to Lighthizer, these individuals include Pottinger, and Gray, who was elevated to senior advisor to National Security Advisor Robert O'Brien.
We also know that while he is talking tough on China now, Joe Biden over his 40–year legislative and executive career supported engagement with China. He supported MFN [Most Favored Nation] status for China and its bid to join the WTO. He opposed the Taiwan Security Enhancement Act (TSEA) because it would harm U.S.-China relations. As recently as 2019, Biden denied that China was an economic competitor. However, he has supported the Taiwan Relations Act (TRA) and U.S. arms sales to Taiwan. He congratulated Taiwan President Tsai on her 2020 reelection and called for strengthening U.S.-Taiwan relations.
Regarding unknowns, we don't know Joe Biden's personnel picks. In his presidential campaign, Biden has accused Trump of being too soft of China. We can assume that whomever Biden picks will be critical of China. However, this does not guarantee that the same people are sympathetic to Taiwan. Second, we know that Biden is critical of Trump's trade war with China. Biden is likely to end the trade war by dropping import duties on Chinese goods. Ending the trade war doesn't translate into support for an FTA with Taiwan, however. Biden has been noticeably absent on this initiative.
What is Taipei's strategic calculus if U.S.-China relations become more contentious?
Modern Taiwan has always existed in a U.S.-China-Taiwan triangle. Most important for Taiwan is U.S. commitment to the region, regardless of Washington's relations with Beijing. In recent months, the United States has sent warships to the disputed waters of the South China Sea and sent aircraft carriers to patrol the Pacific. Washington also recognizes that Taiwan is important to the U.S. Indo-Pacific strategy of maintaining its status as the dominant maritime power in the Pacific.
Any adjustment to Taiwan's strategic calculus should take into consideration doubling down on asymmetric defense, as outlined in its 2017 Quadrennial Defense Review. At its core, Taiwan must raise the cost high enough to deter China from military action. This involves acquiring or developing nimble mobile systems that can hit and evade Chinese military aircraft. Taiwan can also employ long-range surveillance drones, which will give Taiwan the ability to observe military facilities and China's missile installations inside China and give Taiwan warning of any imminent military action.
Taiwan's strategic calculus could also double down on its use of soft power. China's bungling of COVID-19 gives Taiwan an opening to broaden its diplomatic space. Taiwan was able to keep COVID infections and deaths to a minimum by aggressively employing contact-tracing methods. Taiwan donated 51 million masks and millions of PPE [personal protective equipment] items overseas to both diplomatic partners, including 10 million to the U.S., and countries with which it has no formal relations. Taiwan made its donations quietly to avoid Beijing's ire, unlike China, which demanded praise for its overseas donations of medical supplies. Taiwan's aid in the time of crisis may not move the diplomatic needle much but may gain it some sympathy among countries that are increasingly looking at China with a jaundiced eye.
Finally, strengthening relations with the new government in Japan, would be a good hedging strategy. The Tsai administration will likely need to wait until new Japanese Prime Minister Yoshihide Suga consolidates his political position.
Analyze the rationale behind a shift from "strategic ambiguity" to "strategic clarity" in U.S. Taiwan policy. 
Strategic ambiguity dates to a time when the United States wanted to put aside the issue of Taiwan to normalize relations with China. The calculus was that neither China nor Taiwan would begin a war with the other given an uncertain U.S. posture. U.S.-China relations warmed up over 30 years, with some bumps along the way, until 2018. This year, the Trump administration looked at increasing Chinese aggression over disputed waters in the South China Sea, deadly border clashes with India, imposition of a draconian National Security Law in Hong Kong, lack of transparency over COVID-19, and creation of internment camps in Xinjiang and Tibet, and concluded that that China had changed, or at least is showing its true colors.
Engagement with China failed to bring about the desired outcome of a China more amenable to Western values but had produced the opposite: a strong nondemocratic centralized state with an advanced military. The Trump administration decided that it was time to take off the kid gloves. It appears that Trump may have given Xi Jinping the benefit of the doubt that the Chinese leader would meet U.S. demands on trade and other areas of disagreement when they met at Mar-A-Lago in 2017. When Xi went back to practice as usual, Trump opted for a different tack. The more aggressive Beijing acted toward the Tsai administration, the more Congress and the White House responded with legislation and official visits to Taipei. Shifting from "strategic ambiguity" to "strategic clarity" in U.S. Taiwan policy is part of the Trump administration's tactic of responding point-counterpoint to Chinese aggression. For each action that China takes, the Trump administration will respond. If China does X, Washington will not ignore it but will do Y. The Trump administration is providing clarity where none existed.
Assess the viability of the "one country, two systems" framework in Taiwan vis-à-vis the new National Security Law in Hong Kong.
No viability, no chance to resuscitate. Very few people on Taiwan truly believe that Beijing will respect Taiwan's economic system and democracy after unification. Beijing is quite clear that China's top legislative body can pass laws that are binding on local governments that operate under "one country, two systems" formula, such as Hong Kong, Macau and potentially Taiwan. Most people view the Hong Kong National Security Law, which states that people can be tried in Chinese courts and sentenced to life for ill-defined offenses of "secession," "subversion," "terrorism," and "collusion with foreign forces," well beyond any definition of "one country, two systems" formula.
Identify two key geopolitical risks in cross-strait relations that could test the political will of a Biden or Trump White House in the first 100 days.
China initially will give a Biden administration a reprieve as it takes the temperature of Biden's China policy. Biden has stated publicly that he would end the trade war with China because it is hurting Americans. If he does so, Beijing is likely to respond positively. This might create an opening for better U.S.-China relations but will do nothing to change the U.S.-China trade imbalance, cyber theft, IPR violations, aggression in the South China Sea, human rights abuses, or border conflict with India.
Regardless of who wins on November 3, China will continue and possibly increase overflights into Taiwan airspace because Beijing is carrying out the sorties in response to politics in Taiwan. China also uses aggression against Taiwan to express its displeasure over U.S. legislation in support for the island or visits by high-level officials.
A second geopolitical risk is accidents (unplanned encounters at sea) in the South China Sea as both the United States and China increase their presence there. Related to this, U.S. warships have been carrying out Freedom of Navigation Operations (FONOPs) in the South China Sea, during which they have come within 12 nautical miles of a maritime structure that China has declared its sovereign territory. Under UNCLOS, such passage is permissible as "innocent passage," even if the country claiming the territory does not agree to the ship's movement. However, according to China's law, a foreign military vessel must have Beijing's permission to enter territorial waters. China adheres to its law although it is a signatory to UNCLOS. The difference between the two laws, U.S. determination to exercise FONOPS, and Beijing's declaration of sovereignty over all the maritime forms in the South China Sea could explode in military confrontation between the two countries.
*An earlier version of this article mistakenly said KMT candidate Han Kuo-yu backed the "one country, two systems" formula in his presidential campaign.