US Pushes Quantum Tech as Rivalry With China Intensifies
A new website collates resources around federal efforts to advance quantum information science.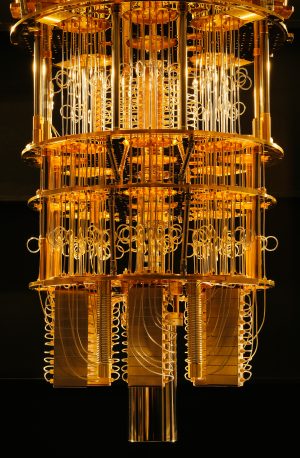 The White House Office of Science and Technology Policy launched an official website for the National Quantum Coordination Office (NQCO), as well as released a new community-inputs based Quantum Frontiers Report that will shape U.S. R&D efforts in the crucial emerging quantum information science (QIS) and technology, on October 7. "With the launch of Quantum.gov, the White House has created an online home for the National Quantum Coordination Office and a new digital hub for the growing quantum community to connect with wide-ranging activities underway across the Federal Government," U.S. Chief Technology Officer Michael Kratsios noted. The NQCO was established after the National Quantum Initiative Act became law in December 2018.
The official website has a useful collection of resources around QIS, both technical reports as well as strategy documents, not to mention a smart logo involving the Dirac notation in quantum mechanics. As the press release accompanying the website's launch notes, "[i]t will serve as a one-stop-shop for key strategic documents and reports, agency programs, and NQCO initiatives."
So far, the National Quantum Initiative involves 16 different federal agencies and offices, including all the national security ones. In fact, while U.S. economic edge as well as national security benefits are the stated reasons for pursuing an interagency coordination office around QIS, there is little doubt that the Trump administration's push for quantum technologies stem from heightened strategic, commercial, as well as military competition with China.
Many worry that China's quantum push could translate to a geopolitical edge for the country. And this is not entirely unfounded. In 2018, for example, Chinese scientists filed 492 patents on quantum tech, a little more than twice as many as their American counterparts.
But this is not merely a patents-and-papers game. China's progress in quantum communications has profound military implications, rendering them unbreakable as a matter of physical law. The country made headlines globally in 2016 when it launched Micius, the world's first quantum communications satellite. Proof published in May this year shows that communications using Micius is unhackable. A team of Chinese researchers reported in February that they had managed to entangle clouds of atoms 50-kilometers apart using a fiber optic cable, a significant proof-of-concept towards a quantum internet. Communications using such a network would be unbreakably encrypted, thanks to quantum-mechanical principles at its core.
It is, therefore, of little surprise that the National Quantum Initiative involves the intelligence community (IC) including the National Security Agency, as well as the Intelligence Advanced Research Projects Agency – the IC's high-tech R&D shop. IARPA already has several quantum computing programs. On its part the Defense Department's Defense Advanced Research Projects Agency (DARPA) has been a pioneer in demonstrating proof of concept around quantum key distribution, the first step toward land or space-based quantum communication networks. In February, NQCO published an extremely ambitious vision document around building a quantum internet.
Communications technologies are, of course, a small part of quantum tech. The quest for a functional, commercially useful, fault-tolerant quantum computer (beyond proof-of-principle demonstrations such as Google's Sycamore) has, and continues to be, a holy grail of QIS. A 2019 National Academy of Sciences Report on the subject notes that such a machine is still quite some way in the future. Mathematical proofs have existed for some time now that such computers will render all existing encryption algorithms useless.