What Did the Chinese FM's Tour of Southeast Asia Achieve?
Wang Yi riffed on a number of familiar tunes, from China's role in post-COVID-19 recovery to the shibboleth of "non-interference."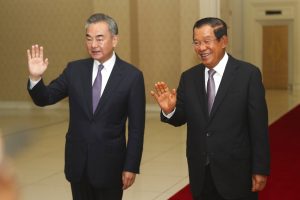 China's Foreign Minister Wang Yi yesterday concluded a five-day tour of Southeast Asian nations, intended to shore up crucial relationships amid the economic and political fallout of the coronavirus pandemic.
During whistle-stop visits to Cambodia, Laos, Thailand and Malaysia, Wang sought to capitalize on points of tension between these nations and Western powers including the United States. He also positioned China as an understanding, non-judgmental – and above all, unavoidable – partner in the region's attempt to weather the economic and political challenges of COVID-19.
Wang's tour kicked off with a softball visit to Cambodia, which in recent years has grown into China's closest ally and client in Southeast Asia. There, he presided over the signing of a free trade agreement – Cambodia's first – that will chop back tariffs and boost market access between the two economies.
Describing long-ruling Prime Minister Hun Sen as "an old friend" and "a true friend" of the Chinese government, Wang referenced Hun Sen's visit to Beijing in February, at the height of the COVID-19 outbreak in China, as an important chapter in the two nations' relations. According to state media agency Xinhua, Wang said that "China firmly supports Cambodia in taking a development path suited to its own national conditions, safeguarding national sovereignty and dignity, and pursuing its own domestic and external policies."
This sort of talk is sweet music to the ears of Hun Sen, who since the 1990s has come under varying degrees of Western pressure over his propensity to use legal and physical force to maintain an iron hold on power. In particular, the signing of the free trade agreement with China comes amid rising Western pressure over the fierce crackdown that has seen Hun Sen's Cambodian People's Party (CPP) quash most effective opposition and usher in a phase of openly authoritarian government. In August, the European Union suspended tariff-free access for around a fifth of Cambodia's exports to the European market.
As I argued in these pages recently, the FTA is unlikely to fill the gap left by the withdrawal of European market access. As Wang's visit underlines, it functions primarily a symbol of China's political commitment to allowing Hun Sen to pursue his own "development path."
Wang's stop in Malaysia was marked by similar themes. In talks with Prime Minister Muhyiddin Yassin, Wang pledged to provide Malaysia with COVID-19 vaccines and also committed to purchasing 1.7 million tons of palm oil from Malaysia each year until 2023. The palm oil industry has recently come under pressure from some Western nations due to its role in driving the erosion of rain forest habitats. As a Chinese foreign ministry statement put it, "China is a reliable friend and partner for Malaysia in the long run no matter how the situation changes."
While in Kuala Lumpur, the Chinese foreign minister also managed to fit in a jab at the Quad, the burgeoning security partnership between the United States, Australia, India and Japan. Wang likened it to an attempt by Washington "to build an Indo-Pacific NATO," in a bid to "stir up confrontation among different groups and blocs, and stir up geopolitical competition while maintaining the predominance and hegemony system of the U.S." As my colleague Abhijnan Rej noted this week, Wang's comments marked a significant shift in tone toward the Quad, which he previously said would dissipate like "sea foam."
A short stop in Laos was accompanied by another torrent of sunny language, including promises of COVID-19 cooperation and cooperation on China's gargantuan Belt and Road Initiative (BRI). The visit came just a month after rising foreign debt obligations forced Laos to cede majority control of its power grid to a Chinese state-owned company.
Wang wound up his tour in a Thailand that is currently experiencing a wave of student-led protests demanding far-reaching political reforms, including a taboo-breaking call for reforms of the monarchy's power. Wang had a meeting with Prime Minister Prayut Chan-o-cha at a Government House that had only recently been forcibly cleared of student protesters after a mass demonstration on October 14. That demonstration culminated in the declaration of a "severe" state of emergency and a ban on public protests that many protesters are currently defying.
Wang talked of integrating Thailand's Eastern Economic Corridor, which runs from Bangkok south to the coastal town of Rayong, with the BRI. He also pressed for progress for the construction of the China-Thailand high-speed railway running from Bangkok to the northeastern city of Nakhon Ratchasima. Despite being agreed in 2014, the railway has been plagued by delays over design, financing and technical assistance.
Finally, Wang offered oblique support for Prayut's government as it faces down increasing challenges to its rule from the student-led protest movement. As per Xinhua, he echoed comments he made in Cambodia, pledging that Beijing "firmly supports Thailand in taking a development path that suits its own national conditions and supports Thailand in maintaining social stability and achieving development and prosperity."
On the whole, Wang's visit proceeded much as expected. He played on his nation's strong suits in Southeast Asia – its vital trade and investment presence, and its "hands-off" mode of political engagement – while seeking to position China as a valuable and unavoidable partner for a region trembling on the brink of the largest economic crisis in a generation. Above all, he tried to underline a consistent message in Beijing's diplomacy toward the region: that China is an economic and geopolitical reality that cannot be ignored.