China and the Quad: From Sea Foam to Indo-Pacific NATO
Chinese Foreign Minister Wang Yi's recent remarks on the Quad are a substantial shift in tone.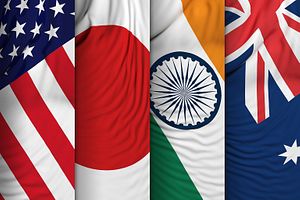 As analysts vocally debate the role and value of the Australia-India-Japan-United States Quad, Chinese Foreign Minister Wang Yi – who had, two years ago, compared the grouping to sea foam – is now convinced it underpins "a so-called Indo-Pacific NATO." Speaking at a Q&A session after his meeting with Malaysia's Foreign Minister Hishammuddin Hussein in Kuala Lumpur on October 13, Wang noted that the U.S. Indo-Pacific strategy is a "big underlying security risk" and that "what it pursues is to trumpet the Cold War mentality and to stir up confrontation among different groups and blocs and to stoke geopolitical competition."
While the Asian NATO trope for the Quad has been around for a while, the suggestion got a fresh lease of life early last month when remarks by U.S. Deputy Secretary of State Stephen Biegun were widely (mis)interpreted as suggesting that the Quad is the nucleus of an incipient NATO-like security organization for the Indo-Pacific. (That is not to say Biegun himself was entirely blameless in the entire episode; his remarks were at places confusing thus rendering themselves to sensational spin.) Since then, his superior, Secretary of State Mike Pompeo, as well as Biegun himself have advanced a relatively nuanced – cautious – view of how the United States sees the Quad as well as the possibility of a networked regional architecture for the Indo-Pacific. In particular, Biegun – in a speech in New Delhi on October 12 – explicitly noted "that the security partnerships the United States and our partners explore today do not necessarily need to follow the model of the last century of mutual defense treaties …"
Surely, Wang had been briefed of these remarks ahead of his Malaysia comments. So, there are questions to ask around both where he said what he did, and why.
Wang's latest Southeast Asia trip comes at a time when the United States seeks to renew its engagement with the region, reacting to China's deepening commercial and strategic clout there. While the Association of Southeast Asian Nations has shed some of its traditional hesitance around the notion of the Indo-Pacific – it adopted an Indo-Pacific Outlook June last year – the region remains worried that the United States would increasingly demand that Southeast Asian countries sever their commercial ties with China. Regional powers are also apprehensive about the possibility that they'd find themselves enmeshed in heightening U.S.-China strategic competition. And this worry – insofar as ASEAN states are concerned – is not entirely unfounded. Speaking remotely at the ASEAN foreign ministers' meeting in September, Pompeo had asked his counterparts to "reconsider" their countries' ties with Chinese state-owned enterprises.
Beyond rhetorical exhortations, there are signs that the Trump administration means business. For example, the United States sanctioned a Chinese company for its activities in Cambodia in September, adding to a list of 24 others sanctioned the month before over their role in furthering China's claims in the South China Sea (SCS). At the time of the SCS sanctions, Malaysia's ambassador to China noted in an interview to the state-run Global Times that Malaysia will not obey them, adding that for countries like his to "choose is to lose." Under such circumstances, Wang may have shrewdly calculated that playing up the fear of an Asian NATO there is what is required to ensure that the Quad does not expand to include other, potentially Southeast Asian, countries – something Pompeo has noted to be a possibility for the future.
But what is equally interesting is the tone of Wang's remarks. As my colleague Shannon Tiezzi has noted, China's approach to the Quad, before Wang's latest remarks, was two-pronged: while maintaining a relatively guarded attitude toward the grouping itself, it chose to, instead, direct its ire toward Pompeo personally. This seems to have changed, with China implicating all four actors in the Quad as implicitly presenting a collective security risk to the region.
One reason why this could be the case is the increasing profile of India within the Quad, once considered the "weakest link" in the grouping. As the India-China standoff in Ladakh dragged on, U.S.-India security consultations have become conspicuously visible; in fact, Biegun in early September had suggested that India could host the second Quad foreign ministers' meeting – something that eventually took place on October 6 in Tokyo. Pompeo, along with Defense Secretary Mark Esper, is scheduled to visit India sometime later this month for the annual 2+2 foreign and defense ministers' dialogue, an unusual visit should it materialize given U.S. presidential elections early next month. On top of this sits the perception of well-informed analysts that China has reconciled to idea that India is, at core, a strategic adversary.
Whatever the impetus behind Wang's Kuala Lumpur remarks, it is clear Beijing has traveled some distance in the last two years when it comes to the Quad. What that translates to, in substantial terms, remains to be seen.