Banking Consolidation Continues in Kazakhstan
A bank close to Nazarbayev buys a competitor, while smaller lenders continue to fall.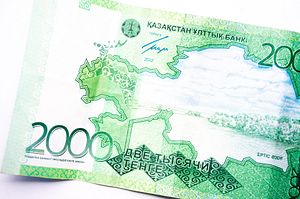 Once again, Kazakhstan's banking sector shrank and consolidated, as a bank linked to former President Nursultan Nazarbayev bought a similar-sized competitor and another bank lost its license.
Jusan Bank agreed to acquire competitor ATF Bank with Galymzhan Yessenov, its sole shareholder, at the beginning of November. Jusan Bank (also spelled Jýsan) is the rebranded version of Tsesnabank, once a financial powerhouse that had to be first bailed out in 2018 and was then acquired in early 2019 by First Heartland, a company effectively owned by Nazarbayev.
By acquiring ATF, Jusan will become the second-largest bank in terms of assets in Kazakhstan. While Halyk Bank still controls 32 percent of the market, the new Jusan will gain a 10 percent share. Kazakhstan's seven largest banks will now hold 78 percent of the market. Just four years ago, nine banks held a similar share of the market but four of them, not including ATF, no longer exist.
The Financial Regulatory Agency gave a green light to the deal, saying that it would "contribute to the stability of the banking sector" of the country.
Health-wise, Jusan did not seem in a position to carry out such a large investment: overdue loans, a marker of the bank's sustainability, reached 44 percent of the total. By comparison, ATF's toxic assets amount to 6.5 percent. Importantly, ATF postponed twice an extraordinary shareholder meeting, possibly because of ongoing negotiations on the final price, currently undisclosed, that Jusan will pay for the takeover.
As highlighted by several analysts, however, the deal has more to do with politics than with reports and audits. ATF, in fact, had been bought and sold by figures loyal to Nazarbayev in the past two decades. Bulat Utemuratov, the bank's founder, sold a 91.8 percent stake in ATF for $2.1 billion in November 2007 to the Austrian branch of Italy's Unicredit Group. In the midst of the Global Financial Crisis, Unicredit had to write off 500 million euros from the value of ATF in 2008, the first of a series of depreciations of the bank, which was finally sold off at a fraction of the price. 
In March 2013, Unicredit accepted an offer of $493 million from KazNitrogenGaz (renamed KNG Finance), owned by Galymzhan Yessenov, son-in-law of Akhmetzhan Yessimov, then-mayor of Almaty and now chairman of the national holding Samruk-Kazyna. The deal included guarantees on the debt portfolio for $630 million, effectively making the purchase of ATF a cost-free operation.
With the cash from the ATF deal, Utemuratov's fund Verny Capital later bought Metrokombank and Bank Kassa Nova. Metrokombank went on to become Forte Bank, one of the country's largest. In August 2020, Utemuratov sold Kassa Nova, a marginal player in Kazakhstan's banking sector, to Freedom Holding, a Nevada-based investment company mainly operating in Central Asia. 
Another casualty of the ailing banking sector of Kazakhstan was Tengri Bank, which defaulted this year. Tengri Bank used to be PNB Kazakhstan, a subsidiary of India's Punjab National Bank, which owned 84.38 percent of the bank until mid-2015, when it divested, prompting the name change. The Indian bank, the second-largest state-owned lender in the country, then owned a 41.64 percent stake in Tengri. Throughout its history, Tengri was considered a pocket bank for the infamous Kuanyshev family, whose stories were covered by British tabloids and financial crime outlets.
In April, considering its pre-COVID-19 performance, ratings agency Moody's downgraded Tengri to Caa3, a sign of imminent default. Like rats fleeing a sinking ship, in late August the Kuanyshev family sold their shares in the bank they had founded. In early September the regulator suspended Tengri's banking license and finally in November the bank entered liquidation. The bank's deputy chairman Bakhtiyar Ilyasov and former branch director Asset Zhadykov were also arrested in November for embezzling funds.
Importantly, the demise of Tengri Bank materialized also when PNB was in the midst of a fraud scandal involving hundreds of millions of dollars in India.
Now, as analyst Timur Abilkhasymov wrote in his popular blog on finance in Kazakhstan, two more banks could follow the fate of Tengri, and be stripped of their licenses, namely AsiaCredit Bank and Capital Bank. Both are owned by Orifdzhan Shadiyev, rampant businessman and nephew of Patokh Chodiev, one of the most powerful entrepreneurs in Central Asia together with his partners Alexander Mashkevich and Alijan Ibragimov. Curiously, in February 2020, PNB blocked negotiations on a potential merger between Tengri, AsiaCredit, and Capital.
The centralization of financial institutions into the hands of the most powerful elites in Kazakhstan continues, fulfilling the desire of Nazarbayev himself, who wished years ago that the country's banking sector would be populated with fewer but stronger banks.