Kazakhstani Banks Eye the Spoils of Sanctioned Russian Subsidiaries
Russian banks operating in Kazakhstan were thriving before the war. Now CenterCredit has bought Alfa-Bank's assets in Kazakhstan.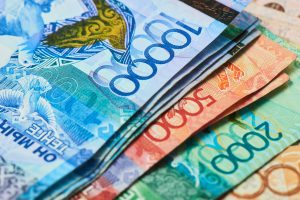 As sanctions against Russian banks and companies intensify, their Moscow headquarters are looking to offload foreign assets. Last week, Kazakhstan's Bank CenterCredit (BCC) bought Alfa-Bank Kazakhstan, a subsidiary of the Russian lender owned by Mikhail Fridman, who was named for individual sanctions after the Russian invasion of Ukraine. 
On April 6, the U.S. Treasury expanded sanctions against Sberbank and Alfa-Bank, severely limiting their ability to operate in dollars and to use international transfer networks, such as Visa and MasterCard. These banks' subsidiaries in Kazakhstan directly and indirectly suffered a blow and their management looked to sell off some of the more problematic assets, or, as in the case of Alfa, their entire operation. 
In Kazakhstan, Alfa stopped issuing loans and capped cash withdrawals on April 7, a direct consequence of the sanctions, as later explained by their CEO, Andrei Timchenko, in a video. Shortly thereafter, rumors about a potential sale became reality with BCC's offer.
The day after the transaction in Kazakhstan, Alfa-Bank's Dutch subsidiary, Amsterdam Trade Bank, declared bankruptcy. The next months look grim for these banks' operations outside Russia.
Sberbank (with a 9.7 percent share of the market) and Alfa-Bank (2.4 percent) are respectively the third- and 11th-largest banks in Kazakhstan. 
Consumers in Kazakhstan had already sensed the potential repercussions of the war in the first days after Russia started its military operation on February 24. On March 1, deposits at Sberbank had fallen by 13 percent compared to the previous month. Alfa and VTB, another subsidiary of a Russian bank, were the only other two banks to lose the trust of consumers.
For BCC, the decision to buy Alfa is significant, as it now emerges as a strong and trustworthy player in the financial sector. BCC could soon become the third-largest lender in the country.
In 2015, BCC had suffered the decision of the Central Bank to eliminate the tenge's peg to the U.S. dollar, which led to a sudden depreciation of the local currency and galloping inflation. The health of its loan portfolio worsened, with toxic assets reaching 12.5 percent of its outstanding credits.
In 2017, South Korea's Kookmin Bank sold its 29.56 percent stake in BCC to a local bank, Tsesna, in a process that saw the main owner, Bakhytbek Baiseitov, strengthen his position as he bought the 10 percent stake previously owned by the World Bank's International Finance Corporation (IFC). Just a year later, Tsesnabank sold its shares to Baiseitov and Vladislav Lee, the bank's chairman. The duo now have a controlling stake in BCC. 
At the time, the banking sector of Kazakhstan was undergoing tough adjustments and there was constant talk of mergers between the largest lenders. The Tsesna-BCC deal, however, fell through.
Being one of the largest lenders, Sberbank's gradual exit from Kazakhstan's market could create even more shockwaves. 
In mid-April, Sberbank's Kazakhstan branch sold part of its business loan portfolio (worth 105 billion tenge or $236 million) and its retail portfolio (around 270 billion tenge or $607 million) to Halyk Bank, the country's largest lender.
Kazakhstan's government also overturned its previous, controversial decision to use Sberbank's "Platform V" for its e-government services.
According to insider rumors, these moves could be a prelude to Halyk's takeover of Sberbank, which would grant the financial leader in the country a 41 percent share in the market.
Russian banks operating in Kazakhstan were thriving before the war. Sberbank had been in the top three for years. Alfa-Bank, despite its smaller size, was awarded "Best Bank for SMEs" in 2021 by financial outlet Asia Money.
The Russian invasion of Ukraine, however, has crippled the capacity of Russian lenders to operate abroad. Their affiliation with Russian elites under sanctions also represents a reputational risk and selling off assets seems to be the more practical solution in these times.