Beijing's Sanctions on US Weapons Makers Are a Weak Move
China's sanctioning of companies involved in the United States' latest arms sale to Taiwan is a move straight out of an old playbook. As such, it is best ignored.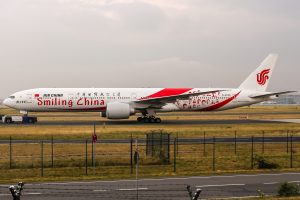 Mainstream media rushed to publish their latest story about the latest "flare-up" in U.S.-China relations last week as Beijing announced new sanctions on Lockheed Martin, Boeing, Raytheon and unspecified individuals following another arms sale to Taiwan. Reports emphasized how Chinese Foreign Ministry spokesperson Zhao Lijian justified the sanctions as a strong reaction designed to "safeguard national sovereignty and security interests," given that the arms sale had "violated the one-China policy." The Global Times, a mouthpiece for the communist party, spun the move as a "reciprocal" response.
But any overinterpretation of escalating relations following the announcement should be viewed critically. This is not the first time China has reacted to U.S. arms sales to Taiwan with sanctions against the very same weapons manufacturers. If history is any indication, Beijing's announcement last week is not a move of the powerful, but rather stems from its reluctance to worsen its already strained economic relations with the U.S.
In 2010, following Washington's announcement that it was selling Taiwan a $6.4 billion PAC-3 surface to air missile system, the Chinese Ministry of Foreign Affairs called out Boeing for its involvement and threatened to close its local office in China. Then again in 2015, Beijing again threatened to sanction Lockheed Martin and Raytheon following their involvement in a newly announced $1.83 billion US arms package to Taipei. But the content of the sanctions remained unspecified and was never followed up.
More recently in 2019, the Trump administration announced a massive $8 billion sale of 66 F-16V fighters to bolster Taiwan's aging fleet, the largest arms package since a similar deal in 1992 under the administration of George H. W. Bush. Beijing, again, vowed to retaliate with sanctions against "all companies involved," namely Lockheed Martin, but the issue was buried quickly.
If questions by independent media representatives were allowed at this week's press conference, a journalist may have pressed Zhao on how it is possible to sanction companies that have already been sanctioned multiple times, but it is hard to believe that any response would offer a satisfactory explanation. And given the lack of details surrounding the sanctions, one is unsure whether Beijing had even bothered to follow through with its threats on Lockheed Martin or Raytheon as any actual enactments would have had very limited impact given that Washington stopped exporting arms to China following the Tiananmen Massacre of 1989.
Boeing, which would be more vulnerable to Beijing's economic coercion due to its civilian jetliner business having a significant commercial stake in the Chinese market, was also spared, as Beijing only named its arms division, Boeing Defense, in the sanctions. In fact, since the Chinese government first threatened to close Boeing's China office in 2010, the aerospace giant's relations with China have grown closer than ever. In late 2018, the firm opened its first overseas aircraft finishing center in China and even welcomed Chinese President Xi Jinping at its Everett factory during his visit to the United States in 2015.
Given the exclusion of non-military entities from Beijing's latest sanctions, the action should be dismissed as Beijing trying to save face in a situation where good options are limited. It could target U.S. companies with serious commercial ties to China, but to do so now would likely spark a tit-for-tat retaliation from Washington, that China cannot or is unwilling to afford. For decades now, the Chinese Communist Party's policy priority has been to advance China's national economy, and its refusal to use more substantial measures may suggest that, despite the heightened cross-Strait tensions, it is not yet be ready to deviate from that path.
That is not to say that Beijing's growing threat to Taiwan is not real or that it has not shown a willingness to escalate tensions in the past. Over the last few years, China has underscored its coercion against Taiwan with a substantial buildup of its military capability and ramped up diplomatic pressure to exclude it from any international participation or recognition. This year alone, Beijing has significantly increased these efforts, directing its warplanes to make regular aggressive breaches of the Taiwan Strait median line and even physically attacking a Taiwanese diplomat in Fiji. The danger of war should be taken seriously, and the coming years will require cooler heads to navigate Taiwan through this crisis. But the latest sanctions should not add to existing worries, as Beijing may not be as confident in its capabilities as many presume. For now, we should all stay calm and prepare for the day that it is.
David Yuan is an analyst working in media intelligence and social media monitoring. He holds a master's degree in international relations from the S. Rajaratnam School of International Studies