Vietnam Notches Record GDP Contraction as COVID-19 Outbreak Bites
The July-September quarter was the country's worst quarter of economic growth since 2000.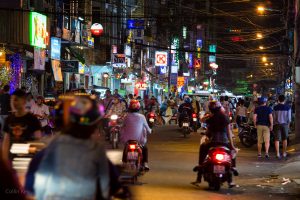 Vietnam today reported a record quarterly GDP contraction due to the impact of the country's ongoing outbreak of COVID-19, which has slowed domestic consumption and hit industrial production hard. According to the country's General Statistics Office, Vietnam's gross domestic product dropped 6.17 percent on the year for the July-September period, the first quarterly decline since 2000, due to COVID-19 lockdowns in key areas including the industrial mainspring of Ho Chi Minh City.
All this marks a turnaround in fortunes from last year, when Vietnam gained a global reputation for its containment of COVID-19 and was the one Southeast Asian nation to register positive growth – 2.9 percent, according to the Asian Development Bank (ADB) – in 2020. But the country been hit hard by outbreaks of the contagious Delta variant that began in late April, which has been worsened by the government's slow start in rolling out vaccines to Vietnam's 96 million people.
The epicenter of the outbreak was in Ho Chi Minh City, Vietnam's largest city, and its industrial periphery in the surrounding provinces. After ordinary lockdowns failed to curb the spread of the virus, authorities last month implemented a strict stay-at-home order in Ho Chi Minh City that saw soldiers deployed to city streets to enforce curfews and assist quarantined residents.
The economic effects of these drastic moves are now being felt. The third quarter underperformed even more than the second quarter of 2020, which saw just 0.39 percent growth, which was Vietnam's lowest growth rate since 2000.
The lockdowns and strict social distancing requirements have continued to hinder factory production and consumption, gumming up the global supply chains in which fast-growing Vietnam forms an increasingly important link. According to a report today in Nikkei Asia, the severe mobility restrictions currently in place in major cities have contributed to delays in the delivery of Apple's new iPhone 13, several components of which are assembled in Vietnam. These disruptions have also led to production cuts by Toyota and other Asia-based automakers.
In Ho Chi Minh City and the capital Hanoi, restaurants have been closed to dining in, while foreign tourists are also banned from entering the country, flattening the country's nascent tourist industry.
These ongoing COVID-19 restrictions, along with Vietnam's belated vaccine rollout, prompted the ADB in its latest economic outlook to revise its growth projection for 2021 down from 6.7 percent in April to 3.8 percent. The third-quarter GDP figures suggest that Vietnam may struggle even to meet this target, let alone the government's official growth target of 6.5 percent for 2021.
GDP grew just 1.42 percent in the first three quarters of the year, and according to one observer's calculations, even if the country reopened immediately and achieved modest 4 percent growth in the fourth quarter, it would achieve only whole-year growth of around 2 percent, far short of the government's target.
The current severe lockdowns in Ho Chi Minh City reflect the Vietnamese government's willingness to inflict short-term economic pain in the interests of returning to positive growth as soon as possible. But with vaccine rates still lagging behind the rest of Asia – the country has administered at least one dose of COVID-19 vaccine to just 31.5 percent of the population, and two doses to just over 8 percent – it will likely take a long time to turn the wide economic corner.