How Will Myanmar's Election Affect Its Foreign Policy?
The coming five-year term is likely to see a continuity of aims within more constrained parameters.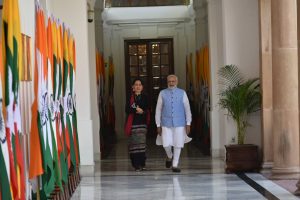 As widely predicted, Myanmar's elections on November 8 saw another thundering victory for Aung San Suu Kyi and the National League for Democracy (NLD).
According to the official results from the Union Election Commission (UEC), the NLD even managed to improve on the lopsided and euphoric victory that it enjoyed at the last election in 2015. Borne on a sea of red, the NLD increased its majority in the Pyithu Hluttaw (lower house) from 255 seats to 258 (out of 330 up for election), and in the Amyotha Hluttaw (upper house) from 135 to 138 (out of 168).
These figures represent a whopping 83.2 percent of elected seats; even when figuring in the 25 percent of seats apportioned to military candidates under Myanmar's constitution, the NLD will still hold a healthy 61.7 percent majority in both houses of parliament. This ensures that the party will form the next government, and that the 75-year-old Aung San Suu Kyi will remain in power for a second five-year term.
What is this likely to mean for Myanmar's foreign policy? In its 2015 party manifesto, the NLD pledged to pursue "an active and independent foreign policy, and to establish friendly and close political relations" with other nations. It also pledges the party "to identify and cooperate with other countries on joint economic enterprises of mutual benefit. In particular, to work together for the benefit of the region on issues relating to regional organizations and programs."
In its broad strokes, this is congruent with Myanmar's neutralist foreign policy dating back to the country's 1974 Constitution, which proclaimed, "The State consistently practices an independent foreign policy, aimed at international peace and friendly relations among nations, and upholds the principles of peaceful co-existence of nations."
As Moe Thuzar of Singapore's ISEAS-Yusof Ishak Institute has noted, the foreign policy section of the NLD's 2020 manifesto is basically a carbon copy of its 2015 version, except that it jettisons the explicit mention of identifying "joint economic enterprises of mutual benefit" for cooperation with other countries, or any mention of working together on regional issues.
Read into this what you will, but the tweak has most likely come about due to the cratering international reputation of the NLD and its once-totemic leader. The NLD's two electoral victories have come in very different climates of perception. In 2015, optimism about Myanmar's political reforms was still at its height. While the previous few years had seen a worrying spread of sectarian and anti-Muslim sentiment, there was a widespread belief, at least among Western observers, that Aung San Suu Kyi was the best person to address these issues.
By 2020, however, much of the Western goodwill toward the NLD and its leader had drained away. The main reason for this is the country's horrific treatment of its Rohingya minority – treatment that amounts to ethnic cleansing and alleged genocide – and the eruption of some of the most fierce fighting seen in years.
This shift in international opinion is likely to constrain the ability of Aung San Suu Kyi's government to manage its biggest foreign policy challenge facing: how to handle China. This remains the pervading structural reality of Myanmar's foreign policy, given the 2,200-kilometer shared border between the two countries and China's intimate ties to many of the ethnic armed groups that control outlying regions of the country.
While Myanmar's government and military have long been disquieted by China's growing influence in the country (to say nothing of the broadly negative public opinion toward China), the NLD is unlikely to take a significantly harder line on engagement with Beijing. The souring perception of Myanmar in Western capitals has given Aung San Suu Kyi's government strong incentives to lean on China for diplomatic protection.
Chinese support also remains central to the realization of the NLD's domestic objectives: economic growth (a goal that Chinese investment and infrastructure funding can help advance), and its attempts to forge a sustainable peace in the borderlands (given Beijing's ability to help bring key ethnic armed groups to the table). All of this places limits on how far concerns about China will translate into actions.
For the next five years, we can expect Myanmar to set the dials toward an "independent and active" foreign policy – one premised on expanding economic and political relations with a broad variety of foreign partners, in part to offset China's proximity and clout. However, as during its first term, human rights questions, themselves outgrowths of Myanmar's tangle of racial identities and ethnonationalist myths, will place limits on its ability to advance ties with Western powers.
As a result, the locus of Myanmar's foreign policy will be on strengthening its economic and security ties with regional partners, including India, Japan, Thailand, South Korea, and Singapore, in a bid to wean the country off an unhealthy reliance on Beijing. All the while, Myanmar's position toward China will remain fraught with internal tensions, as the fear of Chinese influence pushes it one way, and the need for Chinese support pushes it back.