India Leases 2 Maritime Surveillance Drones From US: Report
While the U.S. has evinced interest in selling armed and unarmed drones to India, a variety of reasons is preventing the country from going ahead with the purchases.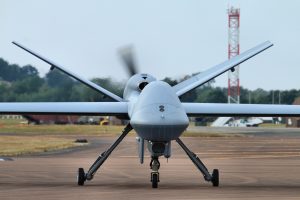 The Hindustan Times (HT) reported on November 25 that India has leased two MQ-9B SeaGuardian drones from the United States for a year. According to the report, the pair, that arrived in India in early November, will be based in INS Rajali, a naval air station in Tamil Nadu, and will engage in maritime surveillance activities in the Indian Ocean. According to new Indian defense acquisition guidelines that came to force on October 1, the Indian military is permitted to temporarily lease hardware, as opposed to buying equipment outright, in order to bring down costs; according to the report, the SeaGuardians are the first to be so acquired.
The Trump administration had cleared the sale of 22 SeaGuardians to India in 2018, at a cost between $2 and 3 billion. In July this year, it also tweaked an export control regime to allow for sale of drones flying at speeds less than 800 kilometers an hour, paving the way for India and other partners to acquire them, citing increased U.S. "economic security" as one of the gains from such sales. Beyond easing ways through which India can buy these unmanned aerial vehicles (UAVs), their acquisition would also promote greater India-U.S. cooperation around maritime domain awareness, through the 2018 Communications Compatibility and Security Agreement which facilitates secure exchange of military information and data between platforms operated by both countries.
General Atomics Aeronautical Systems, Inc., which manufactures the SeaGuardian drones, notes that the UAVs can fly for up to 40 hours continuously. According to a Naval News article on the platform, General Atomics advertised the UAVs "as a complementary system for navies and air forces already operating maritime patrol aircraft." India operates the P8-I maritime surveillance aircraft along with the indigenous HAL Dornier 228 aircraft.
The SeaGuardian, along with other missions, can also be deployed for anti-submarine warfare (ASW), with the ability to carry two to four sonobouy dispensers under its wings as well as an onboard sonobouy receiver and processor, the Naval News notes. While the precise missions the two leased SeaGuardians will be made to undertake is not known, because of increasingly frequent Chinese submarines foray into the Indian Ocean, ASW capabilities are emerging as a frontline concern for the Indian Navy.
For a variety of reasons, including a financial crunch, inter-service rivalry, as well as a new push for indigenous defense manufacturing, the U.S. sale of UAVs to India is unlikely to go through at the present. Currently, India fields the Israeli-made Heron and Searcher surveillance drones and has pushed ahead with trials of the indigenous Rustom-2 surveillance drones. The maritime Heron drone can fly continuously for up to 45 hours; the Rustom-2 prototype's endurance is 18 hours at present.
It is unclear how much the lease of the two SeaGuardian drones is expected to cost India, with HT sources refusing to comment on it.