Responding to Central Vietnam's Floods and Landslides
Local NGOs bring aid to flood and landslide-affected communities in Central Vietnam.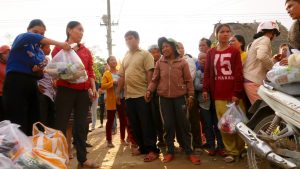 Since the beginning of October, central Vietnam has been pounded by consecutive tropical storms and typhoons, which have brought widespread flooding and landslides to the region. 
At least 1.5 million people have been affected by flooding and 235 people have died or are missing, according to the Vietnamese government. 
On October 15, U.S. Ambassador to Vietnam Daniel J. Kritenbrink declared a national disaster for the Central Vietnam region as a result of the widespread devastation caused by flooding and landslides. This flooding has disrupted electricity and telecommunication networks, as well as destroying infrastructure, houses, livestock, and crops.  
On October 28, Typhoon Molave made landfall over Quang Nam and Quang Ngai provinces in central Vietnam. It was the worst typhoon to hit the country in the last two decades.  
Quang Nam and Quang Ngai are the two of the five central provinces that have been hardest hit by the recent flooding and landslides. The other three provinces that have been severely affected are Quang Ninh, Quang Tri, and Hue.
To make matters worse, the monsoon season is still ongoing and another powerful storm, Typhoon Vamco, made landfall last Sunday morning in central Vietnam, causing even greater damage. This is the third storm system to pummel Vietnam in November and the 13th to hit the country this year. The economic damage is now estimated to be close to $1 billion, according to the Vietnamese government.
International donations are starting to come in from various countries, such as the United States, the United Kingdom, Australia, the Netherlands, and Japan. To date, the U.S. has donated $2.1 million toward the humanitarian relief effort. The U.S. Agency for International Development (USAID) has partnered with the Vietnam Red Cross Society to assist during the ongoing recovery period. 
The financial backing also focuses on USAID's longstanding investments in Vietnam to help minimize loss and destruction caused by natural disasters. Although the Vietnamese government has been quick to allocate disaster relief funds, its efforts and capacities have been strained also by the coronavirus pandemic. Donations from the outside world will be certainly needed and appreciated.
Local NGOs have been working tirelessly alongside the government to deliver aid to those who have been most affected by the catastrophic storms and their results. Pacific Links Foundation is an NGO that currently supports disadvantaged families in central Vietnam and it has been vigorously fundraising to support families in flood-affected Quang Tri, Quang Binh, and Hue provinces.
"Our volunteers on the ground have delivered emergency packages, which included rice, food, life jackets, and flashlights, to students and their families," said Hong Nguyen, the deputy director for SEEDS, a Pacific Links Foundation scholarship program which currently supports over 2,500 students.
SEEDS and the Pacific Links Foundation are now working on another round of support that will focus specifically on long-term recovery, allowing school children in all eight central Provinces to return to school and provide support for the families that suffered the most during the recent typhoons and floods. 
"We will provide packages which will include books and school supplies, as well as computer tablets for students to continue learning through our online learning platform, especially when schooling is being disrupted," said Nguyen. 
Another non-profit charitable organization focused on philanthropic activities to benefit Vietnamese people in need throughout the Central Vietnam region is Da Nang Go. The organization uses fundraising events and direct donations to address the specific needs of Vietnamese people affected by natural disasters, poverty, and hunger.
Presently, the group consists of about 20 local and international volunteers who have been doing regular relief trips to some of the harder hit flood and landslide zones across the region. The NGO recently took a convoy of trucks and cars to Tay Giang district in Quang Nam province to provide much-needed supplies. 
Tay Giang experienced heavy flooding and deadly landslides in October and November and is generally considered to be one of the more economically disadvantaged areas of Central Vietnam. The majority of the people who live there are from the Co Tu ethnic minority, a patriarchal rural society whose men raise livestock and whose women are well known for making high-quality traditional handicrafts. 
The Co Tu live in small stilt huts which can be easily damaged by storms and landslides. At least 30 families had previously been evacuated from one village in Tay Giang due to the recent landslides. 
"Before the last storm came, the government wanted to move them to a safer place but the problem is they don't want to move anywhere because they are scared and if they die then they want to die in their hometown. They are used to yearly storms but they didn't know this year's storms would be so bad," said Hannah Bui, one of the main directors of Da Nang Go and owner of Hannah's Restaurant in Da Nang.
"I wish I had more money so I could do more to help these people," she said.
Recently, the Da Nang Go team assembled 250 aid packages for children and 750 for adults in Tay Giang, as well as presenting some cash donations in envelopes at Hannah's Restaurant.
The aid packages consisted of water, milk, noodles, dry food, oil, fish sauce, salt, blankets, and notebooks. The money was raised through a recent fundraising event and from various donations by local and expat members of the Da Nang community.
The aid was greeted with smiles by the local villagers and government officials. The team also delivered supplies to two elementary schools and to adults in the neediest villages of Tay Giang. In one of the poorest schools, students are so impoverished that they can't afford basic school uniforms and some students walk up to four kilometers per day to attend classes.
"When I do charity and I do small things like give candy to poor kids they are happy and smile, and when I give old people clothes and they say 'thank you,' it warms my heart and makes me feel good knowing I've brightened their day," said Bui.
Da Nang Go will continue its ongoing fundraising and aid missions to help people around central Vietnam affected by these historically devastating storms and typhoons. Both Pacific Links Foundation and Da Nang Go are continuing to deliver aid packages and funds in the aftermath of Typhoon Vamco. 
As much as these local charities and NGOs have brought much-needed relief for affected communities, in terms of food, clothing, school supplies, and direct funding, what is really needed now in terms of the recovery effort is the rebuilding of infrastructure, houses, and technological networks, and a re-supply of livestock to get things back to normal. 
Hugh Bohane is a freelance journalist who has covered Asia for over 10 years. He has contributed to The Diplomat, ABC, Euronews, The New Internationalist and other esteemed press.