Turkmenistan Still Persists in COVID Denial
ASAP or maybe never: In August, the WHO wanted to visit Turkmenistan ASAP to test suspected COVID-19 samples. To date, no new mission has taken place.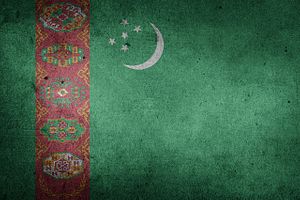 Three months ago, the World Health Organization's Regional Director for Europe (which includes Central Asia) recounted a positive meeting with the president of Turkmenistan. In the tweet on August 7, WHO Europe's Hans Kluge said that he and Dr. Tedros Adhanom Ghebreyesus, the director-general of the WHO, had expressed their "serious concern" about the rise in COVID-19 negative pneumonia and urged that Ashgabat allow a WHO team to independently sample in the country and take samples to WHO reference labs.
Kluge tweeted on August 7 that Gurbanguly Berdimuhamedov had "agreed." 
Turkmenistan remains one of the very few countries in the world to have reported not a single case of the novel coronavirus. Turkmen authorities say they have enacted all possible measures to combat the virus, which they maintain has not penetrated into their country.
In another tweet, on August 10, Kluge reported a follow-up call with Turkmen Foreign Minister Raşit Meredow (who is also, perhaps more importantly, deputy chairman of the Cabinet of Ministers — a position akin to vice president) and Minister of Health Nurmuhammet Amannepesov. They agreed, Kluge tweeted, that "no country is #COVID immune" and on "next steps for @WHO mission asap to sample suspect #COVID patients & test at @WHO ref. lab abroad."
"It looks as if the World Health Organization (WHO) will send another mission to Turkmenistan after the group's July visit seems to have satisfied no one," RFE/RL's Bruce Pannier wrote hopefully in August. 
On April 23, Kluge had noted a WHO mission to Turkmenistan was planned for the "coming days." The team actually arrived on July 6. The visit, which lasted 10 days, ended with a press conference and a statement by the mission's head, Catherine Smallwood, in which she urged Turkmen authorities to act as if the virus was circulating, but praised the country's efforts to confront it.
For many, the outcome of the visit was disappointing: How can a country responsibly tackle a problem it refuses to acknowledge the immediate, close, existence of?
As noted above, Turkmen authorities consistently repeat that they are following WHO guidelines. After first punishing people for wearing masks in the spring, the Turkmen authorities began to enforce a mask mandate with a heavy hand. The authorities urged people to physically distance and weak masks due to toxic dust. 
In July, Turkmenistan's state-run railway announced the suspension of local passenger train travel. The suspension was extended in August, with the authorities stating that when the ban was lifted certificates proving an individual was COVID-free would be required for travel as had been introduced for air travel. Last week, RFE/RL reported that what effectively amounted to a travel ban had been extended again to January 2021. Only those making necessary trips, approved by government commissions, would be permitted to ride the rails.
One detail worth lingering on: "There was no official statement on the new regulation, but since October 31 local authorities have stopped performing coronavirus-tests, results of which were necessary to travel across the country." No test, no travel; no testing, no traveling.
Which brings us back to the second WHO mission and urging of external testing for Turkmen samples. It appears that mission has yet to materialize, but it's also unclear if the plan is completed dead or merely deadlocked. 
Emails from The Diplomat to WHO Europe's press office on September 10 and November 5 seeking an update regarding the mission went unanswered.
The WHO is hamstrung in what it can do by what partner countries request of it. Positive meetings, as Kluge recounted, are not the same thing as a formal invitation. Specifically how the WHO's second mission to Turkmenistan fizzled (or has been delayed indefinitely) is unclear at this juncture, but the "why" is perhaps easy to deduce: Turkmen authorities do not want to admit the presence of the virus and if the WHO tested Turkmen samples, they very well may find it.
"The bodies of those dying of COVID-19-like lung problems are being delivered to their relatives in special plastic bags," RFE/RL noted in its report, "and the number of fresh graves across the country is increasing exponentially."