Acting Kyrgyz President Mamytov Visits Moscow
Mamytov, Kyrgyzstan's second acting president since October, is a close ally of Sadyr Japarov, who hopes to win election to the real presidency on January 10.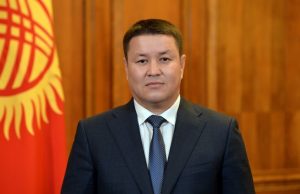 On December 7, the speaker of Kyrgyzstan's Parliament, Talant Mamytov, met with the chairman of the Russian State Duma, Viacheslav Volodin, in Moscow. 
Per the Rusian side's readout, the two discussed a broad range of issues, from the resumption of regular flights after pandemic restrictions are lifted to cooperation between parliamentary committees in the two states. The status of the Russian language in Kyrgyzstan was discussed, with Volodin pointing to Kyrgyz citizens' knowledge of Russian as a strong point in their efforts to get jobs in Russia. 
The meeting naturally touched on matters of sovereignty, cooperation, and integration. Volodin reportedly said that the future belongs to integration, "and you should decide integration with which states is better taking into account various factors." The choice Volodin appeared to put before Kyrgyzstan was Russia or the West. "European states have a lot of benefits, but no one welcomes citizens of the CIS [Commonwealth of Independent States] member states there," he told Mamytov.

Mamytov in return stressed that Kyrgyzstan "has always been and remains a reliable partner of the Russian Federation, as we have long-standing friendship and mutual understanding." He also stressed that Kyrgyzstan remains committed to all previously signed agreements.
The two also reportedly discussed Kyrgyzstan's new draft constitution, listed in the readout under the heading "Strong Kyrgyzstan." 
"You should do everything to protect your citizens and the country. It is important for Russia that Kyrgyzstan is a strong and sovereign state, a partner," Volodin said, pointing to Russia's amending of its constitution earlier in 2020. The batch of amendments, approved in June, served to clear the way for Russian President Vladimir Putin to remain in power through at least 2036. 
The draft constitution Kyrgyzstan is considering has been dubbed a "Khanstitution" by critics who say it would simply serve to concentrate power in the hands of a strong president, moving Kyrgyzstan further from the light of its technically, though imperfect, parliamentary system. 
Mamytov is currently serving as acting president of Kyrgyzstan following the dual resignation of Acting President and Prime Minister Sadyr Japarov last month. Japarov, as we've covered extensively, became acting president in mid-October after essentially forcing President Sooronbay Jeenbekov to resign under the threat of more violence in the streets. 
Japarov then resigned himself in order to contest the January 10 presidential election, which he would have been unable to do legally had he remained acting president. At present, Japarov is favored to win given his dominant position in the Kyrgyz political arena at the moment. His close allies hold key positions, which he maneuvered them into before resigning to run. 
In 2012, after participating in an attack on the Kyrgyz White House, Mamytov was arrested along with Japarov and Kamchybek Tashiev. The trio of nationalist politicians served short prison sentences and were released in 2013. Japarov later was accused of orchestrating the kidnapping of a government official and fled the country, returning in 2017 only to be arrested and sent to prison. He was busted from jail on October 6. The three are back in the spotlight now, with Japarov aiming for the presidency, Mamytov serving as acting president, and Tashiev now head of the State Committee for National Security (GKNB.)
There is also supposed to be a referendum on January 10, but it's not clear on what. Initially the referendum was to vote on the draft constitution submitted for public discussion on November 17. But the draft was met with a serious backlash, including at least one MP listed as a backer of the document saying he'd never even seen it before. The goalposts shifted quickly to the referendum considering the question of what kind of government Kyrgyzstan should have — presidential or parliamentary, rather than a heavily amended constitution draft. It's unclear at this moment exactly what the referendum will consider. On December 3, the Kyrgzy parliament couldn't gather a quorum to vote on the bill that would have put forward the presidential or parliamentary question. Meanwhile, there's a movement to shift Kyrgyzstan back to its very first constitution, the 1993 version. 
Russia has kept close tabs on the unfolding political tumult in Kyrgyzstan since October, at various points oscillating between staying quiet and urging stability, or reacting with sharp derision for the apparent "chaos." In mid-October, Russia announced the suspension of aid to Kyrgyzstan until the situation "stabilizes." A month later, Russia said it would phase aid back into the relationship. In late November, the Russian Embassy in Bishkek issued a statement that Russia would provide Kyrgyzstan with $8 million in humanitarian assistance.
Moscow isn't unfamiliar with upheavals in its small Central Asian partner, but certainly retains a overriding interest in the country's stability. Russia maintains a military presence in Kyrgyzstan, with an air base in Kant — outside the capital, Bishkek — a naval facility on Issyk-Kul, a seismology center in the south, and a communications post near the Kazakh border.