As Farmers Protest in India, Canada Weighs In – With Predictable Effect
Comments by Prime Minister Justin Trudeau and Defense Minister Harjit Sajjan have irked BJP supporters and the Modi government.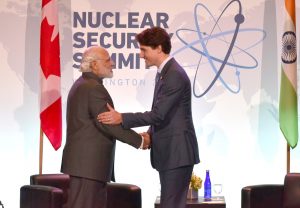 Canadian Prime Minister Justin Trudeau caused a small storm among supporters of the Indian ruling Bharatiya Janata Party (BJP) with his comments about the ongoing farmers' protests in India. Addressing the Sikh community on the occasion of Guru Nanak Jayanti, the birth anniversary of the founder of Sikhism, Trudeau said on November 30: "I would be remiss if I didn't start by recognizing the news coming from India about the protest by farmers. The situation is concerning. We are all very worried about family and friends. I know that's a reality for many of you. Let me remind you, Canada will always be there to defend the rights of peaceful protest."
On November 29, Canadian Defense Minister Harjit Singh Sajjan, a Sikh-Canadian of Indian ancestry, tweeted: "The reports of peaceful protesters being brutalized in India are very troubling. Many of my constituents have family there and are worried about the safety of their loved ones. Healthy democracies allow peaceful protest. I urge those involved to uphold this fundamental right."
Canada has a sizeable Sikh community with ties to the Indian state of Punjab. Canadian Sikhs are known for their political clout, with more Sikhs in the Canadian House of Commons than in the Indian lower house of the parliament.
Since November 26, farmers in India have been protesting new laws passed in September including one that would allow them to directly sell their produce to private buyers, instead of going through government regulated markets, which had been the law thus far. Farmers' unions claim that the new laws act against their interest and could be a prelude to the Indian government removing the minimum support price system through which it effectively insulates farmers from market shocks. The protests thus far have seen traffic through states borders between Delhi and its neighbors such as Haryana and Uttar Pradesh severely disrupted, and police use of water cannons to disperse protesting farmers. Currently, the Modi government is in talks with farmers' representatives in New Delhi.
While the face of the protests in the outskirts of New Delhi have been farmers from Punjab, predominantly Sikh, small-scale protests have also been reported from other parts of the country. Punjab's Sikh chief minister Amarinder Singh, who belongs to the opposition Congress Party, chiming in early on in the protests in support of the farmers. Some pro-BJP voices on social media have tried to portray the protests by Sikh farmers as cover for advocacy of Sikh secessionism; others have called it an opposition ploy.
In the 1980s and early 90s, the Indian government engaged in a brutal campaign against armed Sikh separatists in Punjab; three supporters of Khalistan – how supporters term an independent Sikh homeland – assassinated Indian Prime Minister Indira Gandhi in 1984, sparking progroms against Sikhs in New Delhi. In 1985, an Air Delhi flight from Montreal to Delhi was blown up mid air over the Atlantic Ocean by Canadian Sikh terrorists, killing 329 people on board. Indian intelligence services continue to keep a close eye on possible anti-India activities emanating from Canada.
The Modi government has dismissed the Canadian government's concerns, terming it as meddling in the internal affairs of India. Anurag Srivastava, the Indian foreign ministry spokesperson said: "We have seen some ill-informed comments by Canadian leaders relating to farmers in India. Such comments are unwarranted, especially when pertaining to the internal affairs of a democratic country. It is also best that diplomatic conversations are not misrepresented for political purpose." BJP leaders such as Ram Madhav have also questioned Trudeau's "locus standi" when it comes to the issue. That said, in an interview to The Hindu on December 2, External Affairs Minister S. Jaishankar tried to downplay Trudeau's comments, noting a "number of Canadians spoke up, not just the Prime Minister. But you saw what the social media had to say on the subject," adding "We made a statement, which lays out our position very clearly."
The Trudeau administration, since coming to power in 2015, has often found itself rubbing New Delhi the wrong way. Trudeau's February 2018 India visit was an archetypal disaster, as news emerged that he had extended a dinner invitation during his New Delhi visit to an alleged Sikh extremist convicted (and later acquitted) of plotting to assassinate an Indian minister in 1986. In 2017, Modi had refused to meet with Sajjan. Many Indian politicians – including Congress' Singh – accuse Canada of being a willing host to Sikh separatist forces.
But what adds a layer of further complication is Canada's increasing interest in becoming an Indo-Pacific player, through its participation in the Five Eyes grouping, among others. Canada is also looking to adopt a much firmer line on China – something that would make Ottawa and New Delhi natural simpatico. However, the burden of history – as well as domestic political exigencies on both sides – means that the uneasiness in the bilateral relationship will persist for some time to come, lasting beyond the current farmers' protests. Many also worry that with Joe Biden at the helm in the United States, Canada may find a useful ally in his administration to drive home perceived problems inside India, including treatment of minorities by the Modi government.