EU-China Investment Deal: Has China Revived Its European Diplomacy?
The China-EU relationship has changed. Will the CAI spark a new era of Chinese diplomacy on the continent?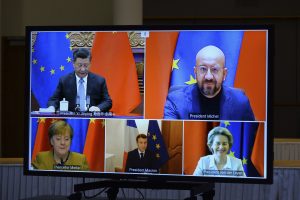 On December 30, 2020, the European Union (EU) and China officially concluded the negotiations of their Comprehensive Agreement on Investment (CAI) at last. The deal will broaden the European companies' market access in China and streamline the country's regulatory environment while ensuring access to key European strategic markets for Chinese firms. However, beyond the conclusion of the agreement, one should look at the entire last phase of the seven-year negotiations, for it reflects the increasingly complex European environment in which Beijing must learn to operate. In short, formerly rather technical negotiations became entangled in a set of intricate political and strategic issues. This development illustrates what is likely to become the new normal of EU-China relations.
This new normal will bring about a new set of implications for Beijing's foreign policy. In other words, China will have to consider the implications of its European policy for a potential EU-U.S. rapprochement, which could be detrimental to its strategic interests. In this context, whether China will tilt toward a pragmatic or an assertive diplomatic stance will have far-reaching consequences for the future of its development. Has China revived its European diplomacy through the investment deal, and can it navigate the new European environment?
The EU and China's Tainted Love
The dynamics of EU-China relations have long been influenced by the belief that the integration of China into globalization would lead to its democratization. This belief informed the settlement of the 1989 Tiananmen diplomatic crisis, which constitutes a cornerstone in EU-China relations. In short, both partners agreed to discuss human rights and economic issues separately to streamline future negotiations. As a result, trade issues have systematically trumped human rights issues, which have been relegated to an ineffective Human Right Dialogue.
However, as President Xi Jinping shattered hopes of democratization, the EU has grown anxious about China's political and economic clout in the continent. In fact, since the 2016 Chinese buyout of the German technological firm Kuka, which raised important concerns over the security implications of Chinese investments, the EU has moved from a trade-oriented approach to a strategic approach toward China. The move has taken the shape of a narrative turn, in which China has become both an economic partner and a systemic rival, and that of concrete policies, such as the EU foreign investment screening mechanism.
U.S. President Donald Trump's aggressive stance toward the EU and Xi's attempts to champion globalization have not changed the trend of EU-China relations. In fact, they reached a new low during the COVID-19 outbreak, as Chinese diplomats aggressively defended China's framing of "mask diplomacy." This narrative, which posits that Beijing rescued helpless EU member states by giving away medical supplies, was viewed by Brussels as a political intrusion aiming to promote authoritarian governance, amid intra-European tensions around the rule of law and the rise of populism.
The latest stage of the CAI negotiations has mirrored the changed dynamics in EU-China relations. This was obvious when Poland expressed concerns over rushing the negotiations, in line with the incoming U.S. presidential team's position. This was also obvious when France's late concerns about long-ignored human rights issues and the framing of China's new demands on nuclear energy market access into the European critical infrastructure debate convoluted the negotiations. These events suggest that the erstwhile clear separation among policy areas may no longer stand in EU-China diplomatic negotiations. In other words, China will have to manage new risks induced by the politicization of formerly rather pragmatic relations with the EU. However, its reformed foreign affairs architecture may prove to be an obstacle in this endeavor.
China's Changing Diplomacy
As a part of his push for power concentration, Xi has undertaken a broad institutional reform to unify a hitherto fragmented foreign policy realm under his rule. This new direct presidential oversight over foreign affairs has led to a significant transformation of Beijing's diplomatic practice. That is, China's traditional low-key diplomacy has moved toward an assertive line, which has been obvious in the South China Sea disputes or China-Australia relations.
However, the late "wolf warrior" diplomacy, which aims to defend China's narratives in the international arena, has significantly departed from Beijing's long-standing diplomatic pragmatism. One way to make sense of this unusual policy turn is to consider the evolution of the Chinese domestic context under Xi's presidency. Indeed, Xi has used his new institutional powers to link foreign policy to increasingly popular nationalist narratives at home in order to strengthen the Communist Party's legitimacy, which has been challenged by the domestic economy's faltering growth and controversies around the COVID-19 response.
This context helps explain how China's institutional overhaul has modified foreign affairs professionals' incentives along Xi's inclination for assertiveness. The result is an unusual level of boldness among Chinese diplomats that feeds into the domestic public opinion's nationalism. This was particularly evident when Xi issued a confidential memo that urged Chinese diplomats to show "fighting spirit" abroad. The problem is that the new diplomatic structure could lead to consequential miscalculations. Officials' zeal in promoting Xi's assertive line may interplay with other underlying issues and contribute to transforming negatively the political environment in which diplomats operate, as witnessed in Europe.
However, Beijing managed to show pragmatism at the 2020 EU-China Summit by committing to wrap up the CAI negotiations and ease bilateral tensions. Moreover, Beijing proved to be flexible enough to make concessions on sensitive issues after President-elect Joe Biden's victory, who holds ambitions for a coordinated Western stance against China. The deal is a clear diplomatic win for Beijing, which avoids turning the CAI into an avenue for transatlantic cooperation. Nevertheless, given that this outcome required such a strong commitment from the European Commission and the German presidency of the EU, and important concessions from China, it is uncertain whether this positive trend will persist in EU-China relations, especially as Biden is to take office shortly.
The Transatlantic Connection
The CAI also tells us something about the upcoming transatlantic relations, which are to become a critical foreign affairs issue for Beijing. The EU clearly expressed its willingness to retain a certain degree of strategic leeway toward China by rushing the CAI negotiations, despite calling for renewed transatlantic cooperation. This comes as an unpleasant surprise in U.S. foreign policy circles, as Biden's team plans to coordinate a strategic response with international partners toward Beijing, in addition to pursuing Trump's tough economic stance, which exposed some of China's weaknesses.
As a matter of fact, Biden is setting up a comprehensive strategy toward China, in which transatlantic ties will play a major role. On the trade side, he will present a plan aimed at setting global rules that will help counter China's influence in the international trade system, in addition to working toward the renewal of damaged transatlantic trade ties. On the security side, he has ambitions to push for a new NATO strategic concept that is likely to include China as a potential security issue, as pointed out by the NATO 2030 report. In such a context, diplomatic miscalculations on the Chinese side are likely to be more consequential than under the Trump administration.
Surely, the international perception of China's foreign policy will be critical for Biden's upcoming European diplomacy, as the transatlantic rapprochement will be hampered by structural issues. Such issues include the EU's tougher stance on the GAFAs, or NATO's discord over Turkey's geopolitical ambitions and certain EU member states' aspiration for further European strategic autonomy. Therefore, as the uncertainty around the next U.S. presidential election will undermine the credibility of U.S. commitments, Beijing could pursue its pragmatic approach and play the long-standing transatlantic divide. This means that China could further adjust its European diplomacy to sabotage Washington's "China threat" narrative, which will be key in bringing Western allies together.
This notwithstanding, it is unclear whether China will be able to fix the damage of its assertive diplomacy and leverage EU-U.S. disagreements via continued diplomatic pragmatism and economic incentives. After all, the late Australia-China "tweet war" shows that the "wolf warrior" diplomacy is alive and well, and China's economic concessions are not as compelling as they once were, as demonstrated by the CAI negotiations.
To be sure, the degree to which Beijing will successfully navigate the new European environment will rely on its ability to deal with European ambiguity, as illustrated by Germany's refusal to ban Huawei from the 5G rollout and Brussels' call for an EU-U.S. tech alliance to curb China's influence in global tech markets. In other words, Chinese officials will have to make sense of mixed signals and take action on a sound basis, despite nationalist pressures. Thus, the CAI could be a first step in the revival of China's European diplomacy.
Alexis Leggeri is a Ph.D. candidate researching China's foreign policy and EU-China relations in the Department of Asian and International Studies at the City University of Hong Kong.