How India Aims to Make the Best of Bangladesh's Independence Anniversary
Bangladesh will celebrate its 50th anniversary as an independent country next year. The Modi government has good reasons to celebrate alongside in its run-up.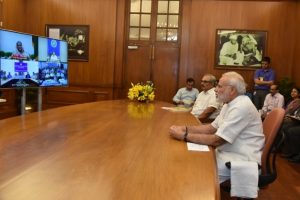 Bangladesh and India held a virtual leaders' summit on December 17 as Bangladesh gears up to celebrate its 50th anniversary as an independent state December 16 next year. Speaking at the summit, Indian Prime Minister Narendra Modi front-and-centered the symbolic significance of the upcoming anniversary, noting "It is a matter of pride for us to celebrate the historic victory of Bangladesh over Anti-liberation forces as the Victory Day with you."
"Today, when Bangladesh is celebrating forty nine years of independence, I pay homage to the martyrs of both the countries who sacrificed their lives," Modi added.
On December 16, 1971, Indian forces defeated Pakistan in war — the most intense of the four the two countries have fought so far — leading to the creation of an independent state in place of Pakistan's eastern wing. India's military intervention followed a humanitarian crisis in the country's east which – in turn – arose out of genocide committed by the Pakistan Army in erstwhile East Pakistan. (For those interested the history – and the United States' decision to ignore the actions of the Pakistan Army — historian Gary Bass' book remains a must-read.)
In his opening remarks at the December 17 summit, Modi announced that India would be celebrating a "Golden Victory Year" in the run-up to Bangladesh's 50th Victory Day "during which many events will be organized across India."
Bangladesh had announced a "Mujib Borsho" ("the Year of Mujib") between March 17, 2020 to March 26, 2021 in the honor of the country's founding father and first President Sheikh Mujibur Rahman; Rehman was born on March 17, 1920 while Bangladesh will celebrate its 50th Independence Day on March 26, 2021, an event Modi will be in Dhaka for. Mujib Borsho has been extended to December 16, 2021, according to a Bangladesh government notification published on December 14. Modi also launched a stamp in honor of Rahman on December 17. (Bangladesh Prime Minister Sheikh Hasina is Rahman's daughter, and has drawn considerable political heft from that fact.)
The year ahead leading to Bangladesh's 50th anniversary of liberation from Pakistan stands to further Modi's foreign and domestic goals in three different ways.
First, it allows both countries to re-solidify relations by appealing to signal historical events and past ties as several irritants in the relationship persists. The Bangladesh-India border in the recent past has also witnessed security forces from both sides opening fire. Bangladesh in the recent years have sought to leverage ties with China for economic reasons. Dhaka has also advanced its military relations with Beijing. Simultaneously, domestic politics in India – and West Bengal Chief Minister Mamata Banerjee's obduracy – has implied that the Teesta river water dispute between the two countries have gone unresolved, despite considerable progress in Modi's first term; a Teesta water-sharing agreement with India remains one of Dhaka's key asks in the relationship. All of these can — and most likely, will — be pushed to the background by flowery rhetoric from both sides. At the very least, India's celebration of the Golden Victory Year will serve as a constant reminder to Bangladeshis — even those no longer given to positivity about India — about the crucial role India played in the country's independence.
Second and related, in the run-up to the general elections in India last year, now Home Minister Amit Shah's rhetoric around illegal immigration from Bangladesh had deeply perturbed the Sheikh Hasina government. In an election rally April last year, Shah had called illegal immigrants from Bangladesh "termites" and accused Banerjee, who continues to put up a spirited political fight against Modi and his Bharatiya Janata Party (BJP), of appeasing Muslims in her state for political ends. India's controversial December 2019 amendment to its citizenship law – which effectively discriminates against Muslim immigrants from neighboring countries as they seek Indian citizenship on religious persecution grounds – apparently also caused considerable consternation in Bangladesh.
West Bengal goes to the polls next year, an election that will be closely watched for what it says about Banerjee's grip over the state as well as the BJP's momentum in making inroads there. Should anti-immigrant and anti-Muslim rhetoric be deployed by the party in its run-up (again raising the specter of a setback in Bangladesh-India ties), the India-Bangladesh bonhomie around the Golden Victory Year could help modulate its effects across the border, in Bangladesh. Related, given the close ties between West Bengal and Bangladesh, the BJP's enthusiastic support for the Golden Victory Year could also generate support from Indian Hindu Bengalis. (Bass has argued that Hindus in East Pakistan were the primary targets of the Pakistan Army's genocide.)
Third and finally: India's victory in the 1971 war is widely seen as its greatest military feat so far. That India managed to essentially carve an independent state out of Pakistan is seen as a signal strategic gain over Pakistan – and not just in Hindu-nationalist circles. A year-long celebration will help Modi and his party members drive home his fiery messages directed at Pakistan as well as bolster his image as a national-security strongman — both of which, in turn, stands to consolidate his support base. Internationally, the year will provide India additional opportunities to highlight historical instances of Pakistan's human-right crimes, with the Pakistan Army's 1971 conduct in East Pakistan being the focal point.