How the US Can Mediate the Japan-South Korea Dispute
The Biden administration must avoid the fundamental flaw of previous reparations arrangements: prioritizing state interests over victims' concerns.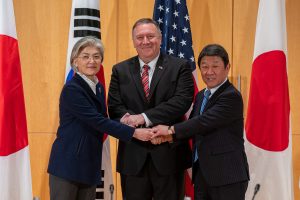 President-elect Joe Biden will have a challenging time restoring U.S. alliances in Northeast Asia as Japan-South Korea ties have soured over deep-rooted historical issues. While President Donald Trump took a hands-off approach, Biden seems eager to help the two U.S. allies mend ties. But his administration must avoid the fundamental flaw of previous reparations arrangements: prioritizing state interests over victims' concerns.
Aiming to bring Asian allies together for its Cold War containment strategy, Washington facilitated the signing of the 1965 normalization treaty between Japan and South Korea, which Tokyo claims settled all reparations questions. However, the deal was not a legitimate redress for victims of Japanese wartime military brothels and forced labor, as these issues had not yet surfaced at the time. Furthermore, South Korea was ruled by the dictator Park Chung-hee, who pushed through the treaty to secure Japanese capital. He did not compensate the victims but instead used the money for economic development. In short, the 1965 agreement was a shallow attempt at reconciliation as economic, security, and political considerations took primacy.
In 2015, then-President Park Geun-hye reached a "final and irreversible" deal with Japan regarding the "comfort women" — women forced to serve in Japanese military brothels. Not long into his term, current President Moon Jae-in, Park's successor, disbanded the Japan-funded charity set up under the accord after calling it a "political agreement that excludes victims and the public." Indeed, former comfort women and their supporters were dismayed at the lack of prior consultancy. Park was seeking a speedy rapprochement with Japan amid Chinese economic coercion and North Korea's nuclear tests. In dire need of a united front to counter Beijing and Pyongyang, the Obama administration in the U.S. mediated reconciliation talks. One year after the agreement was signed, to Washington's relief, Japan and South Korea finally inked the General Security of Military Information Agreement (GSOMIA), a bilateral intelligence-sharing pact on North Korea. Like the 1965 settlement, the 2015 agreement accommodated state interests, not the victims'.
The latest row began in 2018 when Seoul's Supreme Court ruled that two Japanese companies are obligated to compensate South Koreans forced into labor during Japan's colonial rule over the Korean Peninsula. This incident sparked a trade war between the two countries. Frustrated, Seoul threatened to withdraw from GSOMIA. Disagreements over forced labor may explain why Japan backed a Nigerian nominee as the next WTO director general instead of supporting the U.S.-endorsed Korean Trade Minister Yoo Myung-hee. The tit-for-tat exchange demonstrates that unresolved historical animosity could undermine trilateral coordination on trade and security.
The two countries are studying plans for a joint compensation program to settle the forced labor issue. However, once again, victims' voices are absent. The final deal is unlikely to be welcomed by the public. Moon or his successor may capitalize on popular discontent to stoke anti-Japanese nationalism to shore up domestic legitimacy. Japan and South Korea are poised to enter another vicious cycle of distrust.
State-centric approaches will only backfire, exacerbating existing acrimony and grievances. To promote deep reconciliation, leaders must put the victims at the center. The priority should be reparative justice, not strategic gains, which will be more attainable once Japan and South Korea have faced their history squarely. Of course, this is easier said than done, especially when both governments are inclined to politicize the dispute. However, U.S. mediation can provide a recourse.
First, Washington should broker a new Tokyo-Seoul reconciliation agreement. This time, there must be consultation with the remaining former comfort women and forced laborers. The United States can help the two governments establish dialogue groups comprising victims, officials, intellectuals, civil society groups, and businesses to discuss thorny obstacles and promote mutual understanding. This will ensure that the negotiation process is transparent and the views of key stakeholders are considered.
Second, it has been suggested that the United States assume a neutral third-party role to ensure treaty compliance. The Biden administration and future administrations must be willing to speak up against violations and apply diplomatic or economic pressure if one side fails to uphold its end of the bargain. This will increase the costs of non-cooperation and backpedaling.
Third, the Biden administration should treat the spat as a matter of human rights to secure bipartisan support. In 2007, the U.S. House of Representatives passed a resolution (H.Res.121) asking the Japanese government to "formally acknowledge, apologize, and accept historical responsibility" for colonial-era sexual slavery. Congress members backed the resolution because it resonated with American values. Such framing also corresponds with Biden's emphasis on the global promotion of human rights.
Finally, Biden must stress to the two allies that a victim-centered resolution is long-term investment in a robust tripartite alliance able to tackle major regional challenges. Personal diplomacy will be essential in convincing Japanese and South Korean leaders to acquiesce.
The United States' previous interventions were improvident and underestimated how failure to engage with the victims can stymie U.S.-Japan-South Korea trilateral projects. Future U.S. mediation must not repeat the same mistake. Unless the victims' perspectives are heeded, reconciliation attempts will not succeed.
Xuan Dung Phan is a research assistant at S.Rajaratnam School of International Studies (RSIS), Nanyang Technological University, Singapore. His research interests include reparative justice and international relations of Asia-Pacific.