Israel Is Stuck Between the Superpowers
An effective foreign investment review mechanism will help Israel's relationship with both the U.S. and China.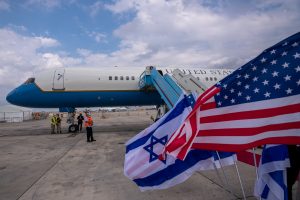 In the global superpower competition between the United States and China, Israel is stuck between a rock and a hard place. On the one hand, Beijing is interested in increasing its cooperation with Israel, especially in the infrastructure and technology sectors; on the other, Israel is under increasing pressure from Washington to limit its engagement with China.
The arrival of a new U.S. president next month is an important opportunity for Israel to establish a transparent and effective foreign investment review mechanism that will allow it to manage its relations with the two superpowers while safeguarding its interests.
Strategically, Israel will do well to demonstrate that its criteria for reviewing foreign direct investments are clear and professional (non-political). Moreover, it should create a mechanism that serves its economic and strategic needs.
Growing Concerns Over Foreign Direct Investment (FDI)
While several countries began to re-examine their foreign investment filtering mechanisms as early as 2016, the COVID-19 pandemic accelerated these processes and led to new reforms. The race to acquire and control innovative technology, coupled with fears that foreign entities or state-owned enterprises (SOEs) will take over vital local industries weakened by the pandemic and the resulting economic crisis, led to tightening of foreign investment screening mechanisms and regulations.
Lengthened screening processes, lower value thresholds triggering mandatory review, and imposition of penalties on companies that circumvent regulators are some of the notable changes made to FDI screening mechanisms. While the trigger for these reforms might have been COVID-19, many will likely remain in place in the future.
Israel Between the Superpowers
Under increasing pressure from the United States and with a potential economic crisis looming, Israel finds itself in a precarious situation. It seeks to develop and encourage foreign investment and trade, including with China, but at the same time needs to establish clear FDI policies and procedures, mainly to deal with the growing concerns and pressures of its most important ally.
Chinese investment in Israel has grown significantly in recent years, especially in the fields of software, IT services, and electronics. According to 2018 data from the World Bank, Israel imports the most goods from China ($10.4 billion), with the U.S. a close second ($10.2 billion). Moreover, China is the second biggest destination for Israeli exports ($4.8 billion), with the U.S. leading by a large margin ($16.8 billion). Given the increasing economic importance of China and its growing technological capabilities, a decline in these investments and commercial cooperation with the Chinese market in general, without sufficient substitutes, could significantly harm Israel and its ability to maintain its position as an innovative world leader.
Under American pressure, Israel set up a foreign investment advisory committee in 2019. Different models and mechanisms exist in different countries, and Israel should certainly develop its own too, but the current model of the Israeli committee weakens its power and its ability to serve as an effective policy tool. The committee reviews investments and makes recommendations, but they are not binding; the decisions are ultimately made by the chief regulator or the NSC. Additionally, the committee does not classify state-owned companies as a significant risk factor and does not include sensitive sectors as requiring closer scrutiny. Moreover, the guidelines for screening are unclear and process itself is opaque. The committee operates separately from other security and regulatory mechanisms, most notably that of defense exports.
The committee's weakness leaves Israel vulnerable to allegations of inconsistency and politicization of the process. The lack of clear standards and uniform policies makes it unpredictable for its partners and potential investors. These in turn increase the risk of unnecessary mistakes on the diplomatic front vis-à-vis the U.S. and China.
If Israel wishes to avoid harming its strategic alliance with the United States while continuing to develop trade relations with China, it must be more coherent. On the one hand, it must signal to Washington that it respects U.S. concerns and that its decision-making mechanism is professional and follows its national interests. On the other hand, Israel should make it clear to China that while some areas may be out of bounds (as is the case with defense exports, for example), there are many other areas in which partnerships could and should develop.
5G: What Can Israel Learn?
The rivalry between the United States and China has cultural and ideological elements, but the battles are increasingly about technology. The international debates over 5G deployment demonstrate the friction between China's growing assertiveness and focus on achieving technological superiority and independence, and the United States' efforts to preserve its interests as a global leader. China wants to deploy its advanced infrastructure around the world, and 5G has become the primary battlefield. Countries' decisions on this issue and the way these are made and delivered place them at the forefront of the superpower competition.
In recent years, Israel, the "Start-Up Nation," has found itself caught up in this systemic conflict. Although it decided not to use Chinese technology and to rely instead on domestic alternatives for its 5G networks, it is still debating how to frame and present this decision. The United States demands that Israel (and other allies) join its Clean Network Initiative and state publicly that it "chose its side." However, instead of enforcing a strict ban of Huawei or ZTE for political reasons, Israel may benefit from following France's lead and taking a technical approach focused on strict regulations. It could also refrain from taking a public stance on the issue at all, as Singapore did. Beyond the decision itself, Israel must carefully consider how it presents and explains the inclusion or exclusion of Chinese companies from sensitive sectors, as both powers are monitoring its actions closely.
Although competition and hostility between the United States and China have reached new heights under the Trump administration, they will probably resume under Biden's, albeit in softer tones. The incoming president will likely take a multilateral approach and try to form broad international coalitions to stymie China's technological and economic expansion. He will no doubt expect Israel to stand by its traditional and most important ally.
China, for its part, expects to continue expanding its trade relations and does not hesitate to act with force toward its critics, as it did with Australia and other countries.
Israel's current investment review mechanism leaves it in a vulnerable position. It gives the impression that its decisions are not made on professional or even national security grounds but according to ad-hoc political interest and lacks much needed guidelines and transparency. This may allow it some flexibility in the short run, but as tensions between the superpowers grows could end up sending its relationships with both the U.S. and China awry. As a small country maneuvering between the powers, Israel cannot afford to make mistakes and requires a well thought out policy.
Dr. Gedaliah Afterman is head of the Asia Policy Program at the Abba Eban Institute for International Diplomacy at the Interdisciplinary Center Herzliya (Israel). He previously served as an Australian foreign service officer working on Asian regional security issues and a diplomat at the Australian Embassy in Beijing where he focused on issues related to China's foreign policy, including the Middle East.