Philippine Jeepneys Won't Go Down Without a Fight
Drivers have pushed back against a forced modernization scheme which the government says is needed to bring the iconic vehicles up to modern standards.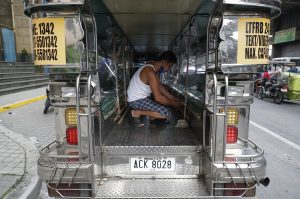 In October, Martin Delgra, chairman of the Land Transportation Franchising and Regulatory Board (LTFRB), announced that old jeepney franchises would expire on New Year's Day. Since 2017, the Public Utility Vehicle Modernization Program (PUVMP) unveiled by the government has been intent on phasing out jeepneys carrying engines that are at least 15 years old. The plan also offered a three year grace period, which expires at the end of December, to help the transport sector adapt to the changes. Drivers and operators are being urged to register new franchises and acquire new jeepney units deemed roadworthy, with less polluting Euro 4 engines. 
The catch is, jeepney drivers will have to shoulder the costs of the transition. This has led to fierce opposition from jeepney and commuter associations, which say that this will push the most affordable mode of public transportation out of reach for many. Moreover, like everything else in the world, the pandemic has complicated matters. 
Since the COVID-19 pandemic struck the Philippines, jeepneys have been largely banned from public streets. Only a select few newer models have been allowed to ply their routes. While the country eases out of quarantine, with more and more people going back to their workplaces, jeepney drivers, who mainly come from working class backgrounds, have desperately looked to any option to make money. Many are commonly seen along highways begging for spare change. 
Aside from being regarded as a kind of national symbol, jeepneys remain a core source of income for hundreds of thousands of families, as well as the cheapest alternative available for the commuting public. As the deadline draws closer, transport groups may have to look for newer ways to make their demands clear. The Pinagkaisang Samahan ng Tsuper and Opereytor Nationwide, or PISTON, one of the largest transport groups in the country, and arguably the most militant, has been calling for a full return of all jeepneys to the roads. In the past, PISTON, along with other jeepney associations, has waged transport strikes to get their point across. But with public utility vehicles (PUVs) already banned from operating, what options do they have? The "100% Balik Pasada (return to routes)" slogan has been making waves on social media, but begs the question of whether such a demand is even possible. And what exactly is at stake with the modernization plan?
Green vs Greed
One of the main arguments in favor of modernization is a push for the use of greener and more sustainable machines. Delgra explained last year that the new "E-Jeepneys," which are compliant with the modernization guidelines, will be eco-friendly and adhere to the clean air drive of the government. He cited a study from the University of the Philippines which states that Euro 4 engines are 90 percent cleaner than their current counterparts in the industry.
For its own part, PISTON chairman Mody Floranda said that the organization has no problem with aligning with environmental concerns, even clarifying that they'd be up for modernization. However for them, the current scheme looks less like a bid for technological advancement and more like a corporate capture that will adversely affect blue collar Filipinos. The cost of upgrading vehicles ranges from 1.6 million Philippine pesos to 2.2 million ($33,200-$45,700), a fortune for ordinary Filipinos. 
"This is a bogus modernization, which leads to a massive loss of livelihood. Why can't the government support drivers and jeepneys operators instead of giving exclusive incentives to the corporations who look to gain the most from the scheme?" Floranda said.
According to the Crispin B. Beltran Resource Center (CBBRC), a think tank focusing on the concerns of Filipino workers, all of the accredited distributors for the newer jeepney models are multinational corporations. Among them are Hyundai, Isuzu and Hino Motors (a subsidiary of Toyota). As Ron Villegas, the group's research head, put it, "While the proponents of modernization can claim that they are working for the best interest of the environment, the meat of their proposals look to create a monopoly for the manufacture of new jeepneys in the hands of big business." 
Should the debate on modernization center around environmental concerns, or on how best to save the workers of an industry under fire? For Floranda, this final period before the year ends represents a last stand for Filipino jeepney drivers. 
Balik Pasada?
Since the implementation of the pandemic lockdown in March, the government has only allowed an incremental return of jeepneys. This November, CBBRC tallied around 33,979 jeepneys back on the streets nationwide. They noted that this is just 48 percent of the total number of jeepneys commonly seen in Metro Manila alone, and that there are still 40,000 drivers out of work. 
According to Villegas, "Many drivers are now sleeping in their old jeepneys because they are unable to pay the rent or travel back to their provinces. The industry which has for so long been rooted in local manufacturing is on its deathbed, with foreign corporations circling like vultures. It is becoming more common to see former drivers dismantling their old machines and selling spare parts. Some have looked to switching to taxis or other delivery services, yet even more of them are seen seeking alms on roads across the country." 
Out-of-work jeepney drivers do have an ally in Senator Grace Poe, who pushed for legislation to prevent the phase-out, albeit unsuccessfully. She did, however, successfully lobby for 5.5 billion Philippine pesos in immediate financial assistance for PUV drivers, though she did have to admit that red tape has made accessing these funds difficult and that less than 10 percent of the beneficiaries have gotten their share. Even urgent relief for their dire economic constraints continues to be inadequately addressed.
Then in October, to appease the public, Delgra of the LTFRB announced plans for a service contracting arrangement for some jeepneys. Such a provision would mean that two drivers can take turns on one unit, and that the state would subsidize part of their earnings to help them cope with the limitations imposed during the pandemic. Some 30,000 PUVs would benefit from this plan, according to the LTFRB chairman. 
After reviewing the proposal, Floranda hit back, saying, "The only ones eligible for this plan are those whose engines are already up to the new Euro 4 standards and drivers who have not incurred any violations in the past two years. That is a very small category. It seems these are only tactics by the LTFRB to discourage more dissent from the transport sector. If the government is serious in helping out drivers than why not let all of us go back to work? Isn't that better for the economy than having to shell out for a select few who qualify for this new program?"
Floranda is adamant that the only satisfactory solution is for jeepney drivers to be allowed back on the road and for the state to get behind that effort instead of blocking it.   
PISTON is no stranger to state repression. In June, when the organization held a protest condemning President Rodrigo Duterte for using the pandemic as a justification to phase-out jeepneys even before the December 31 deadline, six of their members ended up in jail. They were charged with violating quarantine protocols. After being released from detention two of them tested positive for the virus.
"During a pandemic especially, transportation should be considered a vital component of society, it should not be phased out. We want the LTFRB to retract their December 31 deadline and we will do everything we can to stop it," Floranda told The Diplomat. 
However, when asked what they plan to do next year should the government have its way with the modernization plan, Floranda said that the fight will continue. PISTON is planning to protest nearly every week at the LTFRB offices, with their numbers set to peak around the Christmas period. Floranda says they plan to spend their holidays in protest. 
"We have already been put on the streets as beggars and homeless, it's just a matter of getting together and trooping to the offices accountable for this anti-people plan. This is a fight for poor Filipinos everywhere, not just us drivers."
Michael Beltran is a freelance journalist from the Philippines.