PLA No-Shows US-China Maritime Safety Talks
Chinese officials skipped a virtual session of the Military Maritime Consultative Agreement.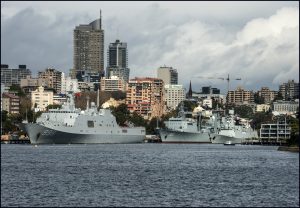 The Chinese military was a "no-show" at annual air and naval safety talks with the United States this week, according to an Indo-Pacific Command news release.
The talks were supposed to take place over three days, from December 14-16, by video teleconference.
The two militaries had previously agreed to hold the meeting virtually due to the COVID-19 pandemic. Chinese officials apparently did not cancel the meeting ahead of time or inform the U.S. side that they would not be attending; they just did not dial into the teleconference, leaving U.S. officials waiting.
Admiral Phil Davidson, the head of U.S. Indo-Pacific Command, said that, "The PRC's refusal to show up to MMCA [Military Maritime Consultative Agreement] is another example that China does not honor its agreements, and this should serve as a reminder to all nations as they pursue agreements with China going forward."
The MMCA was set up in 1998 as an annual forum to discuss naval and air safety issues between the two countries following concerns over the potential for escalation during the Taiwan Strait Crises several years prior. Envisioned as a U.S.-China version of the famous Cold War Incidents at Sea agreement between the U.S. and Soviet navies to prevent dangerous incidents at sea, the MMCA lacked that agreement's emergency communication protocols and prohibition of dangerous behaviors. Congressional reports have described the MMCA mostly an agreement "to talk about talking."
The MMCA's usefulness has been in question almost since its inception. The talks did not prevent the deadly 2001 collision between a U.S. surveillance plane and an intercepting Chinese fighter, nor harassment of U.S. Navy surveillance ships in 2009. Additional protocols signed in 2014 and 2015 likewise did little to prevent more dangerous intercepts of U.S. planes, or the near collision between a PLA Navy destroyer and the USS Decatur in 2018.
The MMCA has not been held every year. In 2007 the PLA cut off all contacts with the United States in protest of an arms sale to Taiwan and so did not attend an MMCA session that year, but in that case the Chinese military's absence was not a surprise.
China's no-notice cancellation is at odds with talks that occurred just weeks ago on reducing potential risks and crisis tensions. In October, U.S. and PLA officials met via teleconference to discuss reducing risk between the two militaries and ways to prevent and manage potential crises. The talks emphasized the importance of regular communication channels and timely talks to reduce miscalculation and escalation.
Without additional explanation provided, the lack of respect that the PLA's refusal to attend the talks shows augurs further strained relations between the two militaries as the Biden administration takes over in the new year.