South Korea Prepares for Its Worst COVID-19 Scenario Yet
Seoul has hesitated to tighten restrictions thus far, even as health authorities predict the number of daily cases might top 1,000.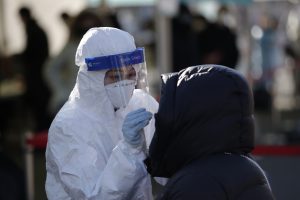 In the early stage of the COVID-19 pandemic, South Korea tightened restrictions to prevent the spread of the virus. The number of cases declined and the country was applauded by the international community as a rare success story in grappling with the pandemic.
However, South Korea is now preparing to take its toughest and strongest measures yet to curb a resurgence of the virus.
South Korea recorded from 100 to 200 daily cases of COVID-19 in early November, but now the number hovers around 800 to 1,000 despite the government's tightening restrictions over two months.
In a meeting on December 13, President Moon Jae-in asked people to refrain from meeting up or even leaving home as much as possible as the country faces its most difficult battle with COVID-19.
"This is the biggest crisis since the country confirmed the [first] case of the virus. It is a very serious and extraordinary situation," Moon said, demanding that government and quarantine officials concentrate on utilizing all quarantine capabilities and administrative power to prevent the spread of the virus.
Under its own guidelines, the government should have raised its social distancing level from 2 or 2.5 to 3, the highest of the five-tier system. But the government did not raise the level over the weekend, even while the daily number of cases hit 1,030 on Sunday.
Moon said that raising the social distancing level to 3 is a last resort but asked quarantine authorities to prepare for that step just in case.
The Korea Medical Association and experts asked the quarantine authorities to temporarily raise social distancing measures to level 3 in early December, in order to decrease the number of daily confirmed cases. However, the government at the time did not seriously consider taking more aggressive measures due to the possible negative effect on the economy.
Under level 3 social distancing restrictions, most indoor and outdoor facilities will be closed. Those that remain open will have strict limitations.
Alongside the resurgence of the pandemic, Jung Eun-kyeong, commissioner of the Korea Disease Control and Prevention Agency, has been sharing her predictions on the number of cases that could occur in upcoming weeks. Her predictions have been proven right thus far – and Jung shared another prediction on December 14.
"It is a very stringent situation that we are in a full-scale pandemic. Based on the number of patients, we are predicting from 950 to 1,200 patients will be confirmed [daily]," Jung said.
The government has been slow to tighten restrictions to the maximum extent because it does not want the economy – and particularly small business owners – to be harshly affected. However, its inconsistent approach has created loopholes, giving the public the chance to find ways to gather even as country faces a resurgence of COVID-19.
Under the current restriction level, indoor sports facilities such as driving ranges and fitness centers are closed but movie theaters and internet cafes are able to operate. People can meet each other and spend time together after checking their temperatures, providing personal information through QR codes, and sitting apart inside in available facilities.
Even the restrictions that were in place had some odd exceptions: Gym facilities for boxing and Muay Thai were allowed to open while kickboxing gyms were closed. Similarly, people are no longer permitted to stay inside a café if they are only drinking a beverage, like coffee. But they are free to stay inside if they order food, such as toast or cake. Customers can also eat at restaurants, but they should be closed after 9 p.m. (unless they don't take orders for delivery).
"Applying different standards to indoor facilities depending on the type of the businesses does not make any sense," Cho Yong-woo, 24, a company worker in Bucheon, west of Seoul, told The Diplomat. "I think restaurants and cafes should be operated with the same guidelines amid the pandemic."
So far, the government's approach has been to apply restrictions piece by piece, based on the number of confirmed cases. But some argue that every indoor facility should be closed, as the government has struggled to make its classifications clear amid people's questions.
Meanwhile, more and more COVID-19 patients have been admitted to hospitals and medical centers since November. There is not enough capacity in medical centers and hospitals to treat severely ill patients who tested positive for coronavirus.
In the greater Seoul area, just four of 43 hospital beds for severely ill patients are now available for treatment. Hundreds of patients in the area are waiting in their homes to be transferred to designated medical centers for treatment, according to data from quarantine officials. More beds are available in other areas, but that is of little help, as more than 60 percent of COVID-19 cases in South Korea have happened in Seoul and the greater Seoul area.
To prevent the worst-case situation of patients getting sicker in their homes with no access to treatment in medical centers and hospitals, Gyeonggi Province Governor Lee Jae-myung issued executive orders over the weekend to immediately use a dormitory of Kyonggi University as a temporary medical center for patients. More such measures are likely to be taken if the number of cases keeps rising.
The Korea Nurses Association posted an urgent employment notice on December 10 to recruit nurses who can work immediately in places where coronavirus patients have been getting treatment. In four days, 1,410 nurses volunteered to support those who have been working on the frontlines against COVID-19, according to the association.
"At this moment when the coronavirus pandemic re-emerged, nurses who voluntarily apply to work are giving hope to the people exhausted by the virus," said Shin Kyung-lim, head of the association.
As of midnight on December 14, South Korea's total caseload had climbed to 44,364, with 600 deaths. Of the 880 new coronavirus cases reported that day, 848 cases were locally transmitted and 32 were imported. About 70 percent of the local cases were caused in Seoul and the greater Seoul area.