The Philippines Is Sticking Right by America's Side
Despite President Duterte's much-vaunted "pivot to China," the nation's relationship with the U.S. remains as strong as ever.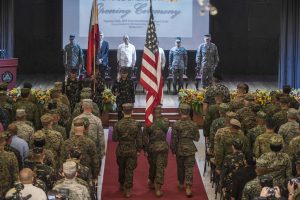 The election of Filipino President Rodrigo Duterte in 2016 raised concerns around Washington that he would undermine and perhaps even undo the U.S.-Philippines alliance in favor of closer ties with China. More than four years on, however, Manila continues to prioritize Washington over Beijing — a significant coup for the United States and its Indo-Pacific strategy.
On November 10, Duterte decided to re-extend the suspension of the abrogation of the U.S.-Philippines Visiting Forces Agreement (VFA). Through his secretary of foreign affairs, Teddy Locsin Jr., Duterte announced that the VFA would be extended "by yet another six months, to enable us to find a more enhanced, mutually beneficial, and more effective and lasting arrangement on how to move forward in our mutual defense." Although the Philippines under Duterte is certainly seeking to negotiate a better deal by the VFA's new expiration date of August 2021, the reasons publicly provided following the last extension, on June 2, and this most recent one, are noteworthy.
On June 2, Locsin argued that "in a time of pandemic and heightened super power tensions," it would be wise to keep the VFA in place. Then, on November 10, he said: "The past four years have changed the South China Sea from one of uncertainty about great powers' intentions to one of predictability and resulting stability with regard to what can and cannot be done, what will and will not be acceptable with regard to the conduct of any protagonist in the South China Sea. Clarity and strength have never posed a risk. It is confusion and indecision that aggravate risk." For the first time, Locsin cited great power competition in the South China Sea as a reason for suspending VFA termination. Making this connection clearly implies that Manila trusts and sides with Washington — "clarity and strength [per the alliance]" — over Beijing in the most important security context.
Duterte's speech on September 23 at the U.N. also gives good reason to believe he has turned the corner. The Philippine president directly addressed the issue of South China Sea disputes by noting that the 2016 arbitral tribunal award in Manila's favor was "beyond compromise," adding, "We firmly reject attempts to undermine it." This appears to have been the culmination of a hardening in Manila's position against China, which began on July 12 — the fourth anniversary of the award — when the Filipino Department of Foreign Affairs acknowledged the ruling for the first time under the Duterte administration. This represents a sea change in Manila's position, and almost certainly came about due to Duterte's rising frustration with Beijing's bad behavior in the region.
In my discussion on November 17 with the Filipino ambassador to the United States, H.E. Jose Manuel Romualdez, the ambassador emphasized the continued strength of the U.S.-Philippines alliance, while characterizing the China-Philippines relationship as purely economic in nature. Even within the economic realm, Romualdez recognized the potential for participation in China's Belt & Road Initiative to lead to a debt trap, once again underscoring the inherent limitations of Manila's interactions with Beijing. Rather, Romualdez said that Manila hoped that heightened economic interactions would eventually translate into security successes. Overall, the ambassador struck a fairly skeptical tone on China — counter to Duterte's own policy pronouncements and his original plan to say "goodbye to Washington" in favor of Beijing.
Regardless of Duterte's pro-China proclivities, both the Filipino defense establishment and society are staunchly pro-American in leaning — and neither has changed since Duterte came to power in 2016. For example, according to an annual poll published in January 2020, Filipino policymakers and officials were overwhelmingly concerned about China's growing assertiveness in the South China Sea. Among the public, too, distrust of Chinese intentions in the Philippines is deep-rooted and pervasive.
In another good sign for Washington, Manila as of November 22 was reportedly pursuing procurement of the BrahMos supersonic cruise missile. BrahMos is a jointly built system by India and Russia that would provide Manila's first deterrent capability against China. When asked about the possibility of acquisition, the Filipino Department of National Defense responded with "It is part of our modernization program to enhance our territorial defense capability." Although it is unclear whether the Philippines will actually acquire this particular system, the fact that Manila is considering it strongly suggests that China won't become a friend of the Philippines any time soon.
For its part, Beijing senses that Washington's success has continued in the Philippines in spite of China's recent inroads under Duterte. This has been an extremely frustrating trend for Beijing as it probably believes it is blowing a monumental opportunity to get rid of the U.S.-Philippines alliance once and for all. Nevertheless, Beijing persists in this endeavor. A case in point was Beijing's response to the U.S. National Security Adviser Robert O'Brien's visit to the Philippines on November 23. While there, O'Brien announced an $18 million arms package to Manila, including precision-guided weapons and smart bombs that could be used against China. He also doubled-down on the alliance, stating "We're here to let people in Asia know and let especially our close friends, like the Philippines know, America is not leaving and we've got your back." In response, the Chinese embassy in Manila released a statement noting that Washington has "deliberately exaggerated regional tensions, and attempted to sow discord between China and the Philippines." Judging by Manila's behavior over the last few months, Beijing's messaging is yet to fully resonate and have the desired effect.
The bottom line is that the Philippines simply cannot trust China's intentions and activities in the South China Sea. This is the precise challenge that has flummoxed Duterte's pro-China approach from the beginning of his tenure. The obvious beneficiary of Manila's China suspicions is Washington. To be sure, Beijing's growing assertiveness has preserved, and perhaps even enhanced, the U.S.-Philippines alliance throughout the tumultuous Duterte era.