Third Central Asian Leaders' Meeting Postponed to 2021: Why It Matters
Postponing what was supposed to become a regular forum for the leaders of Central Asia to gather together is not a good idea.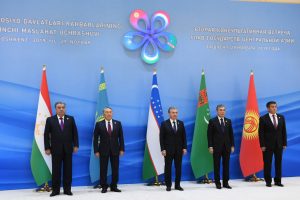 On October 23, Uzbek officials announced that the third consultative meeting of the heads of state of Central Asia was postponed to 2021 due to the coronavirus pandemic. The declared justifications were the ongoing circumstances linked to the COVID-19 pandemic and impossibility of organizing large political events. However, arguably the pandemic was not the primary reason to delay the important regional gathering. The meeting was scheduled to be held in Kyrgyzstan and as recently as September, Uzbek and Kyrgyz officials were actively discussing preparations. Moreover, the regional states drafted an interstate document on friendship, good-neighborliness and cooperation for the development of Central Asia in the 21st century that was to be signed and adopted during the planned consultative summit in Bishkek in late autumn. Now the Central Asian nations are planning to consider this agreement during a meeting in Turkmenistan in 2021. 
Why Was the Consultative Meeting Postponed?
While not questioning the influence of the ongoing pandemic as one of the reasons to cancel the upcoming gathering, it looks like that the major reason for the postponement decision was the unstable political situation in Kyrgyzstan. The country faced a serious political crisis after the recent parliamentary elections. The election results were invalidated by the Central Election Commission under the pressure of street protests, which included the storming of government buildings and jailbreaks of imprisoned politicians. Kyrgyz President Sooranbay Jeenbekov was pressured to resign and his duties were transferred to newly elected Prime Minister Sadyr Japarov, who had been among the politicians busted out of jail during the post-election protests. Japarov has since resigned, too, in order to run for president in January. 
The current government needs to legitimize its role internally and internationally after conducting new parliamentary and presidential elections, the former currently unscheduled and the latter set for January 10. Therefore, it's reasonable to believe that the other Central Asian countries decided to suspend their regional summit until the stabilization of Kyrgyzstan's internal situation and the formation of a new government. 
The second reason for the meeting's rescheduling might be the lack of a substantial agenda. The most pressing issues for regional states, including border delimitation, border connectivity, and increasing regional trade, which were raised during the previous two consultative meetings have been mostly solved. For example, the process of delimitation and largely demarcation of the borders of Kazakhstan with Turkmenistan and Kyrgyzstan, as well as Uzbekistan's borders with Kazakhstan, Turkmenistan, and Tajikistan has been completed. After 2016, the trade turnover of Uzbekistan with Kyrgyzstan increased eight times, with Tajikistan and Turkmenistan five times, and with Kazakhstan trade turnover increased by $1 billion. Visa regimes and border crossings have been eased, facilitating people-to-people connections and further regional trade. The sensitive issue of water resource distribution was desecuritized and transferred to negotiations between experts rather than politicians.
The third reason might be that there just isn't demand for an additional regional meeting. During the recent months regional leaders and ministers of foreign affairs have conducted a series of multilateral and bilateral meetings together with external actors both online and offline. Therefore, they may have already had discussions on the relevant topical issues and see no need for another meeting. The leaders of the Central Asian countries participated in an extraordinary meeting of the Cooperation Council of Turkic-Speaking States in April 2020 and the Shanghai Cooperation Organization's Council of the Heads of State summit in November 2020.
Higher authorities of regional ministries of foreign affairs had a chance to discuss regional affairs in 2020 during several occasions: the C5+1 High-Level Dialogue between Central Asia and the United States in June, the first China-Central Asia Foreign Ministers' Meeting in July, the Special Video Conference of the "Central Asia plus Japan" Dialogue in August, the third Ministerial Meeting of Russia-Central Asia in October, the second Meeting of the India-Central Asia Dialogue in October, and the 16th EU-Central Asia Ministerial Meeting in November. Moreover, during 2020 regional leaders had frequent bilateral phone talks to discuss coordination of efforts in tackling the COVID-19 pandemic and other regional issues. 
Why Postponement Is Still Not a Good Idea
Postponing what was supposed to become a regular forum for the leaders of Central Asia to gather together is not a good idea, regardless of the above reasons. First, despite all these reasons and the contemporary challenges, holding a truly regional meeting at least online would have great symbolic importance. In the time of the COVID-19 pandemic followed by an unprecedented global socioeconomic crisis that heavily affected Central Asia, the region more than ever requires cooperative responses to these urgent difficulties. A decline in economic development, reduction of foreign trade, cut of public revenues, and fall of prices for natural resources could be overcome by regional multilateral collaboration. Therefore, the overall recovery of national economies and also a successful fight against the COVID-19 pandemic is inherently dependent on regional coordination of the relevant domestic policies. 
Second, regardless of the remarkable improvement of relations between regional countries based on better understanding and enhanced trust, Central Asia still needs a common agreement on rational and fair distribution of regional water resources; the complete resolution of border issues between Kyrgyzstan and Tajikistan, as well as Uzbekistan and Kyrgyzstan; and joint action on problems such as climate change, migration, and connectivity. None of these issues can be solved only bilaterally, but require regional discussions. Consequently, these issues should be negotiated to find acceptable solutions within the context of multilateral regional meetings.
Third, the strength and unity of Central Asia in relations with external actors can be advanced by frequent, and regular, meetings of regional countries' representatives on various levels. In order to avoid being a victim of "divide and conquer" tactics by external countries, the regional states need to demonstrate upgraded understanding and readiness to support each other. Foreign players usually bring their own interests into the regional agenda, which can, at times, complicate finding compromises for sensitive Central Asian issues. Furthermore, a truly regional meeting without the participation of external powers can help to enhance the personal relationships of regional leaders. That's important considering the specifics of Central Asia's political situations, where top leaders have a crucial role in determining both internal and foreign policies.
The contemporary crises in Central Asia demand the mobilization of regional efforts to find effective solutions: urgent problems of economic slowdowns, political instability in Kyrgyzstan, and improving connectivity in the region. In such circumstances the decision to delay the annual consultative meeting of regional leaders is not a positive sign of readiness to deepen regional partnerships. Cooperation and coordination can be beneficial for all countries in Central Asia, while isolationism and over-reliance on external partners could considerably impede the settlement of sensitive issues. 
It is time to think about the future of deepening regional cooperation. What new horizons can be explored cooperatively? Are regional countries ready for broadening the contemporary collaboration and elaborating new forms of partnership? What about institutionalization of some areas of cooperation like water distribution and connectivity to have regular talks as starting points for further integration? These are significant issues to discuss on the upcoming meetings between Central Asian states based on mutual respect and national sovereignty.
Dr. Akram Umarov is a senior research fellow at the Development Strategy Center in Tashkent, Uzbekistan.