Van Jackson on Getting Biden's Asia Policy Right
"U.S. standing in Asia has been at record lows under Trump," says Jackson. What will Biden do differently?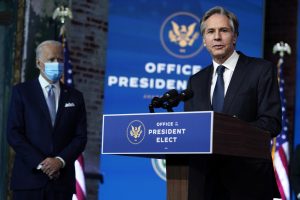 In January 2021, the norm-destroying administration of Donald J. Trump comes to an end in the United States. Many in Asia will breathe a sigh of relief to see former Vice President Joe Biden, a known quantity, take over the White House. But Biden's task will be far from easy: restoring the United State's reputation in Asia while dealing with the long-term geopolitical challenge of China's rise, and flashpoints like North Korea.
Van Jackson, a specialist in Asian foreign policy and U.S. national security who formerly served in the Pentagon under the Obama administration, discusses the challenges facing the Biden administration — and potential paths forward. Jackson is also the author of the recent book "On the Brink: Trump, Kim, and the Threat of Nuclear War."
China looms large as a foreign policy question for the Biden administration, with competition in nearly every area: security, economy, and diplomacy. What aspects of the Trump administration's China strategy are worth keeping, and what parts are best discarded?
The motivations of China policy under Trump were so corrupted — sometimes literally, but often in the sense of being personalized or inconsistent with the national interest — that I expect Biden will be looking to develop his own conceptual approach with a blank slate. You can't pretend the past four years didn't happen, but you also shouldn't be looking to salvage any of this "Free and Open Indo-Pacific" stuff just because it's what was decided previously.
So what to keep from a fairly broken policy? In the near term, keep the tariffs until you can review which are arbitrary and which do more harm than good. In the long term, it's worth continuing to decouple in high technology areas sensitive to national security, and to maintain closer ties to Taiwan. Those things are imperatives no matter what China strategy Biden settles on. Beyond that, everything should flow from a strategic rethink.