What Does Rizieq Shihab's Return Mean for Indonesian Politics?
The firebrand's return comes at a time of Islamist political ascendancy in Indonesia.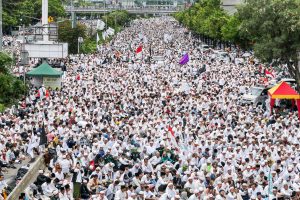 On November 10, the firebrand Islamic preacher Rizieq Shihab returned to Indonesia from exile in Saudi Arabia to a hero's welcome. Rizieq has long been a fixture of Islamist politics in Indonesia. In August 1998, he founded the Islamic Defenders Front (Front Pembela Islam, or FPI), and played a key role in the arrest and conviction of Jakarta's then governor, Basuki Tjahaja Purnama, on charges of blasphemy in 2017.
The downfall of Basuki, known commonly by his nickname Ahok, illustrated Rizieq's formidable reach and popularity. The first ethnic Chinese to govern Indonesia's capital for more than half a century, Ahok became a target of Islamist groups after he quoted a passage from the Quran during a political rally.
Ahok's comment set off a campaign of public rallies that demanded that he be charged with blasphemy. Many demonstrations were held in Jakarta, but the single biggest one took place on December 2, 2016, during which hundreds of thousands of people poured into the streets. A group of FPI-led anti-Ahok groups coalesced under the "212 Movement," which took its name from the date of the rally, which eventually sounded the political death knell for Ahok. In 2017, he lost the gubernatorial elections to Anies Baswedan, and was subsequently charged and jailed. Shortly before Ahok's conviction, however, Rizieq fled to Saudi Arabia to escape a number of charges, including alleged violations of Indonesia's pornography law and the country's official Pancasila ideology.
Rizieq's return is directly related to political developments taking place in Indonesia today. The preacher argued that he had no reason to stay in Saudi Arabia any longer, given the legal issues he faced there, including visa violations, while the Indonesian authorities dropped the various charges against him.
Rizieq has stated that he was needed in Indonesia to help the country overcome a number of crises, especially the rising impoverishment and suffering of Indonesian Muslims. These woes he blamed on the continued spread of COVID-19, the economic harm of the U.S.-China trade war, and the crisis of confidence in the government of President Joko "Jokowi" Widodo, caused by corruption scandals and the alleged influence of vested interests.
Probably more important, the political forces supporting Rizieq's return have also become more influential in Jakarta. Jokowi has been blamed for mismanaging the COVID-19 pandemic, which continues its alarming spread in Indonesia. As of December 3, Indonesia had recorded 557,877 confirmed cases of the disease and 17,355 deaths – both the highest figures in Southeast. Meanwhile, the passage of the controversial Omnibus Law on job creation, widely perceived to benefit local ethnic Chinese interests as well as large conglomerates in China, has led to massive protests akin to the anti-Ahok demonstrations, with most conservative Islamist groups opposed to the new legislation.
Rizieq's continued popularity signals that Indonesia's various anti-Jokowi Islamist forces are fast coalescing into a political group that could undermine the stability of the current government as the country moves toward the next presidential elections in 2024. For groups and individuals jockeying for political power ahead of the elections, supporting Rizieq makes sense, given his immense mobilizational capacity and ability to bring Islamic forces to the streets, something vital in Indonesia where 90 percent of the populace adheres to Islam. In times of crisis, Rizieq has proven himself adept at winning the hearts and minds of Indonesian Muslims. Jokowi's opponents are hoping that just as Rizieq helped defeat Jokowi's ally and former deputy Ahok in the 2017 gubernatorial elections in Jakarta, the same can be repeated at the presidential level in 2024.
A key player in this political calculus is two-time Vice President Jusuf Kalla, who is reported to have met Rizieq in October 2020 when he was on his Umrah in Mecca, and is believed to have secured the firebrand's safe return. Kalla is hoping that Anies, who defeated Ahok to become Jakarta's governor in 2017, could become Indonesia's next president. Kalla and Anies have historically been close, not just due to their ideological affinity, as members of the Muslim Students' Association (Himpunan Mahasiswa Indonesia) and the national Islamic organization Muhammadiyah, but also due to the various favors that Anies has done for Kalla's businesses in Jakarta since he took office as governor.
While the COVID-19 pandemic and the U.S.-China trade war have seriously weakened Indonesia's economy and undermined the Jokowi government, and may partly explain the timing of Rizieq's return, it is probably these political considerations that are most important. Kalla believes that Anies may be the right candidate to win the next presidential election, especially through mass mobilization along Islamic lines in Java, Sumatra, and Sulawesi.
Kalla is perhaps hoping to project Anies as a powerful national figure, akin to Turkey's Recep Tayyip Erdogan, the former mayor of Istanbul, later prime minister, and since 2014, the country's president. What Kalla needs is a "hero figure" with ideas that would capture the nation's imagination. With reformist political parties including Jokowi's PDI-P having been at least partly discredited, this leaves the right-wing in a good position to capture power in 2024.
With the mobilizational capacity of Rizieq and the FPI, and with the figure of Anies as a successful governor of Jakarta, Kalla has stitched together various Islamist and right-wing groups into a formidable coalition. The re-surfacing of the formerly banned Masjumi Party last month is also a signal of the resurgence of conservative Islam in Indonesia. Fear of being opposed and harassed by the FPI could prompt many politicians to back whomever Rizieq supports, as happened in the 2017 gubernatorial elections in Jakarta. Other hard-line Islamist groups and political parties, such as the Prosperous Justice Party (Partai Keadilan Sejahtera), are expected to support Anies, just as the moderate NASDEM party has also opportunistically voiced support for Anies' potential 2024 presidential bid.
Also expected to run again in 2024 is Defense Minister Prabowo Subianto, who tried and failed twice to defeat Jokowi in 2014 and 2019. While Megawati Sukarnoputri, the head of Jokowi's Indonesian Democratic Party of Struggle (PDI-P), may want Prabowo to pair up with her daughter Puan Maharani in 2024, a Prabowo-Anies ticket cannot be discounted as Megawati suffers from severe trust deficit.
If Anies' partner is not a civilian, then a military figure may also be a potential possibility with the current chief of the army, Andika Perkasa, also a strong candidate. Andika would be able to provide the impression of stability if Anies is elected as president. This would make Andika's father-in-law Hendropriyono, a former general, intelligence chief and minister, a key political player despite his advanced age.
A Prabowo-Anies or Anies-Andika ticket would both offer a formidable challenge to any politician, given that key political parties such as GOLKAR, PAN, PPP, GERINDRA and NASDEM could all be expected to back this coalition, to the detriment of the current political forces led by PDI-P. The groups and individuals that backed Ahok and have been accused of suppressing Muslims and Islamic interests, including key members of the police, will clearly be the losers, even victims, of the coming political alignments.
To be sure, the influential Islamic organization Nahdatul Ulama (NU), often seen as more moderate than Muhammadiyah, does not share Rizieq's ideological outlook, and can be expected to distance itself from such an Anies-led coalition. But then again, in 2016, Ma'ruf Amin of the NU joined forces with Rizieq to bring down Ahok, and this could be repeated, given that Muhammadiyah would be expected to support a coalition of Anies, Kalla, and Rizieq. NU's political wing, the National Awakening Party (Partai Kebangkitan Bangsa), may likewise support Anies if need be.
The situation remains in flux, and the balance of interests may at any one time change the political calculus of Anies and whoever Rizieq endorses. But whatever the ultimate outcome, Rizieq's return to Indonesia, which happened to coincide with Indonesia's Heroes' Day, can be expected to have wide-ranging political ramifications, especially at a time when Jokowi is under fire for failing Indonesians on the COVID-19 pandemic, while allegedly opening the country to exploitation by the Chinese government and local ethnic Chinese business interests. Under these circumstances, Rizieq is in a strategic position to champion Islamist-oriented causes, all the more when these goals are synchronized to capture the presidency in 2024, leading to the possible rise of Anies Baswedan as "Indonesia's Erdogan.'"
Bilveer Singh, PhD, is the deputy head of the Department of Political Science, National University of Singapore.