Cambodia Announces Game-Changing Crude Oil Extraction
Oil revenues will likely further entrench the power of Prime Minister Hun Sen and his Cambodian People's Party.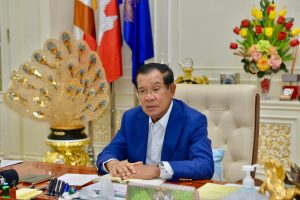 Late last month, after years of delays and unfulfilled promises, Cambodia announced that it had finally begun extracting crude oil from fields in the Gulf of Thailand.
In 2017, the Cambodian government signed a joint venture with Singapore's KrisEnergy to develop more than 3,000 square kilometers known as Block A, with production initially scheduled to begin in 2019.
On December 29, the day after the first drops of crude trickled from KrisEnergy's offshore rigs, Prime Minister Hun Sen hailed the extraction as "a new achievement for Cambodia's economy." "The year 2021 is coming… and we have received a huge gift for our nation – the first oil production in our territory," he wrote in a Facebook post.
For years, Cambodia's government has harbored ambitions to exploit the significant oil and gas deposits in the Gulf of Thailand, but has struggled to get production started as depressed global oil prices have discouraged companies from investing in exploration.
In the 1990s, Cambodia divided its territorial waters into a total of six offshore oil blocks for oil and gas exploration, in addition to 19 blocks onshore. Of these six offshore blocks, only one—Block A—contains a proven oil discovery, which was first located by the U.S. oil giant Chevron in 2005.
But production stalled as the government and Chevron failed to reach a revenue-sharing agreement, leading the firm to sell its stake to KrisEnergy in 2014. Three years later, the Singaporean company signed a production-sharing agreement with the government, giving the latter a 5 percent stake.
Coming after so many years of expectations, the extraction of oil gives the Cambodian government a potentially game-changing injection of revenue. Since the 1990s, Cambodia has been heavily reliant on aid and development assistance from foreign governments including Japan, Australia, the United States, and the European Union.
In recent years, Western aid has been substituted and dwarfed by an influx of aid, financing, and state-backed investment from China – all offered free of the good governance and human rights conditionalities that are often attached to Western money. This has led to a widespread perception of Cambodia as a Chinese client state.
An infusion of resource wealth could potentially reduce Cambodia's worrying economic reliance on China, and extra cover for the loans that it has already taken out from Chinese state banks. After all, one of the things that has driven Hun Sen's government toward China is its desire for foreign backing decoupled from good governance and human rights demands. Significant oil revenues would offer the government a source of funding, but without the need to rely on any one outside power.
While China will almost certainly remain an important source of political and diplomatic support, this could give the government the slack needed to restore balance to its foreign alignments, especially with powers like the U.S. that are concerned about its embrace of China.
The extent to which oil revenues might benefit Cambodia's people, however, remains much less certain. In the wake of the oil announcement, anti-corruption groups and senior officials from the banned opposition Cambodia National Rescue Party were quick to demand that the government release detailed information about the revenues it earns from the oil and gas sector.
In comments last week, Hun Sen said that oil revenues would be used to improve education and health, but in doing so, the Cambodian government would be pushing against a political economy in which most of the proceeds from natural resources have accrued to well-connected tycoons and other grandees connected to the ruling Cambodian People's Party (CPP).
While an oil windfall gives Hun Sen's government an opportunity to redistribute wealth and improve the lives of ordinary people, past history suggests it is more likely to grease the wheels of patronage and backstop the CPP government's continued consolidation of power.