Cambodian Opposition Return Plan Hits Visa Snag
The Cambodian government says it will not grant travel documents to exiles hoping to return to stand trial.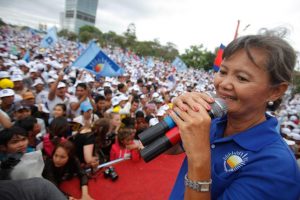 The Cambodian government has announced that it will not grant passports or visas to exiled opposition politicians who are trying to get back to the country next week to defend themselves against ginned-up charges of "incitement" and "treason."
Last month, Mu Sochua, the deputy president of the banned Cambodia National Rescue Party (CNRP), said she would lead party leaders and activists back to Cambodia in January to face the politically motivated charges.
Sochua and her group had previously hoped to return on January 4, but changed their expected arrival to January 17 after their Singapore Airlines flight was canceled due to COVID-19.
Dozens of opposition activists fled into exile after the CNRP was banned in November 2017, and subsequently had their passports canceled, meaning that they now rely on the government to grant them the necessary travel documents if they are to return.
But government spokesperson Phay Siphan told Radio Free Asia on January 8 that the government would not be grant the exiles passports or visas. He said that they would "have to find a way to enter Cambodia on their own."
"Not only did they not recognize the government, but they also organized a coup d'etat to overthrow it by calling on the military to turn their weapons against the Prime Minister," he said, referring to Hun Sen, who has ruled Cambodia in various guises since 1985.
The group are among around 130 opposition supporters and other dissidents who are due to be tried early next year on a range of bogus and inflated charges, including treason. The first group will appear in court on January 14 and the second on March 4.
While Sochua and her colleagues have rightly pointed to the fact that they have a legal right to enter the country and be present at their own trial, even at the cost of going to jail, such legalistic argumentation is unlikely to carry much water with the Cambodian government. Indeed, the CNRP leaders' planned return is itself mostly a political exercise, one designed to draw international attention to the country's sharp authoritarian turn since 2017 and ratchet up Western pressure on Hun Sen's government.
In late 2019, former CNRP president Sam Rainsy made a similar bid to return to the country, getting as far as Malaysia before calling off his attempt under stern threats from the Cambodian authorities. This showed two things. First, that the only realistic chance of the exiles getting back to Cambodia is if Hun Sen allows it. Second, that Cambodia's perpetual leader still views the CNRP as an existential threat to its hold on power, due to a combination of its grassroots popularity, which propelled it to significant results at elections in 2013 and 2017, and its ability to mobilize foreign government support.
This latest news has capped off what has been a difficult year for the Cambodian opposition. As Katrin Travouillon of the Australian National University noted in her detailed round up last week, the COVID-19 crisis has been a great challenge to the CNRP's global campaign for reinstatement. "COVID-19 ended it all: the rallies and the crowds, the hugs and the handshakes. In the process, it social-distanced away any semblance of force by unity."
At the same time the threat of the pandemic, despite very low infection rates, has given Hun Sen a handy pretext for continuing to grind away at any and all opposition on the home front. As Travouillon put it, "Cambodia's green spot on the global map of COVID-19 infections stands in contrast to the bright red symbol the country has secured for declining political freedoms."