Can Singapore Keep Its Precious Hawker Culture Alive?
Singapore's hawker culture has been recognized by UNESCO, but there are questions about its sustainability.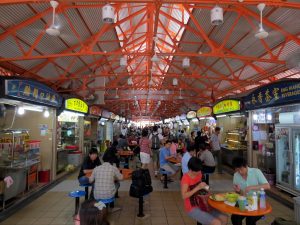 If there is one thing Singaporeans are known for, it is their deep-seated love for food. The sight of people staying in snaking queues for hours in hopes of securing a packet of locally fried char kway teow (a stir-fried rice noodle dish) or a piping hot bowl of prawn noodles is not uncommon. In fact, this "foodie" culture has made its way to the international stage with UNESCO's recent decision to recognize the country's hawker culture as an intangible cultural heritage of humanity.
Hawker culture refers to the practice of dining at hawker centers, which are open-air complexes that house food stalls offering a gamut of local food in multicultural Singapore. Hawker centers have become ubiquitous and are peppered around the city-state, often serving as locations for communal dining by locals. Hawker food — frequently termed "street food" by foreigners — boasts multicultural origins but is adapted to suit Singaporean tastes, with many dishes becoming a quintessential part of Singaporean cuisine and culture. Some iconic hawker centers that locals frequent include Old Airport Road Food Center, Tiong Bahru Market and Food Center, and the famous Newton Food Center, where part of "Crazy Rich Asians" was filmed.
Concerns Surrounding Sustainability of Hawker Culture
The recent unanimous decision by UNESCO's international committee to inscribe hawker culture on its Intangible Heritage Lists has been a source of pride for Singapore. However, it has also raised questions about the sustainability of hawker culture, given the challenges that hawkers have faced in recent years. This is intensified by the requirement that Singapore submit a report to UNESCO every six years to prove that it has made concerted efforts to protect hawker culture.
An exigent concern regarding the threat to hawker culture is that the number of young Singaporeans looking to enter and stay in the hawker industry is on a decline. A confluence of factors has contributed to this inertia, one of which includes rising supplier, utility, and staffing costs alongside persistent demands for affordably-priced food. According to a report written by experts from various government agencies, raw material costs account for the largest cost components at 59 percent, and a 1 percent rise in raw material costs contributes to a 0.56 percent rise in food prices. However, Singaporeans tend to be sensitive to increases in food pricings, where a small rise in the price of a hawker dish could lead to poorer stall patronage. This has invariably led to reduced profit margins for many hawkers, which have dipped to as low as 20 to 30 cents per dish sold.
Moreover, there are significant trade-offs borne by many young hawkers, who face toiling hours and considerable personal sacrifice. The usual nine-to-five is not an option for most hawkers, whose working hours vary depending on the type of food and customer base they target. For instance, hawkers who sell breakfast items often open for business as early as 2 a.m., while others who work in 24-hour hawker centers could work up to 20 hours a day. Young hawkers may also find themselves comparing their income and work-life balance with their peers in white-collar jobs, only to find themselves at the shorter end of the stick as they burn the candle at both ends. Unlike most employees, public holidays and festive seasons do not signal a break for hawkers; instead, they portend longer queues and harsher working conditions to meet customers' demands.
"My working hours vary, but when I first started, they could be as long as 14 hours a day," said young hawker Ivan Tan, who runs a Western hawker stall named Chic King at Woodlands Mart. "There's no work-life balance for young hawkers. It's a business and naturally, at the start of a business, the owners probably need to spend a lot of time and effort before [being able to] enjoy the fruits of their labor. It's not only selling food at the stall; we still have to manage manpower, finance, logistics, and more."
Beyond this, many younger Singaporeans from the millennial and Generation Z age group have also developed a penchant for frequenting "hipster cafes" over hawker centers for social gatherings. Patronizing artisan cafes that offer sophisticated ambiences has become a trend, especially with the influence of social media where flat lays of exquisitely plated foods highlight social and cultural capital. While hawker centers undoubtedly play an indispensable role in local food culture, the trend of dining at cafes has invariably created greater competition in Singapore's food and beverage industry. This phenomenon has pressed some hawkers to innovate new dishes by placing novel spins on classic dishes. The fourth-generation owners of a hawker stall named Tang Kay Kee Fishhead Bee Hoon, for instance, have incorporated enoki mushrooms and sous-vide eggs, which are popular amongst the younger crowd, into their traditional Hor Fun noodles. The expansion of food choices and substitutes in a city known for its gustatory excellence has ultimately necessitated greater product differentiation.
The Impact of COVID-19 on Hawker Business
The COVID-19 pandemic has also created a new set of challenges for hawkers in Singapore. With their regular customer base mostly opting to stay home, or their foreign worker patrons fleeing back to their countries, hawker businesses were severely affected during the onset of the pandemic. While the government provided hawkers with a one-month rental waiver to alleviate their burden, many still experienced a plunge in business by up to 50 percent. The prevalence of technology also meant augmented competition for hawkers, since many consumers have opted to order their meals from popular restaurant chains and establishments through food delivery apps and social media platforms.
Fortunately, hawker Ivan Tan had already capitalized on partnership opportunities with these apps even before the pandemic, which reduced additional administrative hassles.
"There was quite a significant decrease in stall front revenue [during the pandemic], but we were already partners with GrabFood and Foodpanda so the delivery volume made up for the difference," Tan said. "We also did our own social media advertising and our own delivery ordering platform."
However, hawkers who were not as technologically savvy — particularly those who comprise the older generation of hawkers — were not as fortunate. Older hawkers tend to have more trouble navigating online platforms to receive orders and make food deliveries, which was a habit they needed to cultivate during the pandemic.
For its part, the government has launched initiatives like the Hawkers Go Digital scheme in mid-2020 to assist hawkers during the pandemic. The scheme involved a Unified e-Payment Solution to encourage hawkers to adopt what is termed an "SGQR label", which refers to unique Quick Response (QR) codes that facilitate e-payments. In fact, financial incentives have also been offered to hawkers who participate in the scheme — those who adopt the SGQR labels by May 31 will receive bonus payments of up to S$1,500 (US$1,130).
Additionally, private companies like Grab have played a role in attenuating the predicament faced by hawkers through the implementation of a hawker food delivery program titled Hawker Center 2.0. The program was aimed at assisting hawkers in their digitalization journey by reducing the commission rate received by Grab, which typically stands at 25 to 30 percent of the value of orders made, in its partnerships with hawkers. While hawkers continued to face challenges given the shift toward online platforms and services, programs like these provided them with some well-needed relief to tide over these unprecedented times.
Moving Forward: Uniting as a Nation to Ensure the Sustainability of Hawker Culture
While problems concerning sustainability remain pervasive, the UNESCO decision has undoubtedly brought positive recognition to Singapore's hawker industry and provided a fillip to conversations on how to better protect its priceless hawker culture.
"UNESCO's recognition of Singapore's hawker culture is a very important milestone, and will be one extra step to helping preserve our hawker culture," said Dr Leslie Tay, an award-winning Singaporean food blogger, author, and doctor by profession. "With the UNESCO recognition, the government will likely pour in more resources into preserving hawker culture and promote it as a tourist [attraction]."
Tay is no stranger to the hawker scene in Singapore. Aside from running the food blog ieatishootipost.sg, which is widely frequented by Singaporeans seeking trusted recommendations on the island's best culinary finds, he has also authored the provocatively titled "The End of Char Kway Teow and Other Hawker Mysteries." The book hypothesized that a lack of new generation hawkers taking over from older hawkers could spell the end of good char kway teow stalls that are widely loved by Singaporeans.
As a member of the Hawker Center 3.0 Committee, which aimed at boosting the hawker industry, Tay has also been part of many efforts to create a more sustainable future for hawker culture. Some other hawker-specific initiatives rolled out by the government include the Incubation Stall Program and the Hawker Productivity Grant, as well as more general programs like the Jobs Support Scheme. These are all aimed at incentivizing aspiring hawkers to join the industry by lowering start-up costs to reduce barriers to entry.
However, Tay has also stressed that government-initiated programs are insufficient to keep hawker culture alive and well. Rather, citizens must also play their part in the solution.
"Government grants can be provided to a certain extent, but [efforts to safeguard hawker culture] must be ground-up. As a society, Singaporeans need to value the hawker culture that we have. It needs to start with our kids by encouraging them to eat hawker food and be proud of our local cuisine," Tay explained. "You can't save an entire culture simply by giving incentives. In order for younger hawkers to feel that [running a hawker stall] is a viable business, Singaporeans must be ready to pay more for hawker food because it is valuable."
Indeed, citizen-initiated efforts have gained prominence during the pandemic. Facebook groups like Support Local Hawkers – SG Hawkers United 2020 and Hawkers United – Dabao 2020 are aimed at promoting various hawker stalls around Singapore, where posts uploaded by hawkers often direct willing patrons to ordering platforms or social media sites like Telegram to stay updated on various deals and offers. Other ground-up initiatives include online fundraising campaigns such as Project Hawkers Boleh, which raised more than S$15,000 to support both hawkers and the needy during the pandemic by delivering hawker-prepared food to vulnerable groups in Singapore with the help of local grassroots organizations.
Beyond this, the younger generation of hawkers can also find innovative ways to sustain their parents' hawker stalls, especially since the median age of hawkers currently stands at 60 years old.
"We need to produce value for [existing] hawker stalls by creating a brand. If we can provide some UNESCO-related awards [to hawker stalls] and recognize 50-year-old stalls by giving them badges of acknowledgement, then this could create value and encourage the next generation to build up their parents' stalls by selling or franchise them," Tay said. "If the next generation doesn't want to take over their parents' hawker business, then we need to matchmake [aspiring] hawkers who might not want to start from scratch with older hawkers who can pass on their [culinary] skills."
The future of Singapore's hawker industry does not rest on the aspiring hawkers or government grants alone; instead, it requires an entire nation's contributions. This could come hand-in-hand with the soft cultural power received from the prestigious recognition granted by UNESCO, which could spur greater tourism in the future. However, only time will tell whether these efforts were successful. Until then, the preservation of the cosmopolitan city's hawker culture remains a stumbling, but hopeful, journey.
Ashley Tan is a native Singaporean with bylines in publications including The Diplomat, Southeast Asia Globe, The Straits Times, and MTV. She is currently pursuing a dual degree between Columbia University and the Paris Institute of Political Studies.