Fiji Cleaning Up After Cyclone Yasa
The category five cyclone battered Fiji in mid-December.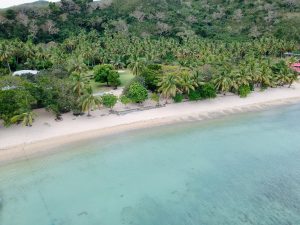 Fiji has been left reeling after a category five cyclone battered the country for 48 hours, leaving four dead, thousands of homes and businesses destroyed, and a recovery bill estimated to be in the billions. 
After several anxious days of watching the cyclone roll in, Cyclone Yasa made landfall in Fiji on December 17, recording winds of up to 345 kilometers per hour. 
The following day, Fiji's National Disaster Management Office director Vasiti Soko announced that a 50-year-old man, a 70-year-old woman, and a 3-month-old baby were among the casualties. There were an estimated 16,000 Fijians living in evacuation centers setup across the country and tens of thousands of ration packs had been handed out to those in need.
Two weeks later, thousands of people remained in evacuation centers and health officials have become concerned about the possible spread of diseases.
Fiji's second largest island, Vanua Levu, bore the brunt of the devastation. Uraia Rainima, commissioner of the Northern Division, which includes Vanua Levu, told the Fijian Broadcasting Corporation (FBC) in late December that they had completed an initial damage assessment and found that as many as 1,500 homes were totally destroyed, while 6,000 more were partially damaged. 
With hundreds of millions of dollars worth of crops estimated to have been destroyed, as well as subsistence farmers' personal food sources, the FBC reported that the government believes there is a need for a quick recovery plan to ensure the nutrition needs for people in the north are met.
The recovery plan has so far included distributing 10,000 seedlings and Bele cuttings and more than 150,000 cassava stems and deploying teams to effected communities.
Ranadi Rauluna, a Fijian woman from one of the areas worst hit, told the ABC that she had lived through at least 15 cyclones but had never experienced one as powerful as Cyclone Yasa.
"Everybody was surprised, everybody was astonished with fear," she said. "It was the first time for me to see a big building… destroyed completely. It was a really strong one."
The U.N. resident coordinator in Fiji, Sanaka Samarsinha, told RNZ that about 7,000 people remained in evacuation centers and that a large-scale response would be needed, one that would involve international help.
"These people were already quite vulnerable to begin with," he said. "We're talking about poor farmers, informal laborers, their vulnerabilities are totally exposed. The people who have been affected have been affected very badly."
New Zealand in late December announced that it had donated NZ$2 million (US$1.44 million) on top of an initial NZ$500,000 to Fiji, which went toward shelter, water sanitation, and other urgent priorities.
Australia has contributed AU$4.5 million (US$3.48 million) in humanitarian relief, which will go toward supplying building materials, medical supplies, hygiene kits, and education supplies. Around 600 Australian Defense Force members have also arrived in Fiji on the HMAS Adelaide navy ship, with helicopters and landing aircraft, to assist affected communities.
"This year the Pacific region has endured catastrophic bushfires and tropical cyclones and the shared challenge of COVID-19, but we always emerge stronger, when we work together," Australian Minister for Foreign Affairs Marise Payne said in a statement. 
A 30-day state of national disaster remains in place as emergency crews continue to reach more remote areas of Fiji.
Fiji's cyclone season runs between November and April every year and historically Fiji could expect to experience up to three tropical cyclones each season, but Fiji's ambassador to the U.N., Satyendra Prasad, told The World that with climate change, the intensity will get even worse. 
"For two of the worst storms to hit in the last five years alone — that just can't be normal. Never in our history have we seen the short space of time in which cyclones form, intensify, and become destructive," he said.
Fijian Prime Minister Frank Bainimarama tweeted: "These storms may be getting stronger, but they will never be stronger than we are as a people. Resilience is in our bones. This is our home, and we will recover, we will rebuild, and we will rebuild, and we will prove we are stronger than Yasa."