Hong Kong's Weaponization of the Courts Has Begun
Even more than high-profile cases, stories from the lower courts paint a worrying picture for Hong Kong's judicial independence.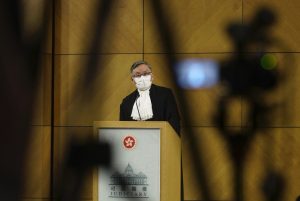 The recent arrest of over 50 Hong Kong politicians and activists for taking part in the unofficial democratic election primaries has rocked the globe. The mass arrests came in early January, just weeks before pro-democracy media mogul Jimmy Lai faced trial and high-profile figures like Joshua Wong and Agnes Chow were sentenced for their activism.
Observers and critics have followed high-profile cases since the roundups began, but a gloomier and less-discussed reality is looming in the lower courts. The local media outlet Stand News has indexed at least 24 cases in which 39 police officers provided questionable or outright false testimonies in protest-related cases, which some magistrates have condemned as "devious" or an "improper exercise of duty." A barrister involved revealed that the defense often relied on live footage to prove its clients' innocence in these circumstances, but the perception that police officers are reliable witnesses is still prevalent in the courts.
Though providing false testimony is theoretically a criminal offense, no officers have faced any consequences for perjury in the past five years, and judges can realistically do little other than criticizing them verbally. The power to prosecute belongs to a Department of Justice (DOJ), known for its hardline stance on the prosecution of protesters and activists. Police have refused to comment on these incidents, and Secretary of Security John Lee recently exonerated the force during a Legislative Council session.
In one case, District Councillor Jocelyn Chau was arrested and charged with assaulting two riot police officers during a protest. The officers said they tried to remain calm as Chau repeatedly provoked them and had no choice but to subdue the belligerent young woman in a professional manner. Yet video evidence revealed a completely different story. Annoyed by being filmed, they tackled Chau, handcuffed and knelt on her, and dragged her to the ground. Chau was eventually found not guilty and acquitted. The magistrate condemned the two officers' statements as "something from a parallel universe" and demanded action on the alleged police brutality. Both officers faced no consequence.
Critics are also alarmed over a growing number of instances in which judges have accepted inconsistent police testimonies and shown prejudice against protesters. For example, a school teacher was convicted for assaulting three police officers during a protest in November 2019. The involved magistrate believed that contradictions between the officers' testimonies were a "sign of genuineness," and accused the self-representing teacher of "[spewing] a bunch of lies." The magistrate sentenced the defendant to a psychiatric hospital for "anti-police tendencies" and dismissed allegations of police brutality and coercion with a comment of "why do I need to know?"
There are also occasions on which a 20-year old student was sentenced to 10 months for carrying a spray paint and lighter, a man was sentenced to five and a half months for possessing 48 cable ties, and a young man with a hearing disability was tried without aid and found guilty. Yet, the same magistrate for these cases handed just a three-month sentence to an 81-year-old anti-protester who stabbed the democratic ex-legislator Leung Kwok Hung, praising the assailant's "love for the community" and urging him to "help build a harmonious society."
In a separate case, a man was charged with assaulting three demonstrators at a "Lennon Wall." One of the victims was left in critical condition and suffered PTSD afterwards. The judge handed the assailant a 45-month sentence, but commended him for his "virtues" and lamented that he was "a bloodied victim of [the movement]."
While both the pro-democratic and pro-Beijing camps have often criticized the courts, the DOJ is also a factor in the defendants' fates. On many occasions, the department has intervened and appealed when defendants were acquitted or received lenient sentences. Recently, seven out eight of defendants were acquitted of riot charges related to a violent clash that occurred in August 2019. The last defendant, an activist arrested for urging officers to remain calm amid the chaos, was found without a case to answer. But the DOJ appealed and called the original verdict an "erroneous point of law." In another case, a man was originally convicted of illegal assembly and sentenced to two weeks for moving a barricade. But his sentence was bumped up to seven months after DOJ successfully appealed. Judges from the appeal court ruled the defendant's alleged chanting could have caused a severe and unpredictable disturbance and commented that the original magistrate had "erred in principle" for not taking that into consideration.
Democracy supporters may decry these cases as a breach of the rule of law, but this might very well be the government's objective: deterring any future demonstrations by dominating the legal playing field.
Many of the defendants' families and democratic supporters have expressed an utter loss of confidence in the court system. One partner of a convicted protester even commented, "There is no justice in the courts nowadays, it's all about luck." There's truth to this – if the 24 cases involving police perjury had been handled by the magistrates with anti-protest bias, the outcome would have been very different.
This has pushed some activists, many facing charges themselves, to risk it all and flee a system in which they see no justice. In 2021 alone, five activists have already escaped Hong Kong while on bail and reached the United States via Taiwan. They believe that since the National Security Law was implemented, judges "[no longer] hear cases impartially, but with political motives," and that Hong Kong's judiciary was "all but done for."
Many more have taken the same leap, from ex-legislator Ted Hui's audacious escape to Denmark to the flight of the teenager who was shot at point-blank range by police and is now taking refuge at an undisclosed location. But some are not as lucky. Twelve young activists made the same attempt to escape by sea, but were intercepted by Chinese authorities. Reports suggest the police tailed them throughout the seaward escape, which they have vehemently denied. After months of detention, 10 of the 12 were tried and convicted in Shenzhen for illegal border crossing, and the remaining two, both teenagers, were returned to Hong Kong and remain in custody. All are likely to eventually face the national security charges from which they were trying to escape.
As time goes by, we are likely to see more protest-related court cases, but if these trends continue, the grievance and loss of trust may be irreversible and may gradually become the new norm. Philip Dykes QC, who heads the Hong Kong Bar Association, said in an interview that the meaning of the rule of law is not "about prosecuting everyone to the extreme." Yet Hong Kong's authorities look to have a different priority.
Thomas Chan is a freelance journalist and political commentator.