India-Bangladesh Relations: Time to Move Beyond Connectivity
A new railway link highlights the warming ties between the two countries; New Delhi must not let them be derailed by domestic politics.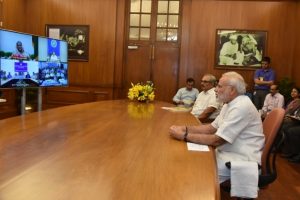 India's Prime Minister Narendra Modi and his Bangladeshi counterpart Sheikh Hasina recently launched a railway link between the two countries. The 10.5-kilometer-long rail line connects Haldibari in the eastern Indian state of West Bengal with Chilahati in Bangladesh.
The Haldibari-Chilahati railway line was among several overland trans-border connections that were snapped in the wake of the India-Pakistan war of 1965. Bangladesh was then East Pakistan.
But even after it broke away from Pakistan to emerge an independent country in 1971, trans-border links remained severed, a reflection of the deeply troubled bilateral ties between India and Bangladesh in the period between 1975 and 1996. It was only after the Awami League came to power in Bangladesh in 1996 that bilateral ties began improving and the Indian and Bangladeshi governments started to restore road and rail links.
In 1999, a bus service linking Kolkata with Dhaka was inaugurated. Another connecting Dhaka with Agartala in India's northeast followed soon after.
In 2008, an old railway line between Kolkata and Dhaka, which had remained suspended for 43 years, was restored. It paved the way for the inauguration of the Maitri (Friendship) Express between the two countries. Other rail lines, including those between Petrapole (India) and Benapole (Bangladesh), Gede (India) and Darshana (Bangladesh), Singhabad (India) and Rohanpur (Bangladesh), and Radhikapur (India) and Birol (Bangladesh) have since been restored.
The Haldibari-Chilahati railway line is the latest trans-border link to be revived. More railway links are set to be established this year.
India and Bangladesh share historical, civilizational and cultural ties; Bengali, which is spoken in both countries, is a strong bond. Bilateral relations have generally been warm, especially when the Awami League has been in power in Bangladesh.
Since the Awami League assumed the reins in 2009, relations have improved substantially. Dhaka has acted robustly to address India's concerns with regard to anti-India militant groups taking shelter on Bangladeshi soil. However, India has failed to address Bangladesh's concerns over river water sharing; an agreement on sharing of the waters of the River Teesta remains elusive. While the question of illegal immigration from Bangladesh to India has dogged bilateral relations for decades, recent Indian policies have prompted considerable disquiet in Dhaka.
The Modi government's enactment of the Citizenship Amendment Act (CAA) and plans to implement the National Register of Citizens (NRC) has triggered apprehension over an impending exodus of Bengali-speaking people from Assam to Bangladesh. In addition to upsetting the Hasina government, offensive statements by Indian Home Minister Amit Shah likening Bangladeshi immigrants to "termites" have angered Bangladeshis.
During the recent India-Bangladesh virtual summit, Modi described Bangladesh as "a major pillar" of India's "neighborhood first" policy. From the start of his prime ministerial tenure, it was his "special priority" to strengthen India's ties with Bangladesh, he said.
Officials say the Haldibari-Chilahati rail route will boost bilateral travel and trade ties and improve people-to-people contact.
But pursuit of policies harmful to Bangladesh and derisive remarks about Bangladeshis by Indian ministers have severely undermined public goodwill for India in Bangladesh. New Delhi will need to do much more than merely providing road and rail routes to improve people-to-people contact between India and Bangladesh.