India Releases Draft Arctic Policy
As China makes inroads in the Arctic, India seeks to throw its hat in the regional geopolitical ring.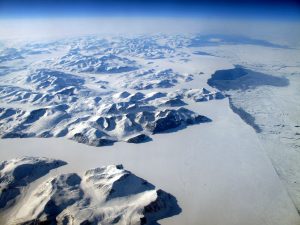 India has recently released a draft Arctic Policy document in order to solicit public comments. An accompanying note to the document states: "India seeks to play a constructive role in the Arctic by leveraging its vast scientific pool and expertise in Himalayan and Polar research. India would also like to contribute in ensuring that as the Arctic becomes more accessible, the harnessing of its resources is done sustainably and in consonance with best practices formulated by bodies such as the Arctic Council."
The country became an Observer in the Arctic Council for the first time in 2013; its membership in that body was renewed for a second five-year term in 2018. While British India signed the Svalbard Treaty – which, while recognizing Norway's sovereignty over Spitsbergen, also allowed other signatories free access to the region along with maintaining a commitment to not militarizing it – in 1920, independent India's engagement with the Arctic started in 2007 with a scientific expedition to the region. India now maintains a permanent presence in the region through a research base, Himadri, and two observatories, in Kongsfjorden and Ny Alesund.
The recently released draft document outlines five pillars of India's Arctic policy: scientific research, economics and human development; connectivity; global governance and international cooperation; and development of Indian human resource capabilities. Listing a wide range of activities – diplomatic, economic, as well as scientific – that New Delhi seeks to pursue in the Arctic, the document reflects what has become a marquee feature of India's recent global engagements: ambitious planning. However, to what extent India — a country that is much closer to the equator than the North Pole — is able, or even needs to, engage with the Arctic (beyond status-seeking compulsions) is, frankly, not evident at the first glance.
There is, however, one aspect of the draft Arctic Policy that focuses on tangible benefits for India, which is centered around climate change – and the intricate link between conditions in the Arctic and the monsoon and Himalayan systems. As the document notes, "there are several synergies between polar studies and the study of the Himalayas. Arctic research will help India's scientific community to study melting rates of the third pole – the Himalayan glaciers, which are endowed with the largest freshwater reserves in the world outside the geographic poles." Equally sound is its observation that melting ice in the Arctic due to climate change could release new pathogens that had previously remained trapped, thus increasing the possibility of future pandemics.
While, scientifically, India does have considerable stakes in the Arctic, it is when India seeks to accommodate itself in the region's geopolitics that the drivers behind its involvement become less clear. As National Defense University professor Geoffrey Gresh told The Diplomat in an interview last month, both China and Russia "views the Arctic as a significant jumping-off point from which to project power farther in eastern or western Eurasia," beyond seeking to leverage the region for geoeconomic reasons.
China, which describes itself as a "Near-Arctic state," had published an Arctic Policy white paper almost exactly three years ago, in January 2018 — a document whose accent on geopolitics is significantly more pronounced than the draft version recently released by India. In a characteristic display of monomania, China has also linked its involvement with the region to the Belt and Road Initiative. The country's "Polar Silk Road" – a set of emerging shipping routes through the region, thanks to climate change – has a deeply strategic rationale, which has raised concerns in American security circles, including the Trump administration.
Under such circumstances, it would be tempting for India to throw its hat in the Arctic geopolitical ring, as it were, as part of its enlarged spectrum of rivalry with China. India's draft Arctic Policy obliquely refers to concerns around the Arctic as an "arena for power and for competition" – to use U.S. Secretary of State Mike Pompeo's description of the region. It notes: "India believes that any human activity in this fragile region should be sustainable, responsible, and transparent with respect for international laws, including UNCLOS [United Nations Convention for the Law of the Sea]. India, therefore, looks forward to increasing its engagement with this vital region and its governing bodies as a responsible partner." (Interestingly, and without the slightest trace of irony, the Chinese Arctic Policy white paper also notes the need to adhere to UNCLOS in the Arctic.)
But beyond these high-sounding commitments, it is unclear what India can tangibly do to step up as a player in the Arctic when, for example, it has failed to meaningfully insert itself as an actor in the Western Pacific in a way that has decisively shaped the strategic dynamics in the region.
The Indian draft Arctic Policy is open for public comments till January 26.